Možda zbog moje visine (iako to nikada nisu rekli), ili zato što ni moja mala sestra nije obećavala ništa sitnije ni suptilnije, ili možda zato sto je naš novi, dvosoban stan umesto dve spavaće sobe imao dva hodnika, a umesto parketa jeftini, šareni itison, ili samo zato što su vremena bila obećavajuća, tek našeg belog Fiću sa dvoja vrata i tablicama 47-41, zamenio je luksuzni crveni, francuski Reno 4 sa četvoro vrata i istim tablicama, prvi takav u našem malom gradu.
Parkiran ispred zgrade, Reno je, uglavnom, čekao zimske i letnje raspuste tokom kojih bismo njime odlazili na moje, sve duže očne preglede, u sve dosadnije posete familiji i sve ređe posete Jadranu. Ušla sam u cipele broj četrdeset, a njih uglavnom, nije bilo po radnjama za devojčice i devojke. Sa svojih metar i osamdeset mogla sam da pariram samo nekolicini momaka iz škole od kojih me jedan, meni vrlo poseban, primećivao jedino kada bi se beskrajno postideo mog zaljubljenog, astigmaticnog pogleda. Nosila sam rifle do članaka, kratku jaknu iste marke i dugačku, kariranu rusku rubašku. Svi oko mene činili su mi se mali, a možda su oni bili taman pa su, tako taman, uspevali da stanu u okvire našeg grada, dok sam ja, bez obzira kolioko se trudila da hodam u ravnim cipelama i savijenih ledja, večito štrčala i virila iz te slike. Glava u slici, noge napolju, noge u okviru, ruke van njega, telo u okvirima, duša i pogled traže nešto iznad magle, preko brda, niz reku. Dioptrija velika, a slika mala. Bez lica, bez boja, bez kontura.
 Verovala sam da matematiku znam odlično, podjednako se nisam bojala fizike, a mislila sam da sam se rodila sa ugrađenim čipom za rešavanje hemijskih formula. Mnogo sam verovala u taj svoj urođeni dar i veliko je bilo moje, ničim potkrepljeno samopouzdanje dok sam, vrlo ležerno i opušteno, dane i mesece uglavnom provodila čitajući ruske i francuske klasike, obožavajući Mešu i Andrića, ili roneći suze uz Daviča i Crnjanskog. U pauzama sam ulazila u harmoniju i bol koje su, već po ličnoj potrebi moje sedamnaestogodišnje duše, stvarali Miljković i Desanka, a neke značajnije nagrade dobijala sam uglavnom pišući o senkama, deci, ratu, Uskrsu…
Zbog te ničim potkrepljene samouverenosti, tvrdoglavosti i ličnog zadovoljstva prema nivou na kome je, po mom čvrstom, skoro punoletnom ubeđenu, stajalo moje poznavanje prirodnih nauka, zbog velikih cipela i tesnih okvira, zbog toga što nas čitanje oplemenjuje, ali nam ne donosi olakšanje u zivotu, zbog toga što sam sve znala i nije bilo nikoga ko bi me uverio u suprotno, našla sam se u visokoj školi o kojoj ni pre, ni za vreme školovanja, a ni još dugo posle, nisam znala, ama, baš ništa. Veliko seljače iz malog mesta, uporno magare s koracima od trista milja, tvrdoglavo june koje bezglavo juri crvenu maramu ne znajući ni kuda trči ni kuda ga put vodi.
Mali grad, mali okvir bez boje i oblika, zamenio je veliki, sa svojom utvrđenom geografijom, istorijom i drustvom. Znalo se i gde je grad i gde su Njegovi građani, nije bilo dileme oko toga ko, kad i kako je u Njega došao i u Njemu ostao, svačije mesto bilo je označeno ili govorom, ili hodom, ili naglaskom, ili pogledom. Grad bez zazora, bez milosti, bez pardona. Obojen, išaran, životan, glasan, neprekidan, neskriven, razgolićen. Obožavan. Svačiji i ničiji. Pa i moj.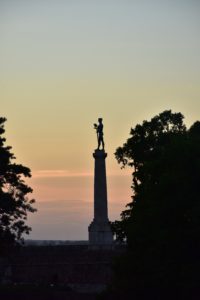 All this in English:
Maybe because of my height (although I've never been told that), or because nothing smaller or more subtle wasn't expected from my little sister, or maybe because our new, two-bedroom apartment had two foies instead of two bedrooms and a cheap and ugly carpet instead of the hardwood, or maybe, simply because the times were promising, but our "Fica" with two doors and a licence plate number 47-41 was soon replaced by a luxurious, four-door red "Renault 4" with the same licence plate, first of its kind in our little town.   
Parked in front of the building, Renault was mostly waiting for our summer and winter vacations, my longer eye check-ups, increasingly boring visits to the family and shorter and shorter stays at the sea. I wore shoes size ten, impossible to find in the stores for girls. With a height of six feet, I was taller than most boys and every time when, through my astigmatic eyes, I looked at one who was very special to the seventeen -year me, his face would become red and he seemed to be dying of embarrassment. I was wearing Riffle down to my ankles, short jeans jacket and a long, plaid, mandarin collar shirt.  The world around me seemed small and people short, or maybe they were just the right size and being the right size they were able to fit into the frame of our small town, while I, regardless of all my efforts, have always peaked and been outside of that picture. Head within the frame, legs outside, legs in, arms out, body inside, soul and eyes yearn for something above and beyond those hills,behind the wide river bend. Blurry eyes, big size, small frame, smaller town. The picture without faces, without colours, without contours.   
I had trusted my maths skills, equally wasn't afraid of physics and thought that i was born with a chip for chemical balance equations. I was so convinced in my inborn genius for science and my self-confidence was growing through the roof all along while I was spending days and months by reading Russian and French classics, admiring Selimovic and Andric, or suffocating because of Davico and Crnjanski. Feeding the poetic harmony and pain of my seventeen-year old soul, I hid in a sublime poetry of Desanka and Miljkovic and received a few awards for writing about shades, kids, war and Easter.
With the unwarranted self-confidence, stubbornness and personal satisfaction about the knowledge of science I had at the time, because of my shoe size and a size of our town frame, because of the fact that reading enriches us, but it doesn't make our life easy, because I knew it all and there was no one who knew better, I found myself in a big school I knew nothing about before, during and years after. A big girl from a small town, a persistent donkey with the steps of three miles, a hardheaded bull with the read scarf in front of his eyes and the unpaved road underneath his feet. 
The small town and the tight, colourless frame without the shape were replaced by the big city with its clearly determined geography, history and society. Its location was well established and so were its citizens, there was no dilemma about who and how arrived and why he stayed, everyone's been recognized by his or her way dressing, walking, talking, thinking. The city without secrets, without mercy, without forgiveness. Colourful, loud, unlimited, live, nude. Adored. Everyone's and no one's. And mine, too.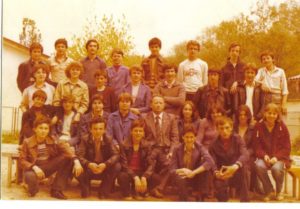 Les plus modifications arrivent...
En Français:
C'est peut être à cause de ma taille (ou mon hauteur?) (même (ou bien que?) si ce ne m'a été jamais dit), ou à cause de ma petite soeur qui ne promettait rien plus fragile ou plus subtile, ou, peut être, à cause de notre nouvel appartement qui avait deux foyers au lieu (de) deux chambres et un(e) coloré moquette (colorée) pas chère au lieu du parquet, ou à cause du (de la) période prometteur (prometteuse) dans le pays, mais notre "Fica" avec deux portes et avec la plaque d'immatriculation 47-41 était (a été)(e) re(m)placée par un(e) "Renault 4" avec quatre portes et la même plaque, le (la) premier (première) de cette sorte dans notre ville.
Garé devant notre immeuble, le (la) "Renault" pour la plus part (du temps) attendait les vacances en étés? ou en hivers? pour les visites à mon ophtalmologue et à notre famille qui sont devenues de plus en plus ennuyantes et de plus en plus longues, ou pour les départs au (du)? coté de la mer, de plus en plus rares. Je suis entré dans les chaussures pointure quarante qui ne (n')étaient pas été vendu(s) dans les magasines pour les filles et les jeunes femmes. Avec cent quatre-vingts centimètres je pouvais parer (être comparée) seulement aux quelques garçons de l'école où l'un, très spécial pour moi, était très embarrassé chaque fois quand je lui (le) regardais avec mes yeux d'astigmatisme. J'ai porté les "Rifle" jusqu'aux les articulations, la veste courte de la même marque et une longue chemise russe. Je pensais que tout le monde vers (à coté de) moi était petit, ou ils étaient juste de la bonne teille et, tellement avec la bonne taille ou (faits sur mesure?)?, ils ont pu (pouvaient) entrer dans le cadre de notre ville alors que, avec les chaussures platées (plates) et le dos courbé, je regardais furtivement (en) dehors ce cadre trop serré. Si ma tête était dans le cadre, les jambes étaient à l'extérieur, si les jambes étaient dedans, les bras étaient dehors, si le corps était dedans, l'âme et le vue cherchaient quelque chose au-dessus les collines, dans les nuages. Un grande dioptrie, un petit image. L'image sans visage, sans couleurs, sans contours.
Je croyais que je savais (connaissais) bien les mathématiques, je ne craignais pas la physique et je pensais que j'étais née avec un intégrée puce (intégrée) pour la chimie. Je croyais beaucoup de ce (à) mon talent et de ma (à ma) injuste? confiance en soi (moi) (pas justifiée?), alors que je passais les jours en légèrement (en) lissant les classiques russes, aimant les Français Zola et Stendhal, adorant Mesa et Andric et en suffoquant dans les larmes à cause de Davico et Crnjanski. Entre eux, j'entrais dans une harmonie et dans une douleur, cré(é)es par Desanka et Miljkovic pour l'âme de la fille de dix-sept ans et (les) quelque prix importants que je gagnais étaient pour (avoir) écrit sur les ombres, les enfants, Pâque et la guerre.
À cause de ma injuste confiance en soi (moi) (pas justifiée?), l'entêtement et la conviction personnelle dans mon savoir-faire de dix-huit ans de science?, à cause des grandes chaussures et des cadres serrés, à cause des livres qui nous enrichissent, mais qui ne nous font pas riches, à cause que je savais (connaissais)? tout et (du fait) (qu')il n'y avait personne à (pour) me convaincre au (du) contraire, je me suis trouvée dans une grande école de (sur)? laquelle je ne savais de rien, ni avant, ni pendant et encore ni (même pas) après, pour (pendant) longtemps. Une grande paysanne de la petite ville, une âne(sse) persistante avec les pieds de trois cents miles, un taureau qui courait sans regardant (regarder) le chemin devant et sans sachant (savoir) où ce chemin lui prendra (l'emmènera).
La petite ville, le petit cadre sans la couleur et (sans) la forme était (a été) re(m)placé par la grande ville avec sa géographie, l'histoire et le (la) société établies. La ville était bien connu(e) la (de) même comme ses citoyens, il n'y avait (ce n'était) pas un dilemme de (savoir) qui, pourquoi et quand était arrivé et resté là, la place de chacun était marqué par l'accent, par les pieds (le façon de marcher), par le regarde, ou par la manière de penser. La ville sans honte, sans peur, sans pardon, sans les limitations. La ville colorée, vivante, forte, lourde, nue. La ville adorée. La ville de tout le monde et de personne. Et la mienne.