Početak maja, roditelji još jednom spremni za put tamo dole, pomoć odbijaju, ali šta da radim, stariji su ljudi, a i moji su, dragi su mi nekako, pa se spremim, odletim, smestim ih u ona aerodromska kolica za pomoć teško pokretnima, otac, živahan, samo sto iz njih, besan, ne izleti, ali ćuti, crvene mu se samo uši, njih ne  može da sakrije. Odoše.
Sestra ima malu devojčicu, baba i deda ne bi da se nadugo razdvajaju od toliko čekane unučice čije godine odrastanja možda neće sasvim propratiti, pa bi njih dve za njima, ali kako će na tako dugačak put same, nego, kad i ja već planiram da idem tamo dole, što ne bismo išle zajedno. Ma, hoću, volim i ja s onom malom još dok deli svoju veliku ljubav i široki osmeh svima. I tako pođemo sve tri.
Kad je već cela porodica na okupu, mislim moja roditeljska porodica plus ona mala što deli ljubav okolo, onda je red da svi budemo i pod istim krovom, nekih dvadeset i kusur godina kasnije. Odlična ideja, samo u ushićenju zaboravimo da smo, za tih dvadeset i kusur godina i porasli i prerasli, pa nam je tesno ono što je nekad manje, ali komotnije bilo.
Uskoro dođe i moja porodica, i to u proširenom izdanju, da su živi i zdravi! Napolju provreo asfalt, roditelji ne znaju za klimatsko hlađenje, ali ni za ručak bez dobro ukuvane supe. Nekoliko kratkih putovanja, kvar na iznajmljenim kolima pred svadbu u drugom delu državice, muž ode malo do svojih, u susedstvo, preko granice, s njima nazad, moraju da kreče, ja već najbolji drugar sa raznim vodoinstalaterima, kamenoklesačima, trgovcima raznih vrsta. Poneki antikvar, za dušu, nekoliko slavina, sanitarije, cevi, bunari, par nezaboravnih, noćobdijskih izlazaka, neka stara i nekola nova, ali sve overena prijateljstva, dašak kulture naše nasušne, neki tužni, neki srećni događaji, pomalo suza, puno vina, poljupci za rastanak i prođe i to, tamo dole.
Radujemo se, umorni muž naročito, provešćemo nedelju dana u našoj, ali stvarno našoj, kućici, pa dolazi i jedna od ćerki, pa bašta, pa bazen, pa bicikl, pa još vina, ma milina! Jeste, tj. bila bi, ali nešto se tu, usput, zabrljalo po mojim kalendarima (čudo!), pa mi do kuće na dan, umesto na nedelju, ništa od bazena, ništa ni od vina, ali, zato do Rodžers kupa, da nadoknadimo. Razbi ga Nole, meni oči pune suza, mužu srce na mestu, ćerka se zaljubila u tenis, odmah pozvala celo društvo da gledaju finale, mi nazad na avion, neko mora i na posao (al' taj neko nisam ja).
Taman došli, oprali se i ispeglali po onoj vrućini i vlazi, odmah pakuj se ponovo, muž mora u školu ispod Alpa, nije kriv, meni vlaga smeta, a ne bole me oči dok buljim u jezero kome preti onaj sneg odozgo, nisam ni ja kriva. Što se mora, nije teško, odosmo.
Nije odavno bilo tako idilično, tako vedro, tako toplo – taman! A onda, usred tog taman a i usred večere, zazvoni mobilni (uvek tu za vas!) i gazda kaže morate da se selite! Gde, bre, da se selimo, pa nismo se tako dogovorili?!? Kaže, mora tako, došle bolje platiše, imate mesec dana. Muž kaže… da ne kažem šta kaže, ali kaže mislićemo o tome kad se vratimo. Dolaze nam deca na odmor, jedva se skrpismo, kako ćemo tada da mislimo? Nekako. Prođe ono taman, ali ne dadoh se ja, već mi one Alpe sve bliže i sve draže.
Dođemo nazad, dočeka nas onaj pogled koji ukopava u mestu, ma ne želim više ni da gledam na tu stranu. Muž opet na posao, ja u potragu za nekim prebivalištem. Oni oglasi za iznajmljivanje, tuđe kuće i budžaci, ma sve mi isto, nikakvo, ali vreme odmiče, a deca dolaze. E, neću im pokvariti odmor, naći ćemo neki krov pre nego sto stignu, pa makar. I nađosmo!
Deca prozujala, izigrala se, izigrali se i nas dvoje s njima, a uz pomoć prijatelja još i malo više. Te na glavu, te na noge, te na gumu, ma samo tako! Kakva leđa, kakve godine, kakvi bakrači!?! Prođe nedelju dana kao dlanom o dlan.
Pola kuće pobacam, drugu polovinu spakujem u neke kutije, muž prizove kamion, prođe tako cela nedelja i – preselismo se! Popadali od umora, ne vidimo na oči, ali skoro sve je na svom mestu, ma i vino ćemo negde smestiti. Onaj pogled je ionako bio precenjen, ko bi sad na njega mislio, a kofere smo, mudro, spakovali pred selidbu.
I tako, mic po mic, prođe leto. Međutim, ne damo se mi tako lako, a, ne. Zemljo kulture i gurmanluka, pripremi se za Balkanijadu! Eto nas, tout à fait prêt.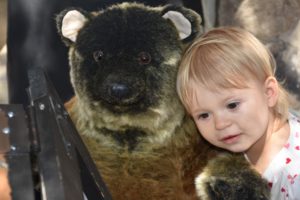 All this in English:
The beginning of May, parents are ready for another trip over there, they refuse help, but they are elderly people, and they're mine, I kinda love them, thus I fly out, put them into the wheel chairs at the airport, dad is ready to explode, but says nothing, only his ears are red, they're hard to hide. And, they leave.    
A sister has a little girl, the grandparents would rather not to be away for too long from their long- waited- for grand-daughter, they're afraid they might miss her growing up, thus the sister and the niece would follow them soon. The flight is long, though, and since I'm also planning to go, why don't we all three go together, that would be so convenient. Sure, why not, I love to spend time with that little angel,with the big hearth, lots of love and a large smile for everyone. And, the three of us leave, too. 
Since the whole family is together, I mean my parental family plus the little one with enough love for everyone, the only right thing to do would be to stay under one roof, some twenty plus years later. Great idea, of course, but, in our excitement, we forget that we are, somehow, twenty plus years bigger and older, thus everything, once just the right size, is now much tighter, less comfortable.    
Soon after, my family comes, the husband, the girls and the extensions, god bless them all! It's 37C outside, asphalt is melting, parents don't appreciate the A/C and the only dinner they'd appreciate must start with a properly cooked soup. A few short trips, a rent-a-car that broke the day of the important wedding in a different city, the husband flies out to see the relatives in a neighbouring, not so friendly country, I'm already BFF with plumbers, masons and salesmen of all kinds. A few antiques for the soul, partial appliances, some unforgetable, lively nights, some wine, friends old and new, all forever, a splash of culture for the mental health, some sad, some happy events, kisses and tears for good bye and that was it, over there. 
We are happy, especially the exhausted husband, we're going to spend a week in our own house! One of the girls is coming, too, then the garden, the pool, the bikes, some wine, more wine, all good! And it would be really good unless I discovered a mistake in a calendar and the week turned into a day, no pool, no bikes, hardly any wine. The Roger's Cup was not such bad consolation, though, sure enough Nole was great, my eyes full of tears of pride, husband's hearth full of joy, the daughter's in love with tennis already. And we leave. Someone must go back to work (that someone not being me). 
And, so we arrived, unpacked, did laundry, ironing and all, under the blasting sun and humidity of a hundred percent. The husband has more schooling to do, far away, under the Alps, not his fault, I can't breath here in August, but staring in the lake under the snow doesn't hurt me, not my fault either, and off we go again.    
It's been so idyllic! Blue skies, blue lake, white snow, sunny, dry, busy -perfect! In a middle of that perfect the telephone rings (always there for you!), the landlord says we must move out within a month. What?!? That's not what we agreed upon! Sorry, we found those who'd pay more, and you know that view, the killer view you enjoy and my wife craves for, that view must be ours, the landlord says. The husband says…, you don't wanna know what he says, but we'll think of that when we get back, he also says. The kids are coming in and for a week, we had to pull some strings for that to happen, what do you mean we'll think of that when we get back, I say. What was perfect had just disappeared, but I don't give up so easily and those Alps became even closer to my hearth.    
We are back, that killer view still there, but I'm not paying any attention to it, of course. The husband goes to work, I chase the real estate sites, agents, rental properties, but can't stand any of them any more. Time goes by, kids are coming, I'm determined not to spoil their vacation with our move and – we found it! The new place.      
The kids have come and gone, they were real kids and played while here, we played with them and with some dear friends, too. Dive in, jump deep, from the rock, even higher, hold on tight, maybe not so fast. No back pain, no age that counts, only the week that went by too quickly.    
Over the week I have left I get rid of the half of the household, the other half I pack into the plastic boxes, the husband calls the movers and we've moved – just like that! Almost everything is in place, we only need room for wine that sits by the dining table, but oh well. The killer view's been forgotten, but who has time to dwell on it?!? The suitcases wisely packed, before the move.     
A step by step, a day by day, and the summer is almost over. Not for us, though, oh no, not so easily. The country of the culture and gastronomy, get ready, here we come! The mad people of the Balkans. Tout à fait prêt.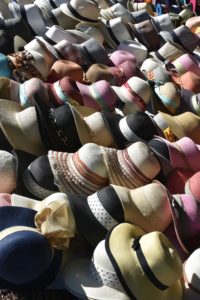 En français:
C'est le début de mai, les parents sont encore prêts pour le voyage là-bas, ils refusent d'être aidés, mais ils (ce) sont les (des) gens âgés et ils sont les miens, je les aime, alors je me prépare et je vole d'un aéroport à l'autre de (pour) les mettre dans cette chaise roulant. Mon père, un homme dynamique et en colère, veux de le sauter, mais il ne dit rien. Ils partent.     
La (Ma) soeur a une bébé, la grand-mère et la grand-père ne veulent pas être longtemps sans leur petite-fille, ils craignent qu'ils ne seront pas ici pendant sa croissance, et la (ma) soeur décide de les suivre avec la bébé. Mais, le voyage est long et, si je (planifie) encore planifie d'aller là-bas, je peux aller avec eux, ce serait convenaient (judicieux?). Oui, pour quoi pas, j'aime bien être avec la petite belle alors qu'elle est pleine d'amour, avec le sourire pour tous. Et, on y va.
Puisque nous sommes tous ensemble, je pense à mes parents et à ma soeur (ainsi que la petite belle qui partage l'amour a tous), c'est aussi normal que, vingt et plus ans (années) plus tard, d'être (qu'on reste) dessous une toit ensemble. Quelle bonne idée, mais, dans notre excitation on oublie que nous avons grandis pendant ces vingt et plus ans (années), et tout (ce) qui était plus confortable avant, maintenant est trop petit.           
Ma famille, je pense à mon mari, à mes filles et à leur gars, (ils tous) viennent aussi, Dieu les bénisse tous! Il fait trop chaud dehors, 37C (degrés), les parents ne favorisent (n'apprécient) pas le climat et il aiment la nourriture bien cuit. Quelques voyages courts, un problème avec la voiture à loué (louer) juste avant un mariage dans l'autre ville, le mari visites (rende visite à) ses parents dans la pays pas (peu???) amicale, la grande rénovation de la maison, mes (meilleurs) amis mieux sont les plombiers, les maçons et  les vendeurs des machines de tous sorts, quelques très bonnes fêtes, quelques amitiés vieilles et quelques nouvelles, tous d'une valeur grande, une souffle de la culture, les (des) événements tristes, les (des) événements heureux, un peu des larmes, beaucoup de vin, l'embrasse pour au revoir (le baiser (l'accolade) d'adieu) et c'a (c'est) fini, là-bas.
Nous sommes heureux, le (mon) mari particulièrement, on passera une bonne semaine dans notre maison, l'une des filles sera avec nous, puis le jardin, le (la) piscine, le vélo, du vin, plus du (de) vin, ce sera magnifique! Oui, ce serait bon, mais j'ai trouvé une erreur dans le calendrier et on passait (allait passer) un jour dans la maison au lieu d'une semaine, avec des amis, sans piscine, mais, pour corriger cet erreur du calendrier, on a vu le Coupe de Roger. Novak lui a rompis, mes yeux sont pleines des larmes, le mari a le coeur pleine de satisfaction, notre fille est tombée amoureuse de (du) tennis. Avec beaucoup de plaisir on retourne, quelqu'un doit travailler, mais pas moi.          
On vient ici, on se lave et repasse sous l'humidité et le chaleur, puis on remplit les valises encore. Le mari va dans l'école sous (sur?) les Alpes, ce n'est pas son (sa) faute, et parce que je déteste l'humidité mais j'adore de regarder la neige et le lac (en) dessous lui, nous deux partons (tous les deux). 
Tout était si jolie, si agréable – idyllique! Au milieu cette situation idylliques le téléphone sonne (à votre service dans chaque situation!) et le propriétaire dit: "Vous avez un mois pour déménager!" "Pardon?" "C'est nécessaire", il dit. Le (Mon) mari dit…. je ne veux pas dire ce qu'il a dit, mais il dit, aussi, qu'on pensera de (à) ça quand on reviendra.                 
On revient, cette vue nous attende, cette vue qui tue, la vue que je ne veux plus jamais de voir. Le (Mon) mari va au travail, je cherche une autre résidence, les pubs d' (des agences) immobilière me font (rendent) malade, l'agence n'est pas meilleur(e), mais presque les enfants viendront (sont sur le point d'arriver) et je ne veux pas ruiner leur vacation et notre temps avec eux. Pas de la chance!    
Les enfants sont venu, ils jouaient, nous jouions avec eux, grâce à des amis. Plonger, nager, sur la roche, sur le pédalier, sur les vagues, pas de problème, pas mal (au) dos, pas d'âge. 
Je jette le moitié de la maison, l'autre moitié je (j'en) fais dans les (des) cartons, le (mon) mari appelle le camion, et la semaine passait comme le moment. On a déménagé! Epuisé, mais tout est sur (à) sa place (sauf le vin, sauf les tableaux, sauf…). Tout va bien, la vue laide n'existe plus, les valises sont encore prêt(e)s.    
Et, juste comme ça, l'été est presque fini. Mais, pour nous, les vacances juste commencent (juste). Le Pays de la culture et de la gastronomie, sois prêt! Les fous pour des gens des Balkans viennent à toi! Tout à fait prêt.