Za razliku od male škole, koju sam ja, osorni i na bol neosetljivi devojčurak, tako sigurno i samouvereno prelazila gazeći je svojim krupnim koracima, velika škola je, iz dana u dan, smanjivala moj korak, iz meseca u mesec lomila moju osorost, rušila mi samopouzdanje, krotila ponos i mutila pogled. Postajala sam sve manja, sve neprimetnija, nevidljivija, nisam više rasla, a da li od bezbrojnih stepenica, spratova, prostorija, ili jurnjave za nečim što bi mi bilo blisko i poznato, tek cipele su mi bivale sve tesnije. Velika škola, veliki ljudi, velike reči, veliki projekti, veliki mozgovi, velike ambicije, a ja, nikad manja.
U svačijem životu, valjda, postoji onaj jedan period u kome duva vetar i padaju magle, onaj period u kome tumaraš, u kome obnevideo prolaziš pored sebe, u kome ne poznaješ onu osobu koja te stalno prati, diše ti za vratom, muva ti se oko nogu, unosi ti se u facu, tapše te po ramenu, pritiska ti mozak, lupa te u prsa, spotiče te, a ti sve to nemo pratiš i posmatraš bez pogovora, kao da te ništa od toga ne dotiče, kao da te se sve to ne tiče, već samo hodaš, gluvariš, trčiš, a ustvari, vrtiš se kao na ringišpilu i u glavi ti sve više zuji dok uzaludno pokušavaš da se pomeriš, da dohvatiš sedište ispred sebe, a ono uporno beži sve dok se ringišpil, konačno, ne zaustavi, a ti, kao odrastao čovek, staneš na svoje noge i sačekaš još samo malo, dok ono zujanje u glavi sasvim ne prođe.        
Nanina garsonjera sa malom terasom, zajedničkim kupatilom i zajedničkom vešernicom nije više bila tamo. Ustvari, garsonjera je, verovatno, i dalje bila na istom mestu, samo nane više nije bilo u njoj. Ni nas više nije bilo u njoj. Ni onih velikih kreveta, ni dubokih plakara sa savršeno poslaganim i uštirkanim čaršafima i stolnjacima koji su, tako kruti, mirišljavi i beli, čekali nas. Ah, ti plakari i ti stolnjaci i sve one male i velike tajne koje su u sebi krili i čije sam postojanje redovno i sa istim zanosom, proveravala svakog leta! Prva tajna  – fotografije, druga – članci iz novina, treća – pisma, pa kravate, dopisnice, svedočanstva, diplome… Četrdeset godina živela je nana sa svojim tajnama, uredno ih peglajući u savršeno izbeljene čaršafe i čvrsto ih vezujući u čvorove heklanih stolnjaka.
Kažu da je nedeljama odlazila iz kuće zorom, ta gospođa, ta dama, trgovačka ćerka sa bundom od nerca, da bi se, posle besomučnog, celodnevnog lutanja, trčanja, moljenja, traženja mesta na kome je, ubijen, ležao njen muž, kasno uveče vraćala svojim malim ćerkama, Tražila je mrtvog oca svojih devojčica sa kojima je on, neposredno pred Uskrs tog istog proleća 1944., polupao preko stotinu voskom ukrašenih uskršnjih jaja samo zato što je to njima, njegovim malim ćerkama, bilo smešno.
Od svog njenog trčanja, od besomučnog lutanja, upornog traženja, moljakanja i kukanja, ostala su joj deca, neka iznajmljena pomoćna kućica, nemaština, samoća, bol, prkos, ponos i bunda od nerca. Posle su joj neki seljaci doneli dedinu krvavu kravatu. Ali, ni mesto ni grob, ni telo, ni dušu, nisu nikada našli. Ćutala je nana, ćutali su ljudi, ćutao je srećni, posleratni, bratski, patriotski, ravnopravni, pravedni i pravosudni sistem koji se širio od Juga do Severa naše zemlje. Četrdeset godina kasnije, u dubokom plakaru, prepunom tajni čije sam postojanje proveravala svakog leta, ispod debele gomile savršeno ispeglanih i uštirkanih jastučnica stajala je ploča. "Od Vardara pa do Triglava". Od Juga do Severa nase pravedne, bratske zemlje. A moja nana nije imala ni gramofon.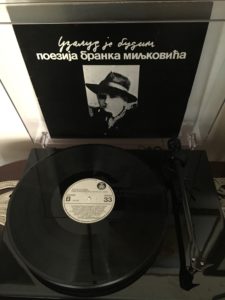 All this in English:
As opposed to the high school which I went through with my huge steps, as an insensible, confident, hard-mouthed teenager, university had been, from the first day on, breaking my abruptness, destroying my confidence, taming pride and blurring my vision. From month to month I was becoming smaller and smaller, less noticeable, almost invisible, and, was it because of the numerous stairs, floors and amphitheatres, or because of all the running after something familiar and known, but my shoes seemed tighter than ever before. A big school, big people, big words, big projects big ambitions, big brains and me, never as small. 
In everybody's life, I suppose, there is that windy, foggy and rainy period in which you wander, passing blindly by your own self, not knowing the person who breaths into your neck, steps on your feet, gets into your face, taps you on the shoulder, pushes your brain, hits you in the chest, while you keep going, watching all that without a word, like any of that has nothing to do with you, none of it is your problem. However, all that time you're just running in one place and your ears are buzzing constantly, your head is spinning so hard on that Merry-go-round, while you, in vain, try stretching your arm to catch a seat in front of you, but the seat keeps running away from you, always at the same distance, all until the carrousel makes a full stop, in which moment you, as an adult, stand on your own feet waiting for that buzz to stop as well.
Nana's studio with an inclosed balcony, a shared bathroom and a shared laundry room wasn't there anymore. In fact, the studio was, probably, still at the same place, but without nana in it. And without us. There were no more those big beds, or those deep, heavy armoires with perfectly starched and ironed sheets and tablecloths who would be, with their irresistible smell, waiting for us. Oh, those armoires and those tablecloths and all of those small and big secrets that they were hiding and whose existence I'd be checking with the same devotion every summer! First secret – photos, second – newspapers articles, third – letters, then ties, postcards, school reports, diplomas… For forty years nana had lived with her secrets, firmly ironed into the perfectly white sheets and tied in every knot of the crocheted tablecloths.
The story goes that, for weeks, she was leaving the house before dawn, that lady in a mink coat, a daughter of a wealthy merchant, only to come back home to her little girls late at night, overwhelmed by grief, after the whole day of wandering, pleading, running, asking and looking for a place where her husband was brutally murdered. She was looking for a father of her three little girls with whom they, just before Easter that very spring 1944., cracked about a hundred beautifully decorated Easter eggs, only because his daughters found it fun.
After all the frantic runnings, endless wanderings and persistent pleadings and loud cries, nana was left with her little girls, a small, rented, servant house, poverty, loneliness, pain, pride, spite and a mink coat. Much later some villagers found and brought her husband's blue tie, stained with blood. However, the place of his murder, his body, his tomb, his soul, were never found. Nana was silent, people around her were silent, the happy, equal for all, just to all, from the South to the North, system across our country of socialism and camaraderie, were silent. Forty years later, under a big pile of soft, white pillows, there was a vinyl disc. "From Vardar to Triglav". From the South to the North of our brotherly country. And, my nana didn't even have a gramophone.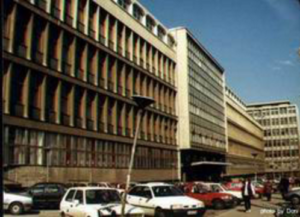 En français:
Au contraire de ma petite école que j'ai traversé(e) par (avec) des grands pieds en tout(e) confiance et avec beaucoup d'estime de soi, comme une insensible fille arrogante typique, de mois en mois la Grande École a réduit mes pas, elle a cassé mon arrogance, détruisait ma confiance, apprivoisé ma fierté et cré (rendu) mon vue plus floue. Je devenais plus petite, plus invisible, je suis (ai) arrêtée de grandir. Je ne sais pas si c'était à cause des innombrables escaliers, beaucoup des (d')étages, des grands corridors, ou à cause (du fait que) je chassait(s) quelque chose (de) connu et (de) proche, mais (cependant) mes chaussures devenaient plus serrées. La grande école, les grands gens, les grands projets, les grands cerveaux, les grands ambitions, et moi – jamais plus petite.
Je crois que dans la vie de tout le monde il y a un période du (de) brouillard, du vagabondage, un période dans lequel il pleut beaucoup, un période dans lequel, aveugle, tu (vous) passes(z) par (à travers) toi (vous) même, en ne connaissant pas la personne qui souffle dans ton (votre) cou, qui te (vous) désarçonne, qui pénètre dans ta (votre) visage, qui te (vous) tape sur l'épaule, qui presse ton (votre) cerveaux ou qui te (vous) frappe sur la poitrine, alors que tu (vous) regarde(z) tout ça sans un mot, de même que tout ça n'est pas ton (votre) problème, et tu (vous) marche(z), tu (vous) cours(ez), mais tu (vous) tourne(z)? dans un endroit avec la (du) bruit dans tes oreilles et avec la tête qui tourne sur ce carrousel pendant que tu (vous) essaye(z) à (de) toucher la chaise devant toi (vous), mais la chaise fuit jusqu'au (à) (ce que le) carrousel ne cesse (s'arrête) pas complètement, et jusqu'à tu (ce que vous) es (soyez), comme une adulte, debout sur tes (vos) pieds, et (vous) attends(ez) que ce bruit dans la tête de cesser, aussi.
Le studio de nana, avec la terrasse clôturée, la salle de bains et la salle de lavage partagées n'était plus là-bas. En fait, le studio probablement restait (été resté) sur le même place (au même endroit), mais nana n'y était plus. Et nous n'étions pas plus là (non plus). Il n'y avait non plus des grands lits, ni des placards profonds avec des nappes et des feuilles blanc(he)s, repassé(e)s et amidonné(e)s parfaitement, qui (nous) avaient attendu pour nous. Oh, ces placards et ces nappes avec tous leur petits et les grands secrets dont l'existence je vérifiais(1) l'existence(2) chaque été! Le première secret – les photos, le second – les articles des journaux, le troisième – les lettres, puis les cravates, les cartes postales, les documents… Quarante ans de sa vie, ma nana vivait avec ses secrets pressés dans les feuilles méticuleusement repassés et liés dans les noeuds des crochetées nappes(1) crochetées(2) et amidonnées.        
L'histoire raconte que, pendant des semaines, elle partait de la maison avant l'aube, cette dame élégante avec un manteau de vison, la fille du commerçant riche. Après des longues errances, beaucoup de recherches futiles, les (d')espoirs douloureux et les (des) plaidoiries (encore) plus douloureux(ses) pour trouver l'endroit ou son mari avait été tué et enterré, elle revenait tard dans la soirée à (vers)? ses trois petites filles. Pendant les (des) semaines elle cherchait le corps mort du père de ses filles avec lesquelles, le Vendredi Saint cet printemps-là 1944., il avait écrasé plus d'une centaine d'oeufs de Pâques, simplement parce que c'était drôle pour eux.
Après tous les errances longues, (les) recherches futiles, les (faux)(1) espoirs(2) faux et les plaidoiries douloureux(ses), elle (avait) était laissée avec ses jeunes filles dans une petite maison louée, dans une (la) pauvreté, dans une (la) solitude, dans une (la) douleur, dans un (le) dépit, dans une (la) fierté et dans le manteau de vison. Beaucoup plus tard quelques paysans lui ont apporté la cravate sanglante de son mari, mais son corps, son âme, son tombe n'étaient (n'ont) jamais (été) (re)trouvés. Nana était silencieuse, les gens autour elle étaient silencieux, un système heureux, patriotique, fraternel, le système juste et égal du Sud au Nord de notre pays était silencieux. Quarante ans plus tard, dans le placard profond plein des secrets cachés dont existence(2) je vérifiait(1) chaque été, sous une pile (d'épais coussins) des parfaitement blancs coussins épaisses, il y avait le disque vinyle. "Du Vardar au Triglav". Du Sud au Nord du notre pays fraternel, juste et égal. Et ma nana n'avait pas eu un tourne-disque.