Ništa čoveku ne prija kao komfor. Komfor toplog sunca, širokog horizonta i baršunastih talasa, komfor zemlje koja nesebično daje, komfor uspeha, komfor moći.
Da li zbog magle i dosadnih kiša, zbog stalnog sivila i vlage u kostima, zbog zemlje bez mirisa i hrane bez ukusa, ili zbog osećaja izolovanosti od majke Evrope, tek, Englezi dobro razumeju reč komfor i pažljivo čuvaju sve ono zbog čega su iz Engleske odlazili, sve što su po svetu vekovima sticali. S ponosom neguju Krunu koja im daje snagu i moć, teško se odriču onoga što su jednom poenglezili, a poučeni greškama iz prošlosti, čvrsto se drže svojih dalekih, toplih teritorija i preostalih krunskih kolonija, pazeći da se, u istima, njihov komfor ničim ne poremeti. 
O svojim kolonijama pričaju vrlo neengleski, zaneseno, nostalgično, pogleda uprtog u daljinu, sa iskrom zaljubljenosti u očima, sa nekom posebnom čežnjom pri kojoj im se čak i ona, tako nepogrešivo engleski stisnuta, gornja usna malo opusti, a lice razvedri i smekša skoro do granice potpune sentimentalnosti. I dok o njima pričaju, čini se da zaboravljaju na lično neprihvatanje svega sto je neenglesko, drugačije i tuđe, a što, u zanosu trenutne poluzainteresovanosti i kratkotrajne fasciniranosti, obično dočekuju visoko podignutih obrva i jednim "O!", poluizgovorenim.
I, ma koliko se trudila da razumem, ma koliko čitala, tumačila, posmatrala i proučavala, i dalje se pitam da li se oni tako razneže iz ljubavi prema egzotičnim predelima, vedrom nebu i baršunastom moru, ili, pak, iz ljubavi prema sebi samima, komforno smeštenih u tim svojim exotičnim, preostalim kolonijama.
Da li zbog onog sivog, kamenog neba, zbog vlage u kostima, ili zbog zemlje bez mirisa i hrane bez ukusa koje je iza sebe ostavio, tek jedan Englez se toj čudotvornoj lepoti i rajskom izobilju predaje spontano i bezusolvno, uveren da je baš on bogomdan da tu lepotu prisvoji, mestimično pripitomi, sebi prilagodi i maksimalno iskoristi.
U svojim kolonijama, pravi Englez svaki svoj zahtev i svaku izrečenu naredbu završava tek nakon što je izgovorio "please" i "thank you". Pravi Englez podrazumeva da se na svaki njegov zahtev i na svaku naredbu odgovri pravovemeno i prema očekivanjima.
Pravi Englez uvek priča o vremenu, vikendu i kućnim ljubimcima. Nikada ne priča o politici, religiji i novcu. Pravi Englez politiku vodi, religiju nameće, a novac stvara, štedi i umnožava.
Da li zbog nostalgije, manjka maštovitosti, ili osećaja odomaćenosti, tek skoro sve kolonije Kraljice Majke imaju svoje Devonšire, Pembruke i Sauthemptone. Imaju i engleski doručak, Ujedinjenu Englesku Crkvu, engleski čaj, engleski mafin, engleski školski sistem, engleske pravne zakone, englesku krunu, a pored svog grba, imaju i englesku zastavu. Sve te kolonije imaju i još mnogo toga, ali ne tako engleskog, pa time i ne tako vidljivog, ili ne tako značajnog.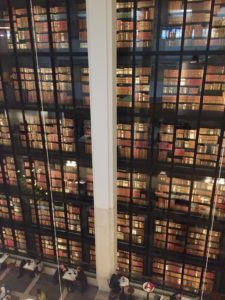 The British Library - the second largest library, with over 2.4 million records of baptisms, marriages, burials, wills, pensions, military and civil career information in the British in India Collection
In English:
There is nothing in life as comfortable as comfort. Comfort of the warm sun, infinite horizon and velvet waves, comfort of land that offers itself so generously, comfort of success, and comfort of power.
Not sure if it's the fog, or the rain that never stops, or the heavy, grey skies and dampness in the bones, or the soil without the smell and food without the taste, or just the feeling of isolation from mother Europe, but Brits understand the meaning of the word comfort very well and are very protective of all the worldly things that they collected through the centuries which made them leave England in the first place. Proud of the Crown that gives them power and entitlement, they don't easily give up on anything English, and — learning from mistakes of the past — they hold tight to their faraway, sunny destinations and crown colonies, still a part of the once great British Colonial Empire.
When talking about their colonies, there's a sense of affection and yearning, a trace of a nostalgic sensitivity, that very recognisible spark in the eyes of a person in love, and even their recognisable, very stiff upper lip softens almost to the point of total sentimentality. It seems that, when talking about their colonies, they forget about the unacceptance of things non-English, foreign, someone else's, things that they usually react to only with raised eyebrows and a long "Oh!". 
And regardless of how much I try to understand, to interpret, no matter how much I read or observe, I'm still not sure if their sentimentality comes from their love for those exotic places, blue skies and the sound of waves, or from their love for themselves and the comfort they are surrounded with in these remaining colonies.
Not sure if it's the heavy, grey sky, the dampness in the bones, the soil without the smell, or food without taste that made Englishmen fall in love with and surrender to that magic charm wholeheartedly and without any resistance, convinced that it was theirs — god-given — to seize, tame and manipulate that beauty as they saw fit.
When living in colonies, a true Englishman never makes a request, or gives an order without "please" and "thank you". A true Englishman assumes that all of his requests and orders will be fullfilled to his expectations, in a timely manner. 
A true Englishman always talks about the weather, weekend and pets. He never talks about politics, about religion, nor about money. A true Englishman leads politics, imposes religion and makes, saves and multiplies money.
Not sure if it's because of nostalgia, a lack of imagination, or sense of domestication, but most of the Queen Mother's colonies have their Devonshires, Pembrokes, Southamptons. They all have English breakfast, The United Church of England, English tea, English muffins, English school system, English laws and English crown, and next to their own crest they all have the English flag. All these colonies have much more, but it's not so English and, thus, not so visible and not so significant.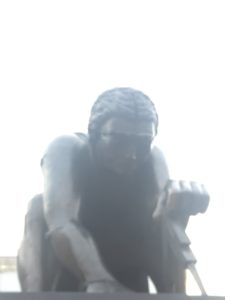 Look up, look at me! - Says a 4m tall statue of Sir Isaak Newton
En francais:
Il n'y a rien (d')aussi agréable comme (que) le confort. Le confort des pieds nus, du soleil chaud et brillant, le confort d'horizon (de l'horizon) vaste et des vagues velouté(e)s, le confort de la terre qui donne généreusement, le confort du succès et de la puissance.
Je ne sais pas si c'est à cause du brouillard et de la plue incessante, du ciel morne et d'humidité dans les os, à cause de la terre sans odeur et de la nourriture sans goût, ou à cause du sentiment d'isolation de la mère Europe, mais les Anglais comprennent très bien le mot confort, et ils prennent un bon soin de toutes les choses qui (les) ont les fait partir de L' (d')Angleterre et qu'ils ont, pendant les siècles, collecté partout.  Ils sont fières de la Couronne qui leur donne la force et la puissance, ils ne laissent facilement rien qu'ils aient (ont) anglicisé, et ayant appris des erreurs du passé, ils (se) tiennent fermement à leurs (de ses) chauds territoires dépendants et aux (les) colonies de la Couronne existantes, en prenant soin (soignant) que leur confort en eux ne bouge pas.                         
Quand ils parlent de ses (leurs) colonies, ils parlent avec une affection pas anglaise, avec un sentiment nostalgique, en se penchant sur la distance amoureusement, avec une aspiration particulière, en laissant sa (leur) lèvre supérieure de (se) détendre en peu et son (leur) visage de (se) ramollir presque jusqu'à (aux) les limites de la sentimentalité. Quand ils parlent de ses (leur) colonies, il se semble qu'ils oublient de sa (leur) résistance d' (à) accepter les choses différentes, étranges, pas anglaises, les choses à lesquelles (auxquelles), normalement, ils réagissent avec les sourcils levés et un "Oh" trop long.
Et peu importe ce que j'essaye de le comprendre, peu importe ce combien je lise, interprète, regarde et recherche, je me demande toujours s'ils sont vraiment amoureux des paysages exotiques, du ciel bleu et des vagues veloutés, ou (s')ils sont tombés amoureux des (d')eux- mêmes, dans ce confort de la vie coloniale dont ils sont entourés. 
Je ne sais pas si c'est à cause du gris ciel en pierre, à cause d' (de l')humidité dans les os, ou à cause de la terre sans odeur et la nourriture sans goût laissés derrière, mais, convaincu qu'il était donné la chance (quel chance lui a été donnée), ou qu'il était (a été) choisi par Dieu de (se) l'approprier, l'apprivoiser en peu, l'ajuster selon ses besoins et la maximiser, un vrais Anglais se rende spontanément et inconditionnellement à cette beauté magique et à cette richesse de la paradis colonial. 
Dans ses colonies, un vrai Anglais fait le point (pointe) de son ordre exclusivement après il a (avoir) dit "please" et "thank you". Un vrai Anglais assume tous ses ordres être finir en temps voulu et comme prévu. 
Un vrai Anglais parle toujours de la (du) climat, du weekend et des animaux domestiques. Il ne parle jamais de la politique, de la religion et de l' (d')argent. Un vrai Anglais orchestre la politique, il impose la religion, il génère, épargne et multiplie l'argent.                              
Je ne suis pas sûre si c'est pour préserver l'intimité, ou pour sentir la familiarité, ou à cause de la pénurie d'imagination, mais toutes les colonies de la reine mère ont leur Devonshire-s, Pembroke-s et Southampton-s. Ils ont aussi le petit déjeuné anglais, le thé anglais, les muffins anglais et l'Eglise unie d'Angleterre. Elles suivent le système scolaire anglais et les lois anglais. Elles respectent la Couronne et, à côté de son blason sur leur drapeau, elles ont le drapeau anglais. Toutes ces colonies ont plus encore (d'autres choses encore), mais pas tellement anglais(s) et, ainsi, pas tellement visible et pas tellement signifiantes.