I kao što smo između noćnih izlazaka i učenja rešili da imamo porodicu, kao što smo, između posla i ispita odlučili da emigriramo, kao što smo, u emigraciji, između večere i dečijih uspavanki za mog muža smislili završavanje još jednog fakulteta na jeziku koji nije znao, tako smo, u procepu između dva kontinenta, još jednu od tih nebitnih, životnih odluka doneli usput, rešivši da jednu komfornu, ogromnu, hladnu i bivšu koloniju u koju smo takoreći tek stigli, zamenimo drugom, tropskom, minijaturnom, potpuno izolovanom, još komfornijom i još uvek zvaničnom engleskom kolonijom.
Čini mi se da, bez obzira na sva druga kolonijalna blaga, nigde na svetu nebo nije tako safirno plavo i nigde okean nije tako magično stopio tirkiz, žad i ametist kao na tom malom, slikovitom ostrvu. Obgrljeni smaragdno zelenim, egzotičnim vencem i sjedinjeni zlatnim zracima užarenog sunca, to nebo i taj okean nenadmašivi su ljubavnici kojima je, ma koliko se opirali znajući da nikada i ni po čemu ne mogu biti vaši, nemoguće odoleti.
Bože, koliko lepote i koliko topline nas je dočekalo tog leta 2000-e.! Prostrvši se ispred naših nogu do beksraja i nazad, uvukao nas je u svoj ogromni, neodoljivi zagrljaj tirkizni Atlantik i mi smo, otvorivši vrata raja, odmah zaboravili do tada jedinu, najveću, najbolniju, zauvek izgubljenu ljubav prema nekada našem, a tada već vrlo tuđem, Jadranskom moru. Prepustili smo se tim nestvarnim atlanskim dubinama bez reči, bez razmišljanja i bez opiranja. Kroz prste su nam se provlačili ružičasti korali i beli puderasti pesak, bosonogo detinjstvo naših devojčica ispirali su penušavi, kristalno čisti, nevini talasi, u njihove mlade živote ulazili su novi drugari, neki kovrdžavi i tamnoputi, neki plavokosi i pegavi, a svi zajedno veseli, vedri, opušteni, prepušteni tom čudesnom, ostrvskom carstvu. Plaže, palube, razgolićeni letnji dani i tople noći nespavanja i smeha, uvek bosi i pomalo peskoviti koraci brzo su učinili da, uvučeni u dugu zimu, oduvani ledenim vetrom i pokriveni dubokim snegom, još bleđi postanu nepregledni pejzaži nekih tamo dalekih  Kanada. I kao što su to, tamo daleko, odakle smo došli, nekada davno učinili naši preci, kao što su to, pre mnogo godina uradili i naši roditelji, tako smo i mi jednom postali, bili i ostali Ostali.
                                                  <<<<<<<>>>>>>>
Oblaci su od jos uvek daleko od ovog malog raja, jos uvek su lagani, razigrani, paperjasti. Tek ponekad, kao da sluti neku veliku oluju, nebo postane crno i tesko, kao sto je nekada bilo crno i tesko nad onom ravnicom iz koje smo zauvek otisli.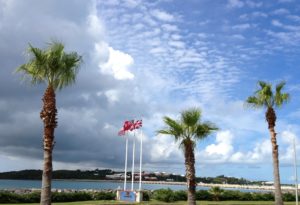 All this in English:
The same way as between parting and studying we decided to have a family, the same as between the work and the exams we decided to emigrate, the same as between the dinners and lolly-byes during our first immigrants years we invented new studies for my husband in the language he didn't know, the same way, filling the gap between the cultures and continents, we came up with with another, completely spontaneous and unimportant life decision to swap a huge, cold but comfortable, former British colony where we almost just came, for an isolated, tropical, very small and very comfortable, one of only a few still remaining British Crown colonies.
It seemed to me that, regardless of all of the colonial treasures collected through the centuries, there was no place in the world where the sky was more the sapphire blue, where the ocean so magically blended the turquoise, jade and amethyst, as on this small, colonial island. Embraced by the most exotic garland of emerald greens and united by the golden rays of the glowing sun, that sky and that ocean are like the unparalleled lovers to whom, regardless of the fact that they could never be yours, you can not resist.
Oh, God, how much beauty and how much warmth had welcomed us in that far away summer of the year 2000! Spreading in front of our feet to the infinity and back, and opening the door to a paradise, the turquoise Atlantic was pooling us under its huge, irresistible hug and, very quickly, without a word and without a thought, we surrendered to its deep, immense beauty, forgetting quickly our, until then, greatest, the most painful, the only one and forever lost love for the Adriatic Sea. The powdery, coral sand was slipping through our fingers, the barefoot childhood of our girls was rinsed by the innocent, crystal clear, velvety waves and their youth was filled with new friends, some dark and curly, some pale and freckled, but all together happy, relaxed, entrusted to the magic of their beautiful island. Beaches, boats, the sandy, careless summer days and the warm, sleepless nights filled with laughter, made the long, dark days and snowy, windy Canadian landscapes even further and paler than they'd been before. And, we stayed. Like our grandparents did a long time ago, like our parents did later, over there where we came from. We became, were and stayed The Others.
                                                     <<<<<<<>>>>>>>
The clouds are still faraway from little haven, they are still light, fluffy and playful. Only sometimes, like in anticipation of a huge storm, the sky becomes dark and leaden, almost heavier than it, once, was over there, where we came from.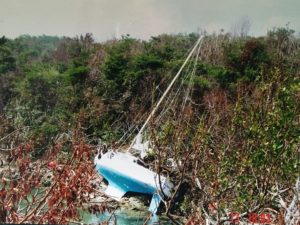 En français:
La même que, entre les amities et les études, on a decidé d'avoir la famille, la même que, entre le travail et les examens, on a décidé d'émigrer, la même que, en l'immigration, entre le diner et les berceuses, on a inventé une autre université pour mon mari, sur la langue qu'il ni comprenait ni parlait, partagés entre deux continents nous sommes arrivé avec une décision qui a été comme toutes les autres nos décisions spontanées, les decisions pas importantes, les décisions de vie. En quittant une ancienne, immense colonie anglaise, trop froide mais très confortable, où on est juste arrivé, on se trouvé dans l'autre, trop petite, trop chaude, très isolée, mais trop confortable, encore valide Couronne colonie anglaise.   
Il me semble que, indépendamment de tous grands trésors des autres colonies, il n'y a pas le lieu où le ciel a la couleur de saphir tellement profonde et il n'y a pas le lieu où l'océan a si magiquement mélangé le turquoise, l'émeraude et l'améthyste, comme sur cette petite, coloniale ile. Embrassés par la feuillage d'émeraude et unifiés par les rayons d'or du soleil rougeoyant, ce ciel et cet océan sont les amants divins aux lesquels, pas importe si vous connaissez ce qu'ils ne jamais puissent être les vôtres, c'est impossible de résister. 
Oh, Dieu, quelle beauté et quel lueur nous avaient attendu cette année là! En étalant devant nos pieds jusqu'à infinité et à l'arrière, ce grand Atlantique nous a attiré dans son câlin irrésistible, et, en ouvrant la porte de la paradis, nous avons tout a coup oublié la mer Adriatique, notre la plus grande, la plus douloureuse, la seul amour, une fois la notre, mais à ce temps là quelqu'un d'autre, pour toujours perdu. Nous nous sommes rendus à ces profondeurs d'Atlantique irréels sans mot, sans penser, sans réticence. Les coraux rouges et le sable blanc se tortillaient entre nos doigts, l'enfance aux pieds nus des nos filles était rincés par d'écume des vagues innocents, clairs comme le crystal, des nouveaux amis entraient dans leur vies, quelques bouclés et noirs, les autres blonds et pleins des rousseurs, mais tous ensemble il étaient heureux, détendus, insouciants, renoncés au ce royaume magique. Les plages, les ponts de navire, les jours nues d'été, les nuits chauds pleins de rires et sans sommeille, les pieds toujours libres et plein de la sable, tout ça nous trop vite faisait que, cachés dans l'hiver longe, gonflés par le vent glacé du Nord, couverts par la neige profonde, les paysages de Canada devenaient plus loin, plus pâles. Et nous sommes restés là. Il y a long temps que nous sommes devenus les autres dans notre propre pays, plus tard nous encore étions les autres ailleurs et aujourd'hui et pour toujours, nous restons Les Autres.
                                                      <<<<<<<>>>>>>>
Les nuages sont encore loin de cette petite paradis, ils sont encore très légers, enjoués, duveteux. Seulement parfois, comme en gardant quelque présage incertain, pas encore annoncée, le ciel devient dure and noir, la même comme, une fois il y a longtemps, il était dure and noir là-bas, au-dessus cette plaine d'où on avait parti pour toujours.