Posmatrati i slušati ostrvske crnce dok nedeljom, zaneseni i ujedinjeni gospelom u svojim brojnim afričko-metodističkim crkvama dušu, telo i glasove predaju bogu, prodiranje je u njihovo bratstvo, njihovu daleku istoriju, u zov za slobodom, u divljinu Afrike, u duboku tugu, stoletnja ćutanja, robovsku bol, vapaje za jednakosću. I niko, kao te stare crnkinje u šeširima i crnci u odelima i blistavo očetkanim cipelama boga ne priziva tako iskreno, tako glasno, tako željno, s tolikom ljubavi, sa beskrajnom nadom i jos većom verom. Ali, ma koliko se priblizili tom svom nedeljnom bogu, već sledećeg dana, kada im se životi i svakodnevnice ispod safirnog neba bar prividno izmešaju i izjednače sa svakodnevnicama belaca, kada se učini da su tirkizne vode Atlantika zauvek odnele kišu i oblake, odlazi i On. Ponedeljkom ujutro, crnci kao da zaboravljaju i napuštaju svog boga, ili mu, jednostavno, samo okreću leđa, setivši se da je i on njima, jednom davno, pred silom i okrutnošću belaca, okrenuo svoja.
Možda zato što im kroz vene teče užarena afrička krv, ili zato što su im oči navikle na boje karipskih mora, ili jednostavno zato što su, iz svojih tesnih kuća sa  mnogočlanim familijama, često bili samo posmatrači luksuza koji im dugo nije pripadao, ali stariji ostrvski crnci vole vino iz tankih, kristalnih čaša, vole da budu usluženi i posluženi, ne vole da služe. Mladi vole da budu primećeni, vole skupinu, živost, sjaj. I dok se starije crnkinje kao lavice bore za svoju mladunčad, dok rade i čuvaju decu svojih sinova bez žena i ćerki bez muževa, njihove ćerke najčešće i dalje kao da ne prave razliku između ljubavi i strasti, a mladi, napucani bro, kako voli da ga zovu samo njemu slični, sanja o tome da bude glavni, želi da ga slušaju, da mu se dive i da ga se plaše. Misli, valjda, da će tako izaći iz lične teskobe, da će tako dobiti vlast ili moć, pa se, onda, konačno, razbaškariti i biti sasvim nezavistan. Svoj na svome.
Ne naučiše mnogo ostrvski crnci ni od ostrvskih Engleza hladne glave i smišljenih koraka, a ni od majke Afrike i njene duše koja neizlečivo boluje od svoje istorije. Prejaka je žudnja za moći, za nezavisnošću, a krv je vrela, muti razum.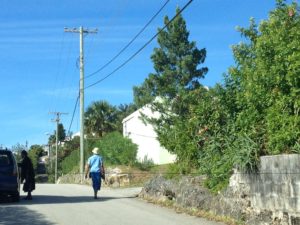 All this in English:
Seeing black islanders while, enthralled and united by gospel, give to the god their body, soul and voices every Sunday, seems like intruding into their long history, their brotherhood, a cry for freedom, a deep sorrow, centuries of silence, into the pain of slavery, yearnings for equality. And nobody calls god with such honesty, love and devotion, with an endless hope and even greater fate, like the elderly black women in their gorgeous, elegant hats and black men in their perfectly pressed suites and polished shoes do. And, as much as they get close to the god on Sundays, each Monday brings the daily routine, almost identical to the routine of the whites and their god leaves on the turquoise waters of the vast Atlantic. It seems that, Monday mornings, black islanders forget god all of a sudden, or they, simply, turn their back to him, remembering that, once, he turned his back to them.      
Maybe because of the hot, african blood, or because of the lively colours of the Caribbean seas, or simply because they were, for the long time, only the observers of all the luxury around them, but the elderly black islanders love their vine from the fine, crystal glasses with the long stem, they love to be served, but don't like to serve. The young ones love to be noticed, they love to be part of the big groups, they love glam, bling and shine. And while elderly black women fight for their cubs like the lionesses, while they work and take care of the children of their sones without wives and daughters without husbands, their daughters often mix love with passion, while their young sons yearn to be big bosses, adored, respected and feared by others. They must think that, acting like big bosses, they will leave personal anguish and get power, and then, finally,  get comfortable, just like a boss.
Black islanders haven't learned much from the white, pragmatic and rational islanders. They haven't learned much from the mother Africa and her incurably wounded soul. The yearning for power and for independence is way too strong, but the blood, which too quickly streams through the brain, is way too hot.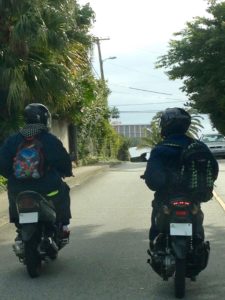 En français:
Regarder et écouter les insulaires noirs donner à Dieu corps et voix, unifiés par le transe et par le gospel dans les églises épiscopales – méthodistes – africaines, c'est pénétrer dans leur fraternité, dans leur histoire ancienne, dans leur appel pour la liberté, nature sauvage d'Afrique , une profonde tristesse, dans la silence des siècles, le chagrin d'esclavage, les cries pour l'égalité. Et personne n'appelle dieu tant (aussi) honnêtement, tant (aussi) fortement, avec (au)tant d'amour et l' (d')espoir (d')infinité comme ces âgées femmes (âgées) noires dans les grands chapeaux et les hommes noirs dans les costumes et les chaussures brillantes. Mais, quand bien (même) qu'ils ont (auraient) été proches au (de) dieu le dimanche, déjà le lendemain, avec sa vie quotidienne mélangée en apparence avec la vie quotidienne des gens blancs (blanches), leur dieu part sur la surface d' (de l')Atlantique turquoise, dessous le ciel de saphir. Lundi matin, il semble que les noirs oublient et laissent leur dieu, ou ils lui tournent le dos n'en (n')oubliant pas qu'une fois, il y a long temps, il leur a tourné le sien.             
Peut-être à cause de chaud sang africain, ou à cause des couleurs des Caraïbes dans les yeux, ou, simplement because ils regardaient le luxe dont ils ne faisaient pas partie des petites maisons avec les grandes familles, mais les insulaires noirs aiment le vin dans (d')élégants verres de cristal, ils aiment être servis et ils n'aiment pas servir les autres. Les jeunes aiment être remarqués, ils aiment faire le partie des grands groupes, ils aiment parler au (à) voix haute, ils aiment toutes les choses bling bling. Et, alors que les femmes noires âgées se battent comme les lionnes pour leur lionceaux, alors qu'elles travaillent et elles soignent les enfants de ses (leurs) filles sans maris et ses (leurs) fils sans femmes, il semble que leur(s) filles ne font pas encore la différence entre l'amour et le passion alors que le jeun gars noir, ne travaillant pas, rêve d'être chef,  rêve rassurer le respect et faire les autres le craignent. Il croit, peut-être, ce qu'il sortira de son étroitesse personnelle, qu'il gagnera la puissance et l'autorité ainsi et, finalement, qu'il se sentira confortable, seul sur le sien (ce qui est à lui).
Les insulaires noirs n'ont pas beaucoup appris ni des blancs de (à) la tête froide et des (aux) pieds pragmatiques, ni de la mère Afrique et de son âme, incurablement malade de son histoire. La passion pour la puissance et pour l'indépendance est trop forte, le sang  bouillant monte à la tête…