Prolazeći kroz te redove, saznavali smo jedni o drugima sve što se odraslima činilo nevažnim, a za nas predstavljalo ceo svet. Bilo je potrebno samo setiti se i postaviti što više pitanja, ne iz radoznalosti, već iz potrebe da budemo bliži, da jedni drugima poklonimo što više onih malih, naivnih, dečjih tajni bez kojih je detinjstvo bilo nezamislivo. "Kako se zoveš?", "U koju školu ideš?", "Ko ti je omiljeni glumac?", "Kakvu kosu ima tvoja simpatija?", "Šta ti se najviše sviđa na tvojoj simpatiji?", "Koji je tvoj hobi?" "Koja ti je omiljena knjiga?" "Kada si poslednji put plakao?"… I kroz svesku punu odgovora izlistanih pod 1, 2, 3,…50…, pravili smo našu malu istoriju, stvarnu, izistinsku biografiju jednog druženja, jednog grada i jednog vremena. Leksikon, jer nije to bila obična sveska, već zaista leksikon – pun pažljivo biranih pitanja i odgovora, morao je, naravno, imati tvrde korice (takve duže traju!) i listove na kvadrate, sa što više redova, da bi sto više prijatelja moglo u njih da se smesti. U leksikonu nije bilo mesta za forografije, a nije ni bilo previše fotografisanja u to vreme, drugačije se na to gledalo. Ali se, zato, kroz svaku reč, rukopis i odgovor oslikavao lik onoga ko je pod tim rednim brojem i iza tih slova stajao. Nevine dečje misli, uredno i čitko ispisane na pedesetak stranica običnog, belog papira. Bogatstvo!
Međutim, prođe to… Osili se dete, pomisli da su sve to detinjarije i, već sledeće godine tek poneki red, poneka stranica bivaju ispunjeni. Leksikon ostaje zatrpan među školskim knjigama od prošle godine koje će "možda zatrebati", rekli su mama i tata, a koje, znamo, nećemo ni pogledati. Jer, to je za štrebere, a mi smo raja. Nama je vreme za novo poglavlje, nova pitanja i nove odgovore, ovog puta manje zajedničke, više lične. Vreme je za tajne! Nezainteresovani za bilo kakva kućna događanja i ušuškani na ivici kauča iza širom otvorene knjige iz istorije, jer ona je najdeblja, s najboljom olovkom u ruci uranjamo u nove, tvrde korice i čiste bele stranice. Počinjemo da vodimo Dnevnik – najozbiljniji, najpotrebniji, najogoljeniji autoportret jedne mladosti. Pitanja bez odgovora, lica bez osmeha, pogledi bez nade, neuzvraćene ljubavi, nenaučene lekcije, bežanja sa časova, tajni sastanci, grdnje i kazne. Mnogo su boli pretrpele bele stranice naših mladalačkih dnevnika! Mučili smo ih nepravednim roditeljima, neiskrenim prijateljima, neostvarenim željama. Ispisujući ih, ulazili smo u neko novo doba, menjali smo sebe, menjajući druge. Na njima se rušio naš detinji svet, sve dok se jednom, zaista, bez naše volje, razumevanja i znanja nije potpuno srušio. Došavši do kraja i stavivši tačku, prerasli smo sebe, svoje detinjstvo, svoju naivnost i svoju iskrenost. Postali smo neki drugi, sami sebi nepoznati ljudi, ali više se nije moglo natrag. Kakva šteta!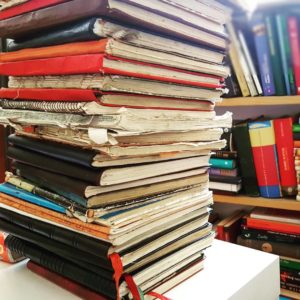 Jednom, kad počente da gradite svoj svet, volite ga i čuvajte, ne dozvolite nikome da vam ga sruši. Ovu fotografiju sam pozajmila od Amele Špendl koja je jedan svoj i naš svet uspela da sačuva sačuvavši svoje dnevnike. Drugi je počela da gradi sa puno stila i mašte. Potražite ga, dodajte mu malo boje, dozvolite mu da postane i vaš.
 
https://www.amelaspendl.com/?pg=books
All this in English:
Going through those lines we were getting to know each other the way that made the world a very special place. You only had to think hard enough about all the questions to get closer to the thoughts, small secrets and big desires that played a major role in everyone's childhood. "What's your name?" What school do you go to? Who's your favourite actor? What colour does the guy/girl you like have? What do you like most about the guy/girl you like? What's your hobby? What's your favourite book? When was the last time you cried?…. And, through pages full of responses listed under 1, 2, 3, ….50…, we were making our own little history, an honest, real biography of the friendship, of our little town and of our time. Lexicon, because that was a real lexicon – with plenty of carefully chosen questions and answers, had to be a hardcover (those last longer!) with grid pages, to accommodate as many friends as possible. There was no room for the photos, but the photography wasn't really popular at that time anyway, those were different times. However, every letter, every word was painting a portrait of the one who stood behind it. A lexicon of the most genuine, most naive, most trusting children's thoughts orderly collected on the pages of an ordinary notebook. What a treasure!     
Alas, all that goes by…. The time comes when the arrogance takes over and you think that all those were just pour, childish games. The Lexicon goes into the pile of the last year's textbooks that mom and dad told you to keep "because you never know" knowing that you wouldn't even touch them. Because, that's for nerds and you're cool now. It's time for a new paragraph, new questions and new answers, this time less shared, more personal. It's the time of big secrets! Absolutely not interested in the family matters and cocooned on the couch behind the history book wide open (that one's the thickest!), with the best ink-pen in hand we're submersing ourselves into a brand new, hardcover notebook and clean, white pages. We are starting our own Journal – the most serious, the most necessary, the most bare self-portrait of our youth. Questions without answers, faces without a smile, hopeless, wandering eyes, unrequited love, unlearned lessons, skipped classes, secret dates, scoldings and punishments. Oh, how much pain the pages of our Journals had to go through?! We were torturing them with our unjust parents, dishonest friends, unfulfilled wishes. While filling them out we were entering into a new era, we changed while changing others. The Journal the place where the world of a child was slowly disintegrating until the day when it disappeared completely, without our will, out of our comprehension. Getting to an end and closing the cover-page, we outgrew ourselves, our childhood, our genuineness, our heartiness. We grew into some strange, until then unknown persons, but it was too late to go back. What a pity!                        
Dans une autre époque, dans un autre monde, les autres enfants...    
En français:
En passant au (à) travers ces lignes, on découvrait les unes des autres tout ce que était sans importance pour les adultes, mais ce que faisait notre monde entier. C'était seulement nécessaire de poser autant de questions que possible, pas à cause de la curiosité, mais pour être plus proche les unes des autres et pour donner les unes des autres autant qu'on pouvait des petits secrets naïves (naïfs), d'enfants sans lesquels l'enfance n'était pas possible. "Comment tu t'appelles?" "(À) quelle école vas-tu?" "Quel acteur aimes-tu?" 'Quelle est le couleur de cheveux de ton petit-ami?" "Qu'est ce que tu aime le plus avec ton petit-ami?" "Quel est ton hobby (violon d'Ingres)?" "Quel est le dernier livre qu'as-tu lu?" "Quand as-tu pleuré pour la dernière fois?"… Et, à travers les réponses énumérés d'un, deux, trois,…cinquante…, on faisait notre petite histoire réel(le), la vrai biographie d'un amitié, d'une ville et d'une époque. Le Lexique, parce que ce n'était pas un cahier ordinaire, mais un vrai lexique – pleine des questions choisis avec attention, était un livre relié (ils durent plus longtemps!) avec des pages carrées, pour accommoder autant amis que possible. Dans le Lexique il n'y avait pas le space (la place) pour les photos, mais il n'y avait pas beaucoup de photos au (à) ce temps là en tous cas – c'était le temps different. Cependant, le portrait d'écrivain était reflété dans son écriture, dans chaque mot et dans chaque réponse sur les (longues) lignes longues. Les naïves pensées d'enfants, soigneusement et clairement écrits sur les cinquante-ans pages du papier ordinaire. Quelle richesse!
Hélas, tout cela passe… L'enfant devient arrogant, commence de pense que tout cela est infantile (enfantin) et, encore l'an proche (prochain), juste quelques lignes, quelques feuilles sont remplis. Le lexique reste dans le coté, avec les autre livres scolaires de l'année dernière qu'on aurait besoin de conserver, comme maman et papa nous ont dit, mais on sais qu'on ne les regardera pas. C'est pour les geeks et nous sommes cool. C'est le temps pour le (nouveau) chapitre nouveau, les questions et les réponses nouveaux (nouvelles), moins communales (communes), plus personnels (personnelles). Le temps de secrets! Pas intéressés pour les questions familiales et en (se) vautrant sur le canapé derrière le livre d'histoire bien ouvert, car il est plus épais que les autres, avec le meilleur crayon dans la main, on immerge dans le livre relié nouveau (neuf) et dans les nouvelles pages blanches. On commence Le Journal – le plus sérieux, le plus nécessaire, le plus nue autoportrait de jeunesse. Les questions sans réponses, les visages sans sourires, les regards sans espoir, les amours pas partagés, les leçons pas appris(es), les sauter des cours, les rendez-vous au coin, les réprimandes et les punitions… Elles soufraient durement, ces pages blanches de nos Journaux! On les torturait par nos parents injustes, des amis pas vrais, des souhaits pas réalisés. En les remplissant, on entrait dans l'époque nouvelle, on se changeait en changeant les autres. Un tout (Tout un) monde d'enfance se démolissait sur eux jusqu'au temps (moment) quand (où) il a disparu vraiment (il avait vraiment disparu), sans notre volonté, sans notre compréhension et sans notre connaissance. En arrivant à la fin et en mettant le point, on s'était transformé, en oubliant notre enfance, notre naïveté, notre sincérité. On a devenu des autres personnes (quelqu'un d'autre), des étrangers à nous-mêmes. Il était trop tard pour retourner. Quelle dommage!