Negde u decembru počinjalo bi u našoj kući šuškanje onih folija u boji, ne znam da li ih se sećate. Kupovale su se u tankim rolnama, crvene, srebrne, plave, zelene… Lako su se cepale kad ih peglate noktom, naročito po ćoškovima, ako niste bili dovoljno strpljivi i ako vam je bilo stalo. Nama jeste. Tati i meni. On je, da bi mene poštedeo mokrih nogu i promrzlih ruku, sam odnekud donosio grane, neke duže, neke kraće, obično vrbine i hrastove, valjda zato što ih je, u našoj okolini, bilo najviše. Satima bismo, posle, te grane nešto birali i razvrstavali. Merili smo ih po dužini one folije, pa kad smo, kao, sve dobro proučili, počinjalo bi cepkanje, peglanje, savijanje, uvijanje…. Jedna grana, jedna boja. Ili dve, ili tri. Zavisi koliko ima folije i ko je uvija. Moja je, uglavnom, pucala i cepala se, pa su mi grane ličile na krpare. Neiskoristene komadiće smo skupljali, onda ih dlanovima valjali u loptice oko neke mekane, savijene žice.
Ne znam ni da li smo ni šta smo slavili. Znam samo da je iz ćoška dugo svetlucala tatina i moja aluminijumska kreacija, da su na poslužavniku stajale mamine savršene česke kugle i da se po celoj kući širio onaj jedinstveni, ni sa čim uporedivi miris dunja sa ormara.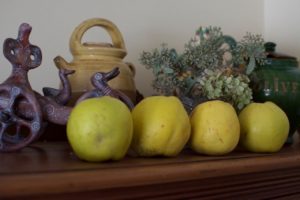 All this in Englsih:
Sometimes in December, I would start searching the house for the last year's left-overs of the coloured aluminum sheets, not sure if you remember them. You could buy them in roles of green, blue, red, silver, gold… They were easy to teare when you wanted to straighten them with nails, especially if you weren't patient enough and if that was as important to you as it was to us. To my father and me. To spare me from the wet feet and frozen hands, he would go out and, after about an hour, he'd be back with the big bunch of the bare oak, or weeping willow branches. Later, we would be sorting them together, carefully choosing the best ones and measuring them against those coloured aluminum sheets. One brunch, one colour. Or two, or three, depending who was doing all the tearing,  straightening, folding and wrapping. Dad's brunches were bright and shiny, most of mine resembled the old, poor-people patched up rugs. Then, we would  take the unused bits and roll them between our palms around the bent pieces of wire, into the small, glossy balls.
I don't know what we were celebrating and if we were celebrating something at all. I do know, though, that, for the long time, there was in a corner my dad and my brilliant creation, that on the table there were mom's perfect "Czech balls" and that there was that special, unique, with nothing comparable smell of quinces on the armoire.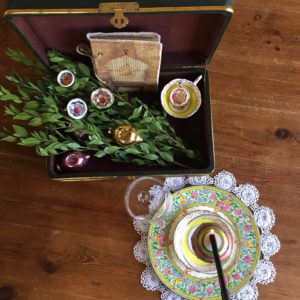 En français:  
À (la) mi- décembre on commencerait (a commencé) l'écrasement de ces feuilles d'aluminium colorées, je ne sais pas si vous vous les (en) souvenez. On les achetait (a achetées) dans les rouleaux minces, en rouge, bleus, verts… C'était facile de les casser et de les redresser avec des ongles, surtout dans les coins, si vous ne faisait pas attention et si cela vous signifiait quelque chose (avait un sens) comme ça signifiait à nous (l'avait pour nous). À Mon père et à moi. De (Pour) me sauver (d'avoir) les pieds mouillés et les mains gelées, il sortirait de chez nous en retournant avec quelques branches du chêne ou de la saule moche. Plus tard, on choisirait et arrangerait ces branches pendant des heures. On les mesurait contre (avec) la longueur de ces feuilles d'aluminium colorées. Finalement, on commençait de (à) casser les feuilles, de (à) les plier, (à) presser avec les ongles et (à) envelopper des branches. Une branche, une couleur. Ou deux, ça dépendait sur (de) la quantité de la feuille d'aluminium, ou sur (du) le maitre. Les miennes (se) déchiraient tout le temps et mes branches avaient beaucoup de couleurs, comme les carpettes des pauvres. On faisait les boules des morceaux cassés et les mettait autour le petit fil plié.
Je ne sais pas si on célébrait quelques fêtes, ou pas. Néanmoins, je sais ce que il y avait une création brillant(e) dans un coin de notre salon, les meilleures "boules tchèques" sur le plateau d'argent et cet(te) odeur unique des coings jaunes sur l'armoire.