Svaki put, kad mislim o Englezima, obuzima me blagi talas ljubomore, zavisti, teskobe i divljenja. U glavi mi se zavrti ceo ovaj veliki, šareni svet, sve zemlje, kontinenti, ljudi, vere, kulture, svi tako različiti i daleki, a svi spojeni istim "hello", "please" i "thank you" koje su, odomaćivši se diljem planete, a držeći se čvrsto svojih običaja, navika i tradicije, po sistemu "moja kuća, moja pravila", Englezi zametnuli, nametnuli i ukorenili.
Osećajući se i ovde kao kod kuće, a ne obraćajući, pri tome, mnogo pažnju na one druge ostrvljane, one koji nisu shvatili kako da se posluže sa zlatnog poslužavnika, na one koji iz pozadine predugo posmatraju taj luksuz i taj sjaj, na one čijim su precima leđa pucala vukući pesak iz okeana i pretvarajući ga u krečnjak pod užarenim suncem ovog safirnog neba, ostrvskim Englezima se, uglavnom, njihovom pravom, sivom i vlažnjikavom, britanskom domu, ne vraća.
Udobno smešteni u svojim pastelnim kućama sa velikim, glavnim i malim, sporednim vratima, oni kao da ne primećuju ni one teške oblake koji se, kad zlatno sunce nestane u čeljustima tirkiznog Atlantika, dugo nose na leđima, ni onu kišu koja se odjednom izlije i razlije ogolivši ostrvo, ostrvljanje i sve one koji su se tu zatekli.
I ma koliko dugo delili isto nebo i isto sunce, ma koliko im se geografije i životi ukrštali, ostrvljani i dalje žive u svojim odvojenim, paralelnim, skoro nedodirljivim svetovima. Deleći ovo mikrokopno usred beskrajnog Atlantika više od trista godina, deleći ovih nekoliko uskih puteva bez trotoara i mnogo istih prezimena, ostrvski Englezi još uuvek dovoljno ne primećuju ostrvske crnce, kao što ni ostrvski crnci još uvek ne naučiše dovoljno od ostrvskih Engleza.
In English:
Every time when I think of the English, I feel a wave of jealousy, envy and admiration. I feel dizzy thinking of this big, colourful world, of all the countries, continents, people, faiths, cultures, all so different, so faraway and yet connected by the same magic hello, please and thank you, which, feeling at home everywhere they happened to be on this planet while holding tight to their own culture, tradition and habits, the English planted, imposed and enforced.
Feeling at home here, too, and not paying much attention to those who didn't know, or didn't understand how to get served from the golden tray of colonialism, those who, for the longest time, watched from the distance that shining luxury and whose ancestors broke their back while taking the sand away from the ocean and baking the limestone under the glowing sun, the English from the island don't feel like going back to their grey, damp, real, British home.   
Comfortably settled in their pastel houses with a big, main and a small, service door, they don't seem to notice those heavy clouds that come and stay for a long time, or the sky which opens without warning, smashing the golden Heaven's door and letting the rivers pour on the small island, the islanders and all of those who happened to be there. 
And regardless of how long for they've shared the same sky and the same sun, regardless of how often their geographies and their lives were intersecting, the islanders still live in their separate, parallel, almost untouchable worlds. Although sharing this microscopic piece of land in the middle of the vast Atlantic for more than three hundred years, walking on a few same, narrow roads without sidewalks and having many mutual surnames, the English of the island still don't notice much the blacks of the island while the black still haven't learned much from the English.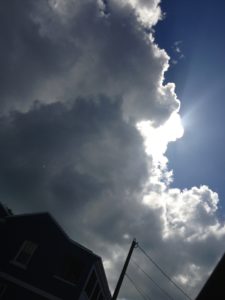 En français:
Chaque fois que je pense des Anglais, je sente (sens) une vague de jalousie, d'envie, d'étroitesse et d'adoration. J'ai le vertige en pensant du (au) vaste monde coloré, des tous (de tous les) pays, des continents, des gens, les religions, les cultures, tous si différents et éloignés, mais tous connectés par la même "hello, please and thank you", plantés, poussés et imposés par les Anglais qui, en préservant leur culture, leur tradition et leur(s) habitudes, se sentent chez eux à travers de cette planète.
En (se) sentant chez eux sur cette île, aussi, et en ne faisant pas beaucoup d'attention à des (aux) autres insulaires qui n'ont pas vu ce qu' (qui) était servi sur le plat en or, ou qui n'ont pas su comment d'être servi (s'en servir), qui, de la derrière, regardaient cette lux et cette éclat pendant long temps et dont les ancêtres (se) cassaient les dos en tirant de (du) sable et en cuisant de (du) calcaire au dessous de (le) soleil éclatant et de (le) ciel bleu-saphir, les Anglais de l'île ne sont pas pressés de retourner à leur grise et humide maison britannique.      
Logés confortablement dans les grandes maisons pastels avec une grande porte principale et une petite porte de service, ils n'aperçoivent pas souvent ces nuages lourds qui viennent quelquefois et restent long temps sur les dos. Ils n'aperçoivent pas la pluie qui vient tout à coup et coule comme une fleuve, en dénudant l'ile, les insulaires et tous ceux qui sont arrivés là-bas.
Et peu importe combien de temps ils partageaient (ont partagé) le même ciel et le même soleil, peu importe combien leur géographies et leur(s) vies se croisaient, les insulaires encore vivent séparément, dans deux mondes parallèles, presque intouchables. En partageant ce microscopique morceau de la terre au milieu d'Atlantique pour plus que 300 ans, en partageant les étroits chemins sans trottoirs et en partageant beaucoup de nomes de famille communes, les Anglais de l'île encore n'aperçoivent pas beaucoup des noirs de l'île même que (tout comme) les noirs de l'île encore n'apprennent pas beaucoup des Anglais de l'île.