Arhipelag od dvadesetak, manje ili više povezanih, kvadratnih milja, okružen nepreglednim vodama Atlantika i stotinama milja udaljen od najbližeg kopna, deli oko šezdeset pet hiljada stanovnika. Somers Ajls. Ili Bermuda, po novijoj istoriji. Po lokalnoj statistici i grupisanju, oko sedamdeset posto ostrvljana su crnci, belaca je dvadesetak posto, a ostatak su oni koji se skoro i ne računaju – Azorski Portugalci i mi, Ostali. Kažu, nije uvek bilo tako, kažu da su, nekada, većinsko stanovništvo činili belci. Naravno, morali su biti belci, jer samo su oni imali brodove za lutanja po svetu, a da li su na ovu trunku kopna iznedrenu iz nekog vulkana prvi stigli Španci kojih više ovde uopšte nema, dalekovidi i praktični Englezi, ili vredni, skoro neprimetni Portugalci, već odavno nije važno. Važno je ko se i kako odomaćio, ko je ovo sunce i ovo plavetnilo više umeo da ceni i ko je u ovu malu, ali rodnu, crvenkastu zemlju prvi udenuo svoju zastavu. Španci došli, videli pusto i otišli, Englezi isplovili a onda, verovatno, potopili brod kojim su stigli. Još jedna kolonija, još jedna nova, bez obzira koliko mala, engleska zemlja kojoj će se, u velikom kraljevstvu, uloga sasvim sigurno pronaći.
Možda po uzoru na svoje sunarodnike po afričkim kolonijama obasjanih zlatnim ekvatorijalnim suncem i ostalim dragocenostima, a u želji da prema svojoj najnovijoj kući osete istu tu bliskost, tek Englezi su za sobom na ostrvo doveli crnce, neke sa Kariba, neke iz Afrike. Kako sami vole da kažu, doveli su ih samo kao sluge, ne kao robove. Tri veka kasnije, ostrvski crnci, ipak, kao da misle malo drugačije. Zaklinjući se na večnu ljubav Majci Africi, o kojoj mnogi znaju tek malo više od onoga što se uči u školskom gradivu, oni još uvek u sebi nose teret, gorčinu i robovsku patnju svojih predaka. I dok dalekovidi Englezi i dalje umnogostručavaju imovinu za svoje naslednike kojih je sve manje, sve brojnije crnačke familije uglavnom žive sa svojom prošlošću, leđima okrenute budućnosti. U isto vreme, mi – Ostali koji smo se na ostrvu zatekli, a onda zadržali malo duže od običnih turista, nemamo prava da sudimo o životima i verodostojnosti priča naših domaćina, o ekstremnom bogatstvu jednih i dubokoj gorčini drugih ,o njihovom međuosobnom odnosu, ali ni o odnosu koji oni, ostrvljani, zajedno imaju i gaje prema nama koji smo došli mnogo kasnije. Jer, gost k'o gost, svuda dočekivan osmehom i ljubaznošću, da bi se, ubrzo, svima našao na putu, da bi se o njega saplitalo i da bi, kasnije, počeo da smeta onako kako smetaju neudobne cipele koje i dalje ne izuvamo znajući da kamen ispod bosih stopala žulja, asfalt prži, a pesak se osipa i beži. Kada, kuda, kako i da li otići, pitaju se i ostrvljani i Ostali, domaćini i gosti, jer su se, u međuvremenu, od tih prvih momenata obostrane radosti i ushićenja, pa do neprestanog sudaranja, saplitanja i mimoilaženja, jedni na druge toliko navikli, da niti domaćini znaju odakle bi, bez tih gostiju, ponovo krenuli, niti gosti, nikad odomaćeni, ali prilično razbaškareni, znaju kuda bi to otišli, ni gde bi se vratili.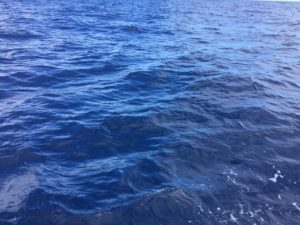 All this in English:
Surrounded buy the vast waters of the Atlantic ocean and around hundred miles away from the nearest continent, there is an archipelago of about twenty, more or less connected, square miles, with population of little less than 65,000 people. Somers Isles, or, better known as Bermuda! According to the latest local regroupings and statistics, close to 70% of population are blacks, whites make about 20-something% and the rest are those who don't really count much – Portuguese from the Azores and us – Others. It hasn't always been like this, there was a time when majority of population were the whites, they say. Of course, it had to be the whites, as they were the only ones with the boats good enough to wander around the world. However, were they the Spanish or the Brits who first set their foot on this speck of a volcanic soil, isn't relevant anymore. What's relevant, though, is who was the first one to recognize the beauty of this sky, the turquoise ocean and rich soil and who was able to make himself at home. The Spaniards came, found no life for themselves here and left, while the Brits, most likely, got out of the boat and let it sink right then and there. One more colony, another piece of the world that would, soon, find its role in the Great British Empire.
Whether they were following the example of their compatriots from the warmth of the golden African sun, or not, Brits soon brought the blacks onto the island, some from Africa, others from the Caribbean. As one can often hear them say, they were brought here like servants only, not like the slaves. Three centuries later, the local blacks don't necessarily share the opinion of their white countrymen. Praying and swearing to Mother Africa about which many know just a little more than what's in the schoolbooks, they are still carrying the pain, the bitterness and the suffering of the slave life of their ancestors. And, while the farsighted Brits continue to accumulate and multiply their wealth for the descendants who are fewer from generation to generation, the growing black families often live with their past, ignoring the future. At the same time, us – Others, who came here much later and stayed little longer than the average tourist, don't have a right to judge about the lives of our hosts, about the credibility of their stories, about the extreme wealth of the whites and the profound bitterness of the blacks. We, don't have the rights to judge about their relationship, or about the relationship of all the islanders towards us – the Others. Because, a guest is a guest – welcomed with the smile and an open door, then tripping over everyone, bothering them like a pair of uncomfortable shoes which, thinking of the burning asphalt, pointy rocks, and crumbling sand under our bare feet, we keep wearing. When, where, how and if to leave are million dollar questions for the hosts as for the guests, the islanders and the Others. From the moment of the first excitement to the moment when everyone is in each other's face and on each other's feet, all get so used to each other that neither the hosts know how to start all over without the guests, nor the guests, comfortably settled under the golden island sun, know where to go next, or where to return.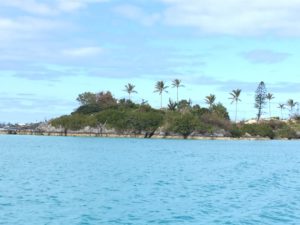 En français:
Au milieu d'immense (de l'immense) Atlantique et de (à) centaines de milles du plus proche continent, il y a un archipel d'une vingtaine (de) milles carrés, quelques–(uns) connectés et quelques (d'autres) ne pas, avec la (une) population d'environ soixante mille (personnes). Somers Isles. Ou, les Bermudes, comme la plus nouvelle (l')histoire la plus récente nous a appris. Par (D'après) la statistique locale et par le regroupement local, autour 70% (des) insulaires pour-cent sont blancs, les noirs font vingtaine pour-cent ((à peu près 20%) et le reste sont ceux qui, presque, ne comptent pas – les Portugais des Azores et nous – les Autres. L'histoire dit que ça n'a pas été toujours comme ça, ce qu'une fois (car il fut un temps où) les blancs faisaient la majorité. Bien sure c'était les blancs au début, parce qu'ils étaient les seuls qui avaient les bateaux pour balader autour du monde. Si c'était les Espagnols qui étaient arrivés en premiers sur ce morceau volcanique et qui ne sont plus ici, ou les Portugais invisibles qui travaillaient dure, c'est sans importance aujourd'hui. Ce qu'est (qui est) important, c'est qui se sentait plus chez sois, qui aimait plus ce soleil et ce ciel bleu et qui était le première de (à) mettre son drapeau dans cette terre rouge et fertile. Les Espagnols étaient venus et, en voyant une île vide, (ils sont) partis immédiatement, et les Anglais, probablement, avaient submergé le bateau par lequel ils étaient arrivés. Une autre colonie de plus, un nouveau pays anglaise auquel on trouverait une bonne rôle dans un grand Royaume Uni. 
C'est possible que c'était à cause ils enviaient (Il est possible que ce soit parce qu'ils envoyaient) aux leur compatriotes dans les colonies africaines éclairées par le soleil d'or et les autre valeurs brillantes, c'est possible que c'était car (il est possible que ce soit parce qu')ils voulaient sentir la même familiarité dans leur nouvelle colonie, mais les Anglais ont porté les noirs sur l'ile, certains des Caraïbes, les autres de l'Afrique. Comme ils dissent leur (eux)-mêmes, ils les ont apporté comme les servants, pas comme les esclaves. Cependant, trois siècles plus tard, il semble que les noirs de l'ile ne le pensent pas pareille (partagent pas leur avis). En jurant à l'amour éternelle à la Mère Afrique de laquelle plusieurs d'eux savent juste un peu plus (de ce) qu'ils apprenaient (qu'ils ont appris) à l'école, ils encore prennent (encore) la charge, l'amertume et la chagrine d'esclavage de ses ancêtres. Et, alors que les hypermétropes Anglais encore multiplient (encore) les atouts pour leur successeurs qui sont moins nombreux le jour par (après) jour, les familles noires qui sont, jour par (après) jour, plus nombreuses vivent encore avec leur passé et avec leur (le) dos tournés vers (à) l'avenir. À la fois, nous – les Autres qui sommes arrivés ici et qui sommes restés ici un peu plus longtemps que les touristes ordinaires, nous n'avons pas le droit de juger les vies et les crédibilités des histoires de nos hôtes, l'extrême richesse des uns et la profonde amertume des autres, ni leur relation interne, mais ni (même pas) la relation que tous insulaires, ensemble, ont à propos (envers) nous qui sommes venus ici beaucoup plus tard. Parce que, l'invité est l'invité, au début il est partout accueilli aimablement, avec le sourire, jusqu'à moment où il commence d'irriter (à irriter) comme les chaussures serrées qu'on continue de porter parce que l'asphalte sous nos pieds nous brûle, les pierres piquent et le sable s'effrite et fuit. Quand, comment et où partir d'ici sont les questions que tous, les hôtes et les Autres se demandent toujours parce que, depuis les moments de joie et de l'excitation jusqu'au moment de la collision constante et les trébuchants (faux-pas) fréquents, ils se sont tous tant habitués les uns des (aux) autres que ni les hôtes (même) savent comment recommencer sans les invités, ni les invités, très confortables mais jamais assez domestiqués, savent où aller, ou où se revenir.