Čudan je čovek. Dugo bol može u sebi da nosi. Može da ćuti, izdržava razna neprimećivanja, gužvanja, gaženja, može da pada dugo i duboko i da se ponovo diže. Usput ožilavi, postaje istrajniji, grublji, rapaviji. Leđa sve pognutija, glava sve uzdignutija. Mnogo toga se vidi i želi, malo se nudi i daje. I može se tako, dugo i uporno, sve dok se koža potpuno ne rastegne i dok ne ogrubi toliko, da počne da puca. A kad se to desi, kad popucaju i isparaju se svi šavovi, kada srce, telo i duša kriknu od bola, nema više mesta ni za jednu ćutnju, ni za jedno novo iskušenje, trpljenje ili pokornost.
Verujem da najjači animozitet, onaj koji ne poznaje granice i koji napada skupljajući harač bez kajanja izbija na površinu upravo kroz najduža, duboko potisnuta ćutanja. Tamo odakle sam ljudi su voleli svoje kuće, one ružne, socijalističke i one druge u koje su, gradeći ih za tri gneracije, a gubeći ih već u prvoj, sa svakom ugrdjenom ciglom ugradili i deo sebe. Tamo je nebo bilo obično, kiše su paduckale, more je bilo modro i hladnjikavo, sunce žuto i blago. Tamo nije bilo ni užarenog plavetnila, ni mnogo sivila. Nije bilo onih teških oblaka što stoje nad glavom dok se iz njih ne prospe kišna lavina. Nije bilo velikog bogatstva, ni velikog siromaštva. Ljudi su bili isti. Takoreći isti. Tamo odakle smo mi došli narod je vatren, voli priču, voli pesmu, hranu i kafanu, voli da zapeva iz stomaka, iz duše, da se brda zatresu. Kako u pesmi, tako i u priči voli taj narod da čuje svoj glas i da ga drugi čuju. Ipak, mnogo i dugo se ćutalo tamo odakle smo došli. Navlačili se crni oblaci, a mi ih, nenaviknuti na velike kiše, nismo primećivali, pa kad se namračilo, kad je zagrmelo tako da se sve raspuklo kao krater na živom vulkanu, lavina olovnih kiša punih besa, mržnje, srdžbe, zavisti, pakosti, razlila se bez nade o zaustavljanju, odnoseći sa sobom sve što smo, kroz pesmu i igru, decenijama gradili – kuće, mostove, fabrike, gradove. Kad popucaše šafovi tamo odakle smo mi došli, zaratiše slični, oni skoro isti, oni sjedinjeni istim jezikom, istom pesmom, istim brdima, istim regalima, istim vicevima, istim idealima.
Odoše životi. Odoše ljudi. Odoše ljudske sudbine. Ostade golotinja, ona ljudska golotinja zbog koje vas je obično stid pred drugima i zbog koje će vam se rugati, dok im vi, tako goli i nemoćni ne mozete ništa, pa će vam i nju, i tu jadnu golotinju uzeti.
Kažu, zbog vere i zbog dugog ćutanja. Ali, kao što veru ni ranije nisu dobro poznavali, ne upoznaše je podrobnije ni posle svega izgubljenog, već, iz godine u godinu, svako svoju vlastitu priču o veri tka, onako prikladno, prilagođeno trenutku i geografiji. Rešeni da više ne ćute, da konačno progovore glasno, da se zaori onako kako vole i kako im pristaje, u svojim polusrušenim i dotrajalim kućama ogoljenih zidova, u kojima kaplju česme i ne hlade frižideri, izmišljaju neke nove jezike mrzeći i optužujući jedni druge na onom starom, onom jeziku kojeg se odrekoše. Ni doma, ni domaćina, svako zabasao po svome, bahato, bez reda, na divlje. U ime vere i Boga jedinoga.
I dok silna Evropa svoje granice briše i ukida, mi naše stežemo taman toliko da se zna koja muka i koji jad kome pripadaju. Ratovalo se, što bi se reklo, onako, namalo, usitno, budzašto – nigde pobednika, nigde sreće, sve neki čemer iznikao. Niti se brda pomeriše, niti se porušeno izgradi, niti se, dvadeset i nešto godina kasnije, saznade zbog čega se, ustvari, zaista ratovalo. Niko ništa ne osvoji, a ono što je iole vredelo u haosu se razgrabilo, otelo, pokralo i jeftino prodalo.
Zablještaše zlatne kajle na debelim vratinama, užariše se zastrašujući pogledi i zasijaše obrijane glave onih najbeskrupuloznijih, najgrđih, najneotesanijih koji, s tempiranom barutanom u džepovima, pokusšavaju da nabodu poneku prosto- proširenu. I tako svaki put, posle svakog rata. Nek' zablješti zlato, nek' zazvecka oružje i neka zasija ordenje, pa da se, bar do sledećeg rata, vide i osete sila i moć onih beznačajnih, inače nevidljivih.
A veru, bilo koju i bilo kakvu, opet zaboravismo. Ona se, još jednom, negde usput izgubila, ili u neveru pretvorila.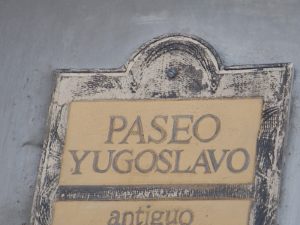 All this in English:
Humans are strange species. They can stand the pain without showing any sign of it,  they can tolerate being pushed, dragged, stepped on, they can go through life without ever being noticed, they can fall, they can rise again, or they can be silent for a very long time. While living their quiet lives, people become enduring, but also ragged, harder, rougher. And each and every time they bend their back, their head goes higher. So much to see, so much to want, only little given. And one can be persistent and go like this long way, letting his skin stretch until it cracks. But, when that happens, when all the seams break, when heart, body and soul scream out in pain, there is no more room for silence nor space for new trials, endurance, obedience, subservience.
It seems to me that the strongest animosity, the one that knows no boundaries, the one that attacks directly and without regrets, emerges straight from the longest endurances and profound, repressed silences. There, where I come from, people loved their houses, those ugly socialistic ones as much as the others, built with sweat, blood and tears for three generations but never lasted more than one, in which, with every brick laid, they embedded themselves. There where I come from the sky was plain, the sea dark and refreshing, the sun soothing. There were no too many grey days, or heavy rains. The life was ordinary and so were the people. Neither rich, nor poor, same, or almost the same, to say the least. There, where we come from, people are passionate, they love stories, music, food, brandy and taverns. They love the tiny sounds of a violin played next to their ears, but even more than that they love to sing loudly, straight from the heart and from the stomach, letting the hills around to tremble. As in a song, they love to be a part of a story, they love to hear their own voice and love others hear them talk. And, regardless of what they love, there was a long period of silence there, where we come from. The heavy clouds were coming and, unaccustomed to the storm, we didn't see them being so close. When it got really dark, when thunders broke as loudly as a crater of a volcano, the avalanche of the heavy metal rains, full of anger, hatred, envies, malice, poured with all its forse taking with itself everything that we were building for decades – houses, bridges, factories, cities, a country. When the hell got lose there where we come from, the war happened among the same, among those unified by the same language, the same song, the same hills, same furniture, same jokes, same ideals.    
Lives have gone. People have gone. So have their destinies and their histories.  The only thing left was the nudity, that human nudity that makes you feel ashamed in front of the others because they would mock you for it while, in all that nakedness, you can't do anything, and if you try, they would take that off you, too.
It's all because of faith and a long silence, they say. But, as they knew little about the faith before, they didn't get to know it better after all that's been lost. Instead, from one year to another, everyone's been making his own version of it, suitably adjusted to the moment in time and to geography. Determined not to be quiet any longer, determined to speak as everybody's watching, to let the hills tremble as they think they should, in the houses with the peeling walls, running taps and broken fridges, they are inventing new languages, same as the old one, only spiced with hatred and mutual blame. Without a home, without a master, ruthlessly, shamelessly, wildly. In the name of God.    
And while powerful Europe opens its borders to rise again, we have squeezed ours just enough to know what pain and what misery belongs to whom. The war was long, the sufferings infinitive. No upsides, no happy endings at either of the sides. The same hills are still where they've always been, nothing that was destroyed has ever been rebuilt, everything that ever had any kind of value, has been only seized, stolen or sold for nothing. Twenty something years later, without any gain, nobody knows for sure who really wanted it and why there was a war at the first place, there where we come from. 
The streets are occupied by those with angry eyes and shaved heads, the heavy, shiny bling-blings are hanging down the thick necks of those most unscrupulous, most conscienceless and most hateful, those who, like brothel bouncers, are exercising the power of their bullet charged pockets while stumbling upon the basic grammar. Same story, every time after the war. Any war. Let the metals shine and the weapons jingle, let the world see that those, otherwise invisible, can also be rich and powerful, at least until the next war.
The faith, each or any, has been forgotten again. Somewhere on that power trip the faith's been lost. Once again, the faith became just another disbelief.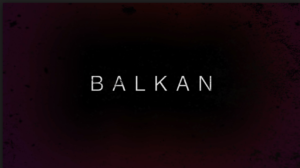 En français:
L'homme est un être bizarre. Il peut vivre long temps sa petite vie pas remarqué (sans être remarqué) en (re)tenant le douleur dans soi-même, en (se) laissant d'être poussé(er), écrasé(er), il peut vivre silencieusement, et avec une grande endurance il peut chuter (tomber) et il peut se lever encore. Pendant ce temps-là, il devient plus vigoureux, plus résistant, plus rugueux. Le plus que le dos est plus recourbé, plus relevée (hautaine) est la tête est plus en haute, il y a beaucoup de choses qu'on regarde et qu'on veut, un petit peu des ceux (celles) qui sont offertes et qui se donnent. Et c'est possible de vivre comme ça, en persistant et longtemps, tout jusqu'au le moment où le (la) peau (s'étire) complètement étire et commence de casser (se déchirer). Quand ce se produit, quand les coutures tirent, quand le coeur, le corps et l'âme crient de la chagrin, c'est quand il n'y a pas le plus de place pour une seul douleur, pour la silence.
Je crois que la plus grande animosité, l'une qui ne connaît pas des frontières, celle qui attaque sans regrets, c'est celle qui émerge à la surface à travers les plus longs, les plus profondes silences refoulés. Là-bas d'où je viens des gens aimaient leur maisons, ces (celles) laides, socialistes et ces autres, bâti(es) du sang, de le sueur et des larmes, dans lesquelles ils se sont intégrés. Là-bas, le ciel était ordinairement bleu, la mer un petit peu trop froid, le soleil était jaune et agréable. Tout était ordinaire, modéré, raisonnable. Il n'y était pas trop (de) gris là-bas, il n'y avait pas beaucoup de pluies battantes, même les gens semblaient ordinaires et les mêmes. Là-bas d'où on vient, les gens sont pleins du feu, ils aiment les histoires, les chansons, la bouffe et les tavernes. Ils aiment écouter la musique à coté des oreilles, mais ils préfèrent de chanter de la (avec leur) ventre, de l' (leur) âme, ils préfèrent être entendus, ils aiment voir (comment) les collines tremblent.
La (De) même que dans la chanson, ces gens aiment d'écouter leur voix dans les histoires, dans les discours, mais ils mieux aiment (mieux) d'être entendus. Au contraire (de) ce qu'ils aimaient il y avait une grande, une longue silence là-bas d'où on vient. Les forts nuages sombres venaient pendant longtemps et nous, inaccoutumés à des grandes pluies, nous ne les remarquions pas et, quand l'orage est arrivés et quand tout a fissuré comme un cratère du volcan actif, une avalanche des pluies en plomb, plein de colère, de haine et l'envie a dispersée, sans l'espoir d'arrêter, à travers des maisons, des usines, des ponts, des villes – de tout (ce) qu'on avait bâti au fil des décennies. Quand les coutures se déchiraient là-bas d'où on venait, les gens semblables, unifiés par la même langue, la même chanson, les mêmes collines, les mêmes placards, les mêmes blagues, les mêmes idéals (idéaux), luttaient une inimaginable guerre, des (à) dimensions immenses.
Les vies ont disparu. Les gens ont disparu. Les destins ont disparu. La nudité est resté, cette nudité humaine que nous fait (rend) honteux devant les autres parce qu'ils (se moquent de) nous moquent, alors que, tellement nus et impuissants (à ce point), nous ne pouvons rien faire parce que que cette nudité nous sera emportée, aussi.     
On a dit, c'est à cause de la religion et de la longue silence. Mais, comme ils n'avaient pas connu la religion avant (ce moment)-là, ils ne lui (la) reconnaissaient pas mieux après tout (ce) qu'on a perdu. Au lieu de ça, aujourd'hui chacun tricote l'histoire de la religion personnelle, convenablement adaptée au moment et la place géographique.
Résolus à ne pas (plus) être silencieux de plus, à parler, finalement, fort en laissant les collines tremblent, comme ils l'aiment, comme c'est conviant, dans les maisons à moitié-détruits dans lesquelles les robinets ne marchent pas et les frigos ne refroidissent pas, ils inventent quelques langues nouvelles, les mêmes comme cette vielle langue, qu'ils voudraient oublier, mais épicée par une grande haine et les accusations mutuelles.
Et, pendant (que) L'Europe puissante annule et cesse ses frontières, nous compressons les nôtres juste assez de savoir à qui appartient quelle douleur et quelle chagrin. C'est-à-dire, la guerre était pour des prunes, pour un bouché du pain – pas patron, pas bonheur, pas richesse. Les collines ne se déplaçaient pas, les ruines ne reconstruisaient pas et, vingt et quelques ans plus tard, on ne connaissait (savait) pas pourquoi, en effet, on avait la guerre. Personne (y) gagnait rien, et tout de (ce qui avait) quelque valeur des (dans les) temps passés, a été perdu, pris, volé ou vendu pour rien.
Les chaines d'or brillèrent sur les cous épaisses, les regardes horrifiants (s')allumèrent, les têtes rasées des ceux éhontés, de ceux les (des) plus forts, des plus terrifiants, des plus émoussés (ceux qui), avec les armes chargées dans les poches, essayent parler quelques phrases complexes. C'est chaque fois comme ça, après les guerres. La force rude des gens qui ne sont pas assez vu dans la vie quotidienne, émerge. Laissez (À laisser) l'or briller, laissez (à laisser) les médailles et les armes tinter, laissez (à laisser) leur puissance et leur force être vu(e) jusqu'à la prochaine guerre. La religion, la foi et la croyance, n'importe laquelle, ou tout, oublions-les (devinrent oubliés) à nouveau. Une fois de plus, elles se sont perdues en route, ou elles sont devenues l'incroyance.