Postali smo bogatiji za još jednog novog člana porodice, belog Fiću sa dvoja vrata i registracijskim tablicama 47-41. Taj Fića je imao jednu od značajnijih uloga u našoj porodici tih godina, jer su s njim naši odlasci na moje očne kontrole postajali mnogo jednostavniji i opušteniji. U junu bismo nas petoro posedali u Fiću sa dvoja vrata i, ne otvarajući prozore zbog promaje i prehlade, stizali do garsonjere sa malom terasom, zajedničkim kupatilom i vešernicom, u kojoj je nana, u sigurnosti svog mira i svoje samoće ostajala, a mi, preko tetaka, stričeva i očnih lekara, nastavljali sve do onih drugih babe i dede koji su bili stari, imali puno dece i još više unuka, puno spavaćih soba i kreveta, bar dve koze i puno kokošaka zbog čega je kod njih uvek bila neka gužva, pa se moralo čekati na red za bicikl, za pažnju i za ljubav.
Ti drugi baba i deda, tatini roditelji, živeli su u jednoj ogromnoj kući sa velikim prednjim, jos većim zadnjim dvorištem i sa gomilom nekih pomoćnih kućica, kućeraka, ostava i štala. Sve su to, posle onog rata, punopravno nasledili od proteranog neprijatelja zato što su imali devetoro dece, zato što je deda bio u nemačkom logoru, zato što se nekoliko starije dece hrabro borilo za slobodu i otadžbinu dok se baba, trudeći se da prehrani mlađariju u zabitima škrtih, planinskih sela odakle su poticali, borila sa siromaštvom. Činilo se da su i babi i dedi te ratne borbe išle bolje od borbe za vođenje savremenog domaćinstva, kuće, okućnice i njive koju su imali u novom, ravničarskm svetu i novom poretku. Njivu su poklonili zadruzi i zauzvrat dobijali neku novčanu naknadu, pored sedam  hladnih spavaćih soba spavali su u kuhinji uz stari šporet na drva, a nakon što bi se ujutro probudili, grlo su ispirali rakijicom iz iste čaše, a onda sve to ublažavali prvom, drugom, ili trećom jutarnjom kafom.
Moja strina je pravila najbolje uštipke na svetu, pravila bi ih za sve nas koji bismo se tih letnjih jutara zatekli u ogromnoj kući, a kad bi, konačno, vanglu spustila u sudoperu, baba bi, noseći na vrhu kašike onu poslednju, s krajeva vangle zagrebanu trunku testa koja obično, u svim domaćinstvima, završi pod vodom, prilazila tiganju. Valjda je, zahvaljujući toj trunci koju je samo ona primećivala i koja nije smela da se baci, prehranila svu onu decu.
Nikad bez cigarete i sa leđima u obliku slova 'C', deda je, tražeći poneku crvenu jagodu ili zreo krompir, uglavnom, čučao negde u dvorištu, Pričao je malo, ali svaka njegova reč nosila je mudrost koju smo svi umeli da čujemo.
Između dve kuće, one ogromne i one male, letnje, postojala su drvena vrata, a iza njih jedna daska sa rupom u sredini i velikom gomilom novina s leve, a toalet papira sa desne strane. Danju je bilo lako, samo misliš kako da sedneš, da ne upadneš u onu rupu, a noću ti dođu u glavu neke bube i vanzemaljci, koji, valjda, žive samo ispod tih drvenih dasaka i čekaju da im dođes kad ti je najveća muka i kad si najnemoćniji, onako, u mraku, u polusnu.                     
Pretpostavljam da je mom tati, dok ga ja iznutra stalno nešto zapitkujem da bih se uverila da je još uvek tu, svojevremeno dosadilo da me noću čeka ispred tih drvenih vrata upozoravajući me šta da radim da ne upadnem u rupu, a pretpostavljam da je mislio i na svoje roditelje koji su, uvijeni u sve deblje šalove, bili sve pogureniji, te je na njegovu inicijativu, istog onog leta kada smo prvi put dosli da ih posetimo fićom, babi i dedi, u njihovoj velikoj kući sa sedam soba, sagrađeno prostrano, kompletno opremljeno, novo kupatilo.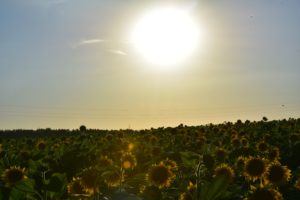 All this in English:
We became richer for another member of the family, a white "Fica" with two doors and a license plate 47-41. This new member had a very important role as, thanks to him, our trips to my ophthalmologist became much easier and we were way more relaxed. For years in June, the five of us would sit in Fica with two doors and closed windows to avoid potential colds, arriving, after a few long hours, at nana's studio with a small terrace and a shared bathroom and a laundry room, leaving her there, in the tranquillity and solitude, while, after visiting all the aunts, uncles and my eye doctor, we would continue to the other grandparents' who were old, had lots of children and even more grandchildren, lots of bedrooms and beds, at least two goats and lots of chickens, thus there was a long line for a bicycle, attention and love.
These other grandparents, my dad's parents lived in a huge house with a large court, even larger backyard and a bunch of small barns, stables and storages. All this my parental grand-parents rightfully inherited from the exiled enemy, because they had nine children, because my grandpa was in a German concentration camp, because, as teenagers, their eldest children bravely fought for the homeland while my grandma was fighting the poverty trying to feed the youngsters in the wilderness of their skimpy, mountain villages. It seemed that my grandparents were struggling during the war as much as they were struggling to take care of the modern household with the garden and fields they got as a result of the new order in the country, in the new, faraway land. For that reason, my grandpa gave the fields to the cooperative and, in return, he received a financial compensation. Although having seven cold bedrooms, my grandparents slept in the kitchen next to the old wood-burning stove and each morning they rinsed their throat with a glass of brandy, then washed it all off with the first, second, or third morning coffee.
One of my aunts made the best donuts in the world and she made them for all of us that happened to be in the huge house during those summer mornings, and when she would, finally, leave the empty bowl in a sink, grandma would come bringing on the tip of a fork that small crumb of dough scraped from the walls of the bowl, that, in other households, usually ends in the water. I suppose that during the war, thanks to that crumb that she never threw away, her children were fed and survived the war. With his back in a shape of the letter 'C' and never without a cigarette, my grandfather, mostly crouching somewhere in the yard, always looked for a random red strawberry, or for the mature potatoes. He spoke little, but it seemed that everyone listened to his words with respect and appreciation.
Between the two houses, one huge and one small, there was a wooden door, and behind it a plank with a hole in the middle and a pile of newspapers on the left and a pile of toilet paper on the right side. It was easy during the day,  one would just have carefully sit down, not to get into that hole, but at nights, you would think of all the bugs and aliens that lived under that wooden plank waiting for you to come under the great pressure, when, half a sleep, in the pitch dark, you're most helpless.
I guess that, while warning me to be careful when I sit not fall into the hole, my dad really got tired of waiting for me outside the wooden door at night, of answering all the questions that I asked from the inside to make sure he was still there and of the thought about his aging parents who were more bent and wrapped in the thicker sweaters than a summer ago, that, thanks to his initiative, in the first year when we came in our new "Fica", my grandparents' house was awarded by a new, spacious bathroom with the tiles, toilet, sink and a tub.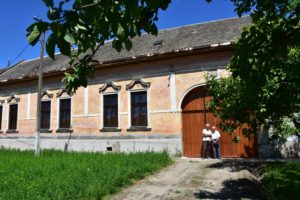 En français:
On (avait) gagnait un nouveau membre de la famille, le "Fica" blanc, avec deux portes et la plaque d'immatriculation 47-41. C'est (Il est bien) possible que ce Fica avait (ait eu) la plus grande role dans nos vies ces années-là, parce que, avec lui, nos voyages à (chez) mon ophtalmologue (s)ont devenue plus faciles et plus détendu(s). En juin, nous cinq voyagerions dans le "Fica"avec deux portes et sans ouverture les (des) fenêtres pour (pendant) cinq heures à (pour) éviter les rhumes, nous viendrions chez nana, en elle (lui) laissent dans le petite studio avec la salle de bains et la salle lavage partagées alors qu'on continuait (continuerait), après tous les tantes, les oncles et l'ophtalmologue, chez les autres grand-parents âgés, qui avaient beaucoup des (d')enfants et des (de) petits-enfants, beaucoup des (de) chambres et des (de) lits, beaucoup des (de) poules et au moins des chèvres, par conséquent il faut (faudrait) d'attendre pour (avoir accès au) vélo libre, pour (recevoir l')attention de nos grand-parents et pour leur amour.
Ces autres grand-parents, les parents de mon père, ont vécu (vivaient) dans une grande maison avec un(e) grand(e) cour et un plus grand jardin derrière et beaucoup des petites maisons, les étables et les hangars. Ils ont hérité tout ça après la guerre-là à juste titre d'ennemi (de l'ennemie) expulsé, parce qu'ils avaient neuf enfants, parce que mon grand-père était dans la (un) camp allemand, parce les quelques (quelques-uns) de leur enfants plus grands étaient (avaient été) des jeunes partisans qui sont combattaient (avaient combattu) pour la patrie pendant (que) ma grand-mère combattait contre la pauvreté pour nourrir les jeunes enfants dans l'isolement des villages de montagne où ils ont vécu au (à) ce temps -là. Il y avait l'air (aurait semblé) que ces batailles de la guerre marchaient mieux pour mes grand-parents que les batailles dans le ménage moderne, avec la maison grande, les champs et les terres arable (cultivable) dans la plaine et dans le nouvel ordre d'état. Ils ont donné le (une) partie des champs à l'état et pour ça, ils recevaient quelque d'argent. Malgré sept chambres froids (froides), ils dormaient dans une grande cuisine avec la (le) poêle en bois, et chaque matin il's prenaient un gout (une goutte) de "rakija" (naturel brandy de prune)  de (dans) la (le) même verre, en ce adoucirent par (adoucissant ainsi) la première, la second ou la troisième tasse du café.
L'une de mes tantes (la femme de mon oncle) a fait (faisait) les plus mielleux donuts sur le (au) monde et elle les fait (faisait) pour quinze personnes qui se trouvaient dans cette grande maison ce matin-là en été (ces matins d'été). Après un longue heure, quand elle, finalement, laisserait le bol vide dans l'évier, ma grand-mère arriverait d'éraflure (aurait érafflé) les murs (parois) du bol pour le dernière morceau de la pâte qui, dans tous les autres ménages habituellement finit (finissait) sous l'eau. Je crois que, grâce à le morceau comme ça, elle nourrissait tous ses enfants. Tout le temps recourbé et jamais sans la cigarette, mon grand-père était accroupi dans le jardin, en trouvant quelques fraises, des pommes de terre ou des mûres. Il ne parlait pas beaucoup, mais je pense que nous tous connaissions (savions) entendre ses mots mesurés. 
Dans le cour, entre deux maisons, il y avait la porte en bois et derrière ça (celle-ci), une  planche avec le trou au milieu et beaucoup de papier à droit(e) et des magasines à gauche. C'était facile pendant les jours, on regarde (il fallait juste faire attention à) ne pas tomber dans le trou, mais les nuits étaient terribles, on pense(ait) de tous ces animaux, des insectes et des extraterrestres qui vivent (vivaient) sous ces planches et qui attendent (attendaient) dans le sombre, qu'on vient (vienne) sous un grand pression, à moitié endormi. 
Je suppose que mon père devenait fatigué (se fatigait) de m'attendre avant (devant) cette porte en bois chaque nuit, en me disant (de) faire attention sur le (au) trou et en répondant à toutes mes questions d'intérieure, et je suppose qu'il pensait sur (à) ses parents qui étaient plus recourbés et plus enveloppés (que jamais) dans les vestes en laine, et grâce à son initiative, cette (cet) été, quand on arrivait par (à) notre "fica", mes grand-parents ont (avaient) gagné une grande salle de bains dans la maison, la salle de bains moderne, avec un lavabo, des carrelages et une vaste baignoire.