Retki su ovde oni koji se voze gradskim autobusima. Tek poneki, nesnađeni turista s mapom u ruci, mali školarci iz državnih škola, još uvek nestasali za motor, nekoliko likova čije su misli davno negde odlutale, pokoja stara crnkinja i mlade Filipinke. Lepuškaste, uredne, našminkane, smirene, skoro spokojne. Najčešće ih vidim nedeljom pre podne, iz kola. Čekaju autobus u grupama, raspričane, vedre, nasmejane kao devojčice, kao da briga nemaju. Idu na neku svoju jutarnju kafu, ili na čaj, potpuno je svejedno, važno je da je jeftino i da su one zajedno tih nekoliko dugih, nedeljnih sati tokom kojih se od njih ništa ne traži, ništa ne očekuje. Svo ostalo vreme posvetile su nekim starcima, moćnim ili nemoćnim, nije to ni važno, ili nekoj deci, sasvim maloj ili malo starijoj, ni to nije važno. Važno je da ni ti starci čije su i negovateljice i družbenice i kućepaziteljke, kao ni ta deca čije su roditelje, zauzete poslom ili sobom, zamenile, nisu njihovi, već neki potpuni stranci sa drugog kraja sveta u čije su živote ušle onog momenta kada su svoj školovani potpis stavile na dozvolu za rad, zadužile se da bi platile avionsku kartu u jednom smeru i krenule u bolju budućnost kazavši zbogom roditeljima u čijim su rukama i čijoj su brizi i nezi ostavile svoju sitnu decu.
Subota pre podne, vreme rezervisano za mlade Portugalke. Radnim danima nevidljive, ove vredne, bledunjave žene veoma izraženih podočnjaka na retkim rasprodajama troše svoj teško stečeni bakšiš, na koji su, za čišćenje, pranje i peglanje po tuđim kućama i u ovom tuđem svetu, sa zahvalnošću i računale. Uglavnom školovane, mlade i neiskusne, došle su tu zbog svojih muževa koji, bez reči engleskog, po ceo dan šišaju hibiskus, uveče piju pivo, a noću prave decu. Jednog dana, kada im radne vize isteknu i njihovo vreme na ostrvu prođe, vratiće se na Azore oronulog zdravlja, uspeli u životu. Što ih duže posmatram i bolje upoznajem, sve mi je teže, ili skoro nemoguće, da ove sitne, marljive ljude koji nikada ne odustaju, povežem sa nekada tako moćnim, a tako neodlučnim portugalskim moreplovcima koji su lako osvajali, a onda još lakše napuštali svoje nove teritorije da bi njihovi potomci, na ovom minijaturnom ostatku nekog zalutalog vulkana postali najvrednija, najpouzdanija i najjeftinija radna snaga.
A za to vreme, u zemlji koje više nema, neki drugi mladi ljudi, neke druge mlade, školovane žene iz dana u dan mere svoje snage, vagaju između diplome i pasoša, porodice i egzistencije, neizvesnosti i šanse, ponosa i naklona. Čudan neki svet, čudna neka vremena.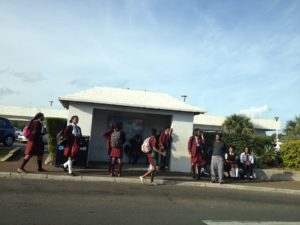 All this in English:
Not many people take a bus here. Some confused tourists with a map in their hands, maybe, kids from the public schools too young for a motorbike, a lonely, long ago lost soul, or two, a black grandma, serious, elegant and perfectly dressed, and, most often, women from the Philippines. Beautiful, calm, almost serene. On Sunday mornings, from the car, I see them waiting in groups. Wide smiles, happy, chatty, one would say carefree girls. The bus will take them to the small coffee shop in town, the only one open on Sundays, but they don't care, they will spend a few hours together, the only hours in a week when no one looks for them, no one expects anything of them. The rest of the week, they completely dedicated to elderly people, some very powerful, others very weak, but that's irrelevant, or to some very young, or little bit older children, that's also irrelevant. What's relevant, though, is the fact that either those elderly, or those kids who these girls, with devotion, take care of every day, all day long, are not theirs, but complete strangers from the other part of the world whose lives these smart, educated girls entered that very moment when they put their signature on the working visa, went into debt in order to buy a one way plain ticket to the better future and said good bye to the parents who would take care of their young, abandoned children. 
Saturday morning, the time reserved for the young Portugese. Invisible during the week, these pale, hardworking women with the permanent fatigue and traces of sadness in the eyes, are spending that little extra money they made during the week, by cleaning, polishing, washing and brushing someone else's houses, in this strange, someone else's world. Most of them educated, making only a few bucks back home, they came with or after their husbands who, without a word of English, take care of this lush nature, lawns, palm trees and hibiscus, every day and all day, who spend evenings drinking beer, and make babies at night. One day, though, when both their working visas and their time on this island expire, they will go back to the Azores, with a deteriorated health, but with enough money to have their own house. And more I observe them, more I know them, less I can imagine that these tiny, hardworking people who never give up belong to ones so powerful and so indecisive nation that used to rule the seas, easily conquered and quickly gave up on so many territories in this world, only for their descendants to become the most valued, the most loyal and the cheapest labour in this tiny part of the rich world.
And, at the same time, somewhere there in the world, in the country that doesn't exist anymore,  some other young people, some other young girls, smart and educated, are weighing their options between passports and diplomas, between the family and the existence, uncertainty and chance, pride and prejudice. Strange world, strange times.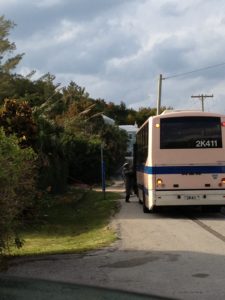 En français:
Il n'y a pas beaucoup des ceux qui prennent le bus ici. Quelques visiteurs confus, avec les cartes de l'île dans ses mains, les petits élèves, trop jeunes pour le moto, certains gens de la vue trouble, une ou deux vielles femmes noires, toujours élégantes, et les jeunes philippines jolies, propres, composées, tranquilles. Je les vois dans les groupes, surtout le dimanche matins, de la voiture. Elles vont pour le café ou le thé, ce n'est pas important, ce que c'est important est que ce n'est pas chère et ce qu'elles sont ensemble, ce qu'elles peuvent parler et rire quelques heures longues, où personne ne les recherche, ou rien n'est attendu d'eux. Le reste des temps elles sont consacrées à des personnes âgés, forts ou fragiles, tout de même, ou à des enfants, très jeunes, ou plus âgés, ce n'est pas important. Ce qui est important est ce que ces personnes âgés et ces enfants jeunes ne sont pas leurs, mais les étrangers d'autre partie du monde, à dont les vies elles ont entré au ce moment là quand elles ont mis leur signature d'économiste, ou de l'infirmière sur le visa de travail et, avec une dette pour le billet d'avion, elles ont dit le dernière "au revoir' aux ses parents et aux ses petits enfants, en allant au mieux future.                  
Le samedi matin, le temps réservé pour les jeunes portugaises. Invisible les autres jours, ces laborieuses femmes pâles, avec les visages fatigués, dépensent leur petit pourboire durement gagné en nettoyant, en faisant la lessive et en repassant dans les maisons des autres. Suivant éduquées, jeunes et sans expérience, elles ont venu a cause des ses maris qui, sans un mot anglais, passent toutes les journées en coupant les palmes et les hibiscus, les soirées en boivent le bière et les nuits en faisant les enfants. Un jour, après leur visas expirent et leur temps sur l'ile finit, ils reviendront aux Azores délabrés, mais réussis dans la vie. De plus que je les regard et je les rencontre, plus c'est dure et presque impossible de connecter ces minces gens laborieux qui ne quittent jamais, avec ces marins puissants mais indécis, qui ont facilement conquis les territoires nouvelles et qui les ont quitté plus facilement, pour leur descendants seraient les plus faibles, les plus dure-travail hommes et la main-d'oeuvre la moins chère sur ce morceau de quelque volcan oublié, au milieu d'Atlantique.
Au même temps, dans le pays qui n'existe plus, quelques jeunes gens, quelques jeunes femmes instruites, de jour en jour, mesurent leur puissance, elles poids entre des diplômes et des passeports, entre la famille et l'existence, l'incertitude et la chance, la fierté et la servitude. Les temps étranges, le monde étrange.