Oni koji su se na ostrvu zadržali duže od običnih turista tvrde da su ovde došli umorni od života na točkovima i večite jurnjave za vremenom po velikim svetskim metropolama bez boje, sunca i neba. A onda, shvativši tek po dolasku na ostrvo, koliko im, ustvari, nedostaju navike iz tih prethodnih života, od kojih su pobegli, opet kupuju džipove i SUV-e, one za vožnju po dubokom snegu koji im je toliko smetao, a koga ovde nema, one što jure po autoputevima sa četiri trake u jednom smeru koji su ih toliko zamarali, a koji ovde ne postoje, one opremljene za duga, višečasovna putovanja kojih na malom ostrvu, na kome je maksimalna dozvoljena brzina trideset pet, prirodno i geografski nema. Na ostrvu se vozi polako, uskim putevima bez trotoara, ispod stene ili uz žutu liniju, tik pored nečije kuće, ili izmedju oleandra i okeana.
Nakon što su ispratile muževe koji su na posao otišli motorima kao bržim i efikasnijim prevoznim sredstvom, jer svetske firme i internacionalni poslovi uglavnom ne prate ostrvski ritam života, večito zauzete, nezaposlene žene direktora i šefova raznih vrsta i profila (uglavnom anglosaksonskog porekla), kreću u borbu sa gužvom, sa krivinama i sa svojim mladim, nenaspavanim školarcima koji, sa zadnjih sedišta nekog SUV-a, nezainteresovano zevaju kroz prozor i bezvoljno klimaju glavom na najnovije, jutarnje instrukcije svojih majki. Čim ih, zbrinute i na sigurnom, ostave unutar školskih kapija, ove lepršave žene u patikama i trenerkama nastaviće svoju, ničim izazvanu, jurnajvu izmedju teretane, golf terena i manikira, da bi konačno, tokom ručka u nekom proverenom restoranu, u kome su napamet naučile ceo jelovnik i u kome su se već odavno združile sa galvnim šefom, ili bar somalierom, predahnule i, sa svojim novostečenim, takodje gostujućim prijateljicama, razmenile najnovije korisne informacije o što udobnijem ostrvskom životu.
O raznim se tretmanima priča na tim ručkovima, razni se tretmani zakazuju i primenjuju, uglvanom oni najnoviji, najdelotvorniji i najskuplji, sve dok se na ostrvu, ili bar u Njujorku i Londonu, ne pojave noviji i još skuplji i u zaborav odgurnu one prethodne, zastarele, beskorisne. I opet se jurnjava nastavlja, ovog puta u potrazi za magičnom formulom o večitoj mladosti, što izrazenijim bicepsima i očajničkom pokušaju za odstranjivanjem svih onih pojedenih hamburgera i popijenih piva koji su, tamo kod kuće, pre ostrva, pre sofisticiranih porcija propraćenih finim vinima, igrali tako značajnu i veliku ulogu u ishrani ovih žena.
Posle napornog prepodneva potrebno je predahnuti, a i pravo je vreme da se popije prva časa belog, ili bar penušavog, jer posle se mora nazad po decu, pa sa decom, pa oko dece, a onda i oko muža. Previše za jednu zauzetu, direktorsku ženu negovanog lica i neuspešno skrivanih bora na vratu i šakama.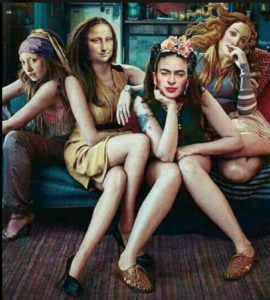 Fotoshop, bestidno i bez pitanja skinut sa FB profila Alex-Saša Kivele
All this in English:
Those who have stayed on the island a bit longer than regular tourists say that they came here tired of the rat race in the world's colourless, sunless and skyless mega- cities. However, as the new life doesn't free us of old habits, the new islanders buy big cars, the same ones that they got tired of back home, those equipped for winters, for long rides on highways with four lanes in one direction, cars completely unsuitable for the small, suptropical island where the speed limit is thirty five, where the roads are narrow and without sidewalks, where one must drive under the rock, by someone's house, between oleanders, or above the ocean.
Blowing the morning kiss to their husbands who go to work by bike, as a faster way of transportation, the busy wives of the executives of all sorts (mostly Anglo-Saxons, though) are entering the battle with a rush hour, narrow roads and sleepy children who, staring at the outside world from the back seet of the car, blankly nod to their moms' last morning instructions. As soon as the kids are safe behind the school gates, the moms will run to a golf cours, gym, or to a tennis court. A few hours later and with freshly manicured nails, they'll stop for lunch at the restaurant whose menu they know by heart. With new best friends from the same club, they will exchange all the information necessary for as easy and as comfortable island life style as possible.
Many topics are being covered during those lunch conversations. The latest, the most efficient and the most expensive aesthetic treatments on the island, or at least in New York City, or London are being recommended and booked. The run continues, this time after the magic formula for infinitive beauty and everlasting youth, for firm and visible biceps and desparate tries to remove all those hamburgers and beer endulgmenets that used to play an important role in the previous lives of these women, before the elegant portions and vintage wines took over.
Finally, after the hectic morning it is well deserved to stop for a moment, to have a glass of white, or bubbley, at least. Soon it would be the time for a school pick-up, than for homeworks, for sports, than for dinner and family! A little too much for the executive wife with a freshly treated face and unsuccesfully hidden wrinkles on the neck and hands.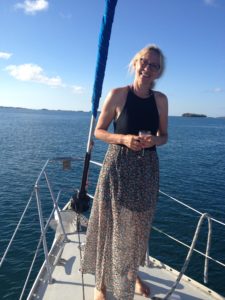 En français:
Ceux qui restaient (sont restés) sur l'île un peu plus long(temps) que les visiteurs ordinaires disent qu'ils sont venus ici fatigués de la vie sur les roues et de "rat race" (la course folle) dans les villes cosmopolites du monde sans couleurs, sans soleil et sans ciel. Et puis, en comprenant qu'ils (qu'il leur) manquaient les habitudes de la vie précédente d'où ils ont fuis, ils achètent à nouveau les SUV-s (VUS) et les jeeps, ces véhicules pour le neige qu'ils détestent et que n'existent pas ici, ces véhicules pour les autoroutes avec quatre lignes dans une seul direction (voies à un sens unique) qui n'existent pas ici, ces véhicules pour les long distances que n'existent pas aussi même (non plus) sur la petite île où la plus grande vitesse est trente cinq. Ici, on conduit sur les chemines étroites sans des trottoirs, sous un roche ou sur le ligne jaune, à coté de la maison de quelqu'un, ou entre la laurier-rose et l'océan.
Après (qu')elles ont dit au-revoir à leur maris qui sont allés au boulot sur les (des) motos, un véhicule plus efficace que la voiture, parce que les entreprises internationales ne suivent pas le rythme insulaire, ces femmes de directeurs des sortes différentes (mais principalement les anglo-saxons) vont sur la lutte (batailler) avec l'embouteillage et leur enfants ensommeillés qui, du siège arrière et sans intéresse (intérêt) hochent la tête à des dernières instructions matinales de ses (leur) mères. En les laissant derrière la porte de l'établissement scolaire ces dames libres dans des baskets et des sweat-shirts continueront (à) courir entre tennis, gym, golf et la manucure. Epuisées, elles se rencontreront avec leur amies nouvelles dans un restaurant avec le menu connu, pour le déjeuner et pour l'échange des informations sur la confortable vie insulaire.         
Il y a beaucoup de sujets à parler (traiter) autour ces tables: comment réserver et comment appliquer les différents traitements de beauté, principalement les plus nouvelles, les plus efficaces et le plus chers, toujours jusqu'au moment où (des produits) encore meilleurs, plus nouveaux et plus chers n'arrivent sur l'île, à New York, ou à Londres au moins, en poussant dans l'oubli ces précédents, anciens, inutiles. Et, le rat-race (la course folle) continue, cette fois dans le recherche de la formule magique pour la jeunesse infinie, pour les biceps forts et visibles et l'effort désespéré de retirer tous les hamburgers et tous les bières qui ont fait (joué) une grande rôle dans la vie passé de ces dames, là bas, chez sois (elles).
Après le (dure) matin dure et avant (d'aller) chercher les enfants à l'école, avant les devoirs et l'arrive (l'arrivée) de mari, on doit (se) reposer un peu, avec une verre du vin blanc, ou du pétillant au moins. C'est une vie trop occupée pour les femmes de directeurs, de (aux) traits nourris et avec des rides sur le cou et sur les mains, mal cachés.