Nedostaje mi ona smešna crnobela fotografija na kojoj se držim za obešene listove žalosne vrbe ispred škole u kojoj je radio tata i zamišljam da imam dugu kosu.
Nedostaje mi onaj drugi album Bijelog dugmeta, jer prvi nikad nisam ni imala. Prvi je otišao Mikiju za rodjendan, a ja sam ostala da se pitam "Šta bi dao da si na mom mjestu".
Nedostaje mi ona lutka u narodnoj nošnji i sa trepavicama što se klimaju, koju su mi jednom kupili u Narodnoj Radinosti kad smo se vraćali od očnog lekara. Posle se nisam usudila da tražim čokoladu u Soko-Nada-Štarku, preko puta ulice.
Nedostaje mi ona debela, staklena, teget pepeljara koja nikad nije stajala na stolu da neko od gostiju ne bi pušio uz kafu. Jednom je mama napravila iznimku, pa je tata pepeljarom razbilo wc šolju jer mu je ispala iz ruke dok je bacao opuške.
Nedostaje mi ona žuta vunena tapiserija "Gerberi u vazi" koju sam radila jednog dosadnog leta kada sam se, ustvari, spremala da čitam Mir-Jam pa mi nisu dali.
Nedostaju mi jedne crvene cipele sa šnalom, jedine koje sam mogla da nadjem u svojoj veličini u to vreme. Bile bi veoma moderne ovih dana.
Nedostaju mi oni rišelje stolnjaci koje je nana vezla mesecima i koji su morali da se štirkaju i peglaju s naličja da ne bi požuteli. I onaj njen sitan hekleraj od tankog, svilenkastog konca, a ne od onog debelog rumuskog koji koji je bio jeftinij i prodavao se na pijaci.
Nedostaje mi mamin deo plakara sa svim onim elegantnim cipelama koje je ona tako lepo umela da nosi uz haljine koje joj je, po Burdinim šnitovima, šila teta Goja. Nikada nisam mogla u njih da udjem, što zbog stopala, što zbog visine. Moje.
Nedostaje mi Ana Karenjina u tvrdim koricama koju sam tati poturila pod nos pitajući šta će mi knjiga na ruskom kad moram da je čitam za lektiru. "Pa, čitaj na ruskom, knjige su najbolje kad se čitaju na jeziku na kome su napisane." I kad, na to, zakolutam očima, a on stisne zube i odmahne rukom jer nista neću da poslušam.
Nedostaje mi jedna mandolina vezena srmom na svili i uramljena. I mamin komentar da će ona odsad tu da stoji jer je to jedino sto joj je ostalo iz onog tamo života. I mi ćutimo.
Nedostaju mi one sličice životinjskog carstva jer sam svaku morala da iskamčim cvileći. "Ne moraš ti sve da skupljaš."
Nedostaju mi one tanke, japanske salvete koje moraš dva puta da slažeš na cošak. Jednom u poklopac, kad ih pokazuješ drugaricama i traziš duplikate da se menjate. Drugi put kad ih vraćaš u kutiju da se ne izgužvaju, a mladja sestra hoće i ona, a ne ume, pa se nerviraš šta će to njoj.
Nedostaju mi one crvene rolšue na cčetiri gumena točka i kaišem preko stopala, da se u njima zavrtim na levu stranu i napravim trostruku piruetu. Kao klizačice na ledu.
Nedostaje mi ona torba od teksas platna ispisana imenima mnogih školskih drugova. Da ih čuvam za uspomenu i sećanje na one otkačene, gimnazijske dane.
Nedostaju mi reči da njima iskažem koliko mi sve to, nekada, nedostaje.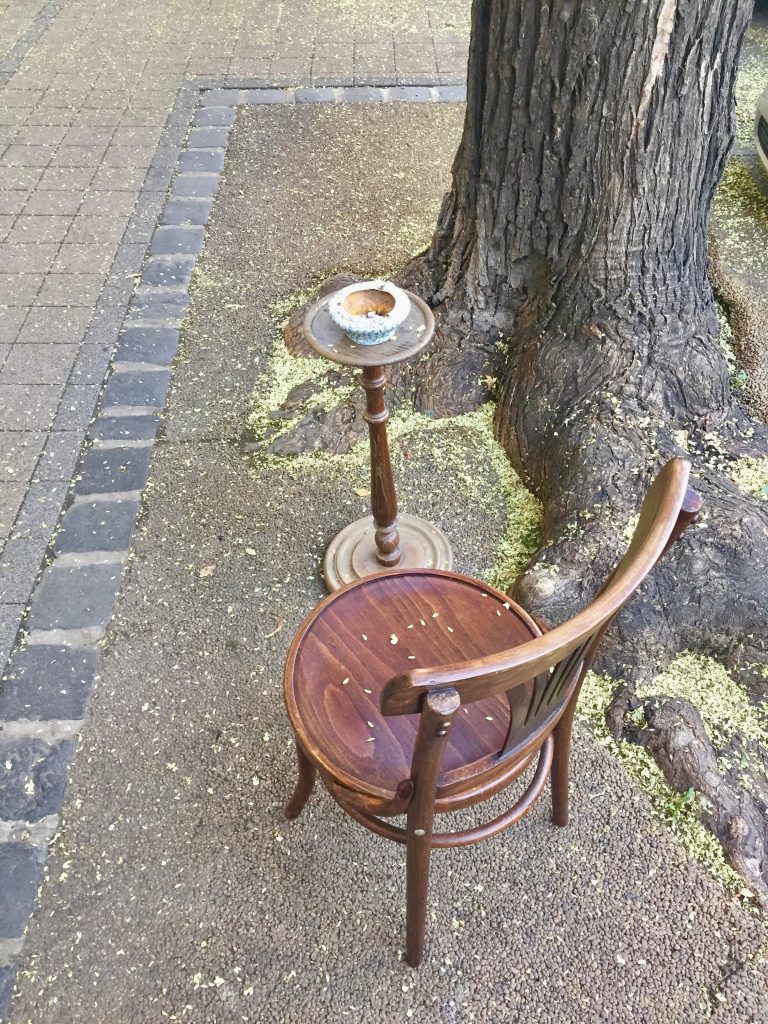 In English:
I miss that funny photo where I hold the long, sad branches of the willow tree in front of my dad's school, imagining myself with the long, thick hair.
I miss the second album of Bijelo Dugme as I never had the first one. The first one went to Miki for his birthday and I was left to mumble "What would you give to be in my place."
I miss that doll in a national costume and with wobbly lashes that I've got from 'Narodna radinost' after a long wait at the ophtalmogost's. I didn't dare asking for a chocolate at 'Soko_Nada_Stark' across the road after that.
I miss that heavy, blue, glass-blown ashtray that never stayed on a table, in case our guests thought they could smoke in our house. Once mom made an exception, then dad broke the toilet with it while empting it.
I miss that 'Gerbers in the vase' yellow woven tapestry that I did one boring summer when I, actually, wanted to read Mir-Jam, but dad didn't let me.
I miss those red shoes with the big buckle, the only ones I was able to find in my size at the time. I could still wear them and they'd be very trendy these days.
I miss that richelieu embroidery that nana was doing for months on, after which it had to be starched then ironed inside-out not to get yellow-ish. And all those crochetted tablecloths she made of very fine cotton thread, hard to find, not of that thick, Romanian, from flea market.
I miss mom's closet with all those high hilled shoes that she so knew how to wear with all the elegant dresses aunt Goja tailored for her from Burda. I was never able to try any of them, neither the shoes, nor the dresses. Because of my feet and because of my height.
I miss Ana Karenyna in a hard cover, the one I shoved under my dad's nose asking why we don't have it in Serbian, I need it for school. "Read it in Russian, books are best if read in their original language." And then I roll my eyes while he clanches his theet and briskly cuts the air with his hand.
I miss a mandoline done in silver needlepoint on silk, then framed. And mom's comment that from now on the mandoline will stay there and we're not to touch it as it's only thing she has left from that other life. And we don't say a word.
I miss the Animal kingdom stickers because I had to beg for each and every one of them. "You don't have to collect everything there is to buy."
I miss those fine, thin Japanese napkins that had to be careflly placed twice in the box. Once in the lead when going through them with my friends and exchanging duplicates. Second time when I want to put them back in the box and my younger sister wants to help, but she doesn't keep them straight and I get very annoyed.
I miss those red rollerskates with metal soal and two belts across the feet, to glide in them faster and faster before I turn and make a triple piruette, like the ice scaters do.
I miss that jeans school bag with names of the friends written all over. To keep them as a memory of our jaunty high school days.
I miss the words to express how much I miss all of that, sometimes.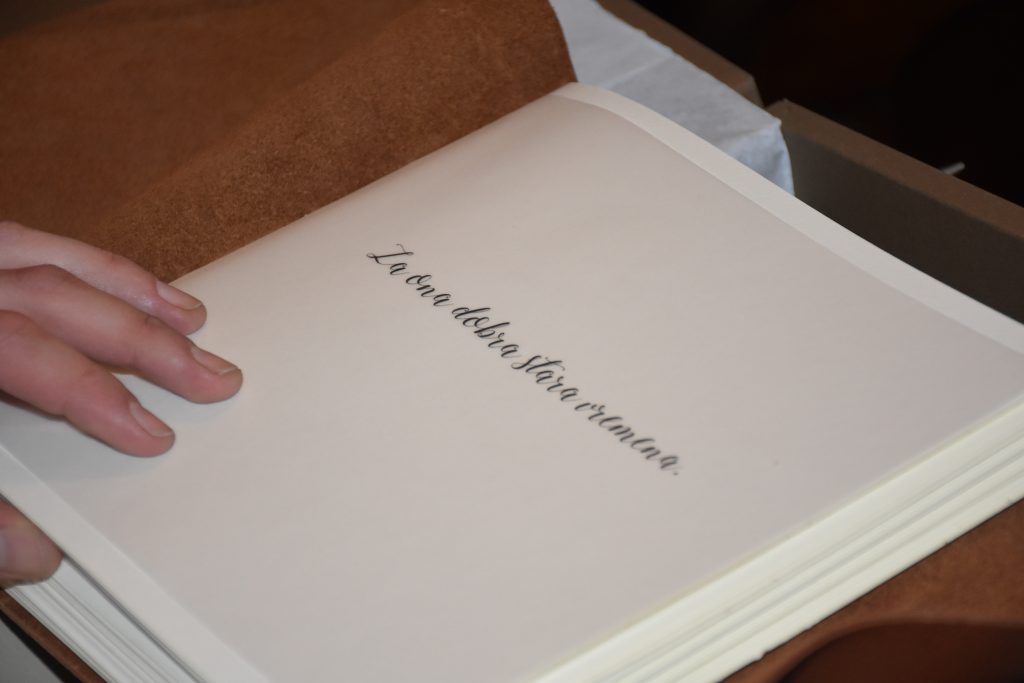 En français:
Ça me manque, cette drôle photo où je tiens les tristes branches du saule pleureur et j'imagine que j'ai les cheveux longs, devant l'école de mon père.
Ça me manque, le deuxième album de Bijelo Dugme parce que je n'ai jamais eu le premièr. Le premièr était pour l'anniversaire de Miki et je suis resté(e) à me demander "Qu-est que tu donnerais si tu étais à ma place".
Ça me manque, cette poupée dans le costume folklorique et les cils vacillants qui m'était achetée (dans) chez Narodna Radinost après notre retour de l'ophtalmologiste. Après ça j'avais peur de demander le chocolat de Soko-Nada-Stark, à travers de la rue.
Ça me manque, cet gros cendrier bleu en verre que n'était jamais laissé sur la table pour ne pas encourager les convives à fumer chez nous. Une fois que maman a fait une exception papa a cassé la cuvette en versant du cendre et en laissant le cendrier tomber de sa main.
Ça me manque, cette tapisserie en laine jaune avec le bouquet de fleurs au milieu que je faisais un été paresseux quand, effectivement, j'ai planifié de lire Mir-Jam, mais je n'avais pas la permission.
Ça me manque, les chaussures rouges avec le bouton, les seules que j'ai pu trouver dans ma taille à cette époque là. Elles seraient dans le vent aujourd'hui.
Ça me manque, les nappes blanches en broderie Richelieu que nana faisait pendant des mois et qu'on devait amidonner et repasser à l'envers pour ne pas les laisser jaunir.
Ça me manque, le placard de ma mère pleine des élégantes chaussures à talons qu'elle savait porter vraiment bien avec les robes de Burda faites pour elle. Je (les enviais) les ai enviées, mais je n'ai jamais pu m'habiller comme ma mère. À cause de ma taille, c'est ça.
Ça me manque, la couverture rigide d'Ana Karenina en russe, que j'ai poussé en face de mon père en demandant pourquoi on n'avait pas la version serbe, j'ai du le lire pour l'école. "Lis-le en russe, les livres sont meilleurs dans la langue originale." Et je roule mes yeux et il serre les dents. Et il ne dit rien de plus.
Ça me manque, une mandoline faite en fil d'argent sur de la soie, puis encadrée. Et le commentaire de ma mère que (çe) cela restera là et nulle part ailleurs parce que c'est la seule chose laissée de sa vie ancienne, là bas. Et on ne dit rien.
Ça me manque, ces petites images du règne animal lesquelles j'ai du demander presque en pleurant. "Tu ne dois pas tout collectionner."
Ça me manque, ces fines serviettes japonaises qu'on a dû sortir l'une avec l'autre, deux fois et par le coin. La première fois sur le dessous de la boîte quand on les montre à des amies et on cherche des doublons pour les échanger. La deuxième fois quand je les remets dans la boîte sans les perturber et la sœur cadette souhaite m'aider mais elle ne sait comment et ça m'énerve, pourquoi elle ce demande.
Ça me manque, ces patins à roulettes avec une ceinture et quatre roues en caoutchouc, quand je me tourne (à) vers la gauche et je fais la triple pirouette, comme les danseuses sur la glace.
Ça me manque, ce cartable en jean tout écrit avec les noms des amis d'école. Pour les garder comme le souvenir sur ces jeunes jours de lycée.
Les mots pour exprimer combien tout ça me manque, c'est ça qui me manque.