Uskrs. Rastrčali se šareni, plastični zmajevi preko vedrog bermudskog neba, jure se, sapliću, lome krila jedni drugima orlovi, sove, sokolovi, sudaraju se crna jedra i bele sablje piratskih i vikinških jedrenjaka, raspliću svoju bujnu kosu razne Barbike, Anđelike, Pokahontas. Potpuno zavisni od strujanja i jačine vlažnjikavog suptropskog vetra, ali i od veštine kormilara koji drže konce u svojim rukama, leteći junaci dižu se sporo, nespretno mlataraju krilima, krše jedra, kidaju kosu.
Najteže je u početku, u gužvi, u komešanju, tamo gde se svi guraju tražeći svoj prostor, tamo gde su konkurencija i borba za visinama žestoke, kormilari nesigurni, a vetar još uvek nedovoljno jak da pogura leđa. Puni elana, želje da nadvladaju druge, da odu što dalje, što brže, što više, guraju se, bodu, čupaju, padaju lomeći vratove i nabijajući noseve u pesak, tek da bi se ponovo vinuli ka plavetnilu nebeskih visina ti nezgrapni plastikanci. Oni najspretniji, najjači, najmudriji, oni što su se na vreme izmakli iz gužve, oni preuzimaju visine i sve brže grabe ka nebu, vukući konac u rukama kormilara sve dok ne osete da su potpuno sigurni, da lete u pravom smeru, da su dovoljno visoko i da je ona gužva iz koje su se izdvojili prerasla u nevažnu masu. Apsolutni vladari nebeskog kraljevstva kojima više niko ništa ne može svojom snagom kidaju i poslednje niti, prekidajući tako i svaki odnos sa onima koje su ostavili negde dole.
Danima kasnije, odnekud iz sunčevog komšiluka, čuje se samo zujanje koje para uši i probija bubne opne. Užarena, lepršava tačka posmatra mali, nemoćni svet ispod sebe. Sve dok jednog običnog dana, u neko obično jutro, ulicom ne prođu đubretari i sa bandere ne pokupe pocrnele ostatke neke izgorele, garave, smrdljive plastike što se nekad zmajem zvaše.
Uskrs. Rascvetan, lepršav, srećan, dečiji praznik. Praznik buđenja, praznik rađanja, praznik vaskrsenja kojeg, s nadom u lepše dane, čekamo s proleća. Praznik kome se radujemo kao što se bermudska deca raduju svojim plastičnim zmajevima dok ih gledaju kako streme slobodi i visinama, ne znajući ni gde će odleteti ni kako će završiti kad jednom s tih visina padnu. Praznik oko kojeg su, u raznim ratovima, na onu tamo zemlju, s neba padale i u njoj gorele ćuskije.
Opet je Uskrs, a mene nešto steglo dok gledam nasmejana dečija lica oko sebe i šareno, vedro, bermudsko nebo i dok razmišljam o svetu po kome ovih dana padaju ćuskije. Samo da rata ne bude.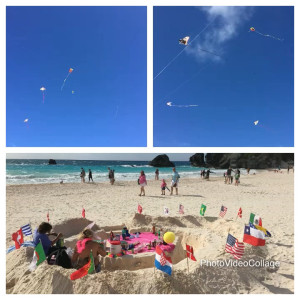 All this in English:
Easter. Noumerous of the colourful, plastic kites run across the blue Bermuda sky. Eagles, hawks, owls are stumbling over each other breaking their wings, black sails and white swords of the pirates and wikings' ships are fighting with each other, various Barbies, Pocahontas, Angelicas are untangling their long, thick hair . Completely dependent on a humid subtropical wind and on a competence of the helmsman holding the strings in his hands, these flying heroes rise up, awkwardly flapping their wings, crushing their sails, pulling their hair.
The take offs are the most difficult. In a crowd, where everybody is struggling for space, where both a competition and a battle for heights are serious, where helmsmen are uncertain, there's no wind strong enough in anyone's sails. Full of enthusiasm and a desire to be above others, to fly further, faster, higher, these clumsy, plastic fighters keep falling crushing their necks and their noses, only to go up again to the blue heights of heaven. The strongest among them, the most capable ones, the wisest, those who escaped the crowd in time, they are spreading their wings, their sails, their hair, taking more space by the minute, holding onto the string in the hands of helmsmen until they feel strong enough, completely free and totally certain that they are at the top and that the crowd is way below. The absolute rulers of the heavenly kingdom, those for whom there's no more danger coming from others, finally break the string, breaking with it every relationship with those who stayed behind.
For days later, somewhere from the above, from the Sun's neighborhood, we keep hearing the drilling buzz that hurts ears and creates headaches. An untouchable, glowing speck in the sky watching the helpless, small world below. All until one ordinary morning when the garbage truck comes by and collects the black, plastic remains of the burnt, pitiful kite.
Easter. Children's holiday, the happy holiday, the holiday of flowers. The festivity of an awakening, of birth, of resurrection, the holiday we look forward to each spring, with a hope in sunnier days ahead. The holiday we love the same way as Bermudan children love to watch their plastic kites searching for the heights and for freedom, without knowing where they will go or how they will end, once they fall. The holiday around which, during the different wars, in that country over there, instead of the plastic kites, the sky was full of bombs falling in flames.
It's Easter again. I feel the spasm in my chest while watching the smiley faces of children under the blue Bermuda Skies, thinking about the flames in the world on which, these days, instead of the kites, the bombs are falling. Protect us from another war, oh God!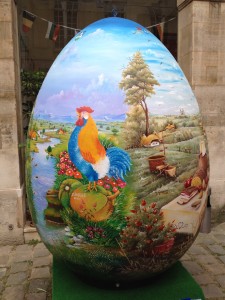 En français:
Pâques. Des cerfs-volants (en) plastique, multicolores, courent à travers le ciel bleu, bermudien. Des aigles, des faucons, des hiboux (se) chassent les unes les autres et trébuchent en (se) cassant leur (les) ailes, des voiles noires et des sabres blancs des pirates et des vikings (se) fracassent les unes les autres, les diverses Barbies, Pocahontas, Angéliques démêlent leur longs cheveux épais. Dépendant complètement du (de l')humide vent subtropical et de la compétence du timonier qui tient toutes les ficelles dans ses mains, ces héros volant montent haut, maladroitement battant ses (les) ailes, écrasant leur voiles, tirant leur cheveux.
C'est le plus difficile au début, dans foule où tous se poussent les unes les autres en cherchant le plupart (plus d')espace, où la compétition et la bataille pour les hauteurs sont graves, les timoniers sont incertains, le vent trop faible de (pour) pousser les dos. Plein(s) d'enthousiasme, de l'envie d'être meilleurs que les autres, de voler plus loin, plus vite, plus haut, ces malhabiles combattants plastiques tombent écrasant leur cous, (en) piquant leur nez dans le sable, puis ils montent encore à les hauteurs bleues du ciel. Les plus forts, les plus capables, les plus sages entre eux, ceux qui sont partis de la foule à temps ils commencent de (à) prendre plupart (plus) d'espace, ils se répandent partout en tirant (de plus en plus) la ficelle dans les mains des timoniers plus en plus, jusqu'au (moment) où ils sont complètement libres et totalement certains qu'ils volent dans une bonne direction et qu'ils sont assez loin de la foule. Les souverains absolus du royaume céleste, ceux aux lesquels (à qui) personne ne peut plus rien faire, finalement ils cassent la ficelle en cassent, en même temps, chaque relation avec ceux qui sont restés derrière eux.
Des jours plus tard, du quelque part du voisinage du soleil, on s'entends (entend) le buzz qui blesse d(l)es oreilles et crée (fait) mal de tête. Un point, intouchable et incandescent, regard le petit monde impuissant, dessous, jusqu'au un matin ordinaire où les éboueurs passent, viennent et collectent les brulés restes noirs et brûlés du plastique cerf-volant (en plastique), pitoyable.
Pâques. La fête des enfants, la fête des fleurs, la fête heureuse. La fête d'éveil, de la naissance, de la résurrection qu'on attend chaque printemps avec l'espoir au (de) jours meilleurs. La fête qu'on aime de la même façon que les enfants bermudiens aiment de regarder leur cerfs-volants (en) plastiques qui cherchent les hauteurs et la liberté, ne connaissant pas ni où ils iront ni comment ils finiront une fois quand (qu')ils tombent de ces hauteurs. La fête autour de laquelle, pendant les guerres différentes dans ce pays là-bas, in (au) lieu des cerfs-volants (en) plastiques, le ciel était plein des bombes qui tombaient en flammes.
C'est encore Pâques et je sens quelque spasme (un frisson) en regardant les visages souriant des enfants sous le bleu, lumineux ciel bermudien et en pensant du (au) monde sur lequel, ces jours-là, au lieu des cerfs-volants, tombent les bombes. Protège-nous d'une guerre (de) plus, oh Dieu!