Avgust. Vreme kad Evropa, spakovana, u niskom startu čeka voz za jug. U to vreme i mi smo bili deo te Evrope i čekali smo taj isti voz. Nas su čekale rane jutarnje šetnje, svež miris borovine, večernje igranke u lozom pokrivenoj bašti nekog hotela, čekale su nas gitare, pesma, besane noći, sunce i ona tanka, dugačka linija koja razdvaja plavetnilo neba i modrinu duboke vode. More!
Čini mi se da nam je pola detinjstva prošlo u pričama o tih petnaestak razbaškarenih, golišavih, mirisom, bojama i životom nabujalih dana punih sljunka i peska, prezrelog paradajza koji curi niz bradu, šuma predvečernjih talasa, barki nasukanih na obalu punih sveže i manje sveže ribe. Ko može dalje da otpliva, ko dublje da zaroni, ko može duže pod vodom, ko ume na glavu, koga je ubo jež, koga pecnula meduza, koga su mazali jogurtom, a koga maslinovim uljem. More!
Polazak u cik zore, da se stigne pre vrućine. Koferi spermni, par kupaćih kostima (jedan navučen na sebe, naravno!), nekoliko majičica, dve-tri haljine, japanke, sandale, teksas jakna, desetak knjiga. Sa strane, dve plastične kutije, u jednoj slane, u drugoj slatke kiflice i kesa puna jabuka. Hrana i osveženje za usput. Tri sata poluuspavane vožnje, poneki kviz ili pitalica, opširniji opis okoline, brzo zaboravljeni istorijski podatak, krš, kamen, opet krš i – eno ga! Nije, to je Bilećko jezero. Uh, pa, kad će? Prvo Trebinje, pa onda još pola sata. Daj neku kiflicu! Sačekaj dok stignemo u Trebinje, da opereš ruke. Prepun parking, pijačni dan, kafa za odrasle, protezanje nogu i wc za sve. Nastavljamo, s nama idu i tri najveće, najslađe, trebinjske lubenice. Sunce je skoro u zenitu, gužva sve veća, put sve strimiji i uži. Još jedna krivina, a posle nje usamljeni Lokrum, kao greška prirode usred modroplavog, beskrajnog prostranstva. More!
S prvim skokom, s prvom potpunom predajom i osećanjem blaženstva koje ona izaziva, uranjamo sve dublje, plivamo sve dalje, sve dok se sva čula ne probude, dok se svaka pora ne otvori i ne ispuni tom čudesnom, slanom magijom. Na jedinom praznom mestu na plaži, iza sebe ostavljamo uredno zategnuti peškir, nemarno bačenu garderobu, masu razgolićenih, pocrvenelih zadnjica, krčanje nečijeg radija kome nestaju baterije, starca s magarcem – Ulje, lavanda, slikanje!, decu u plićaku – Vidi me, vidi me!, majke – Vidim te, nemoj duboko!. Iza sebe ostavljamo brige, obaveze, odgovornosti. Rasterećeni, razuzdani hedonisti posmatramo svoju lenjost na koži okupanoj suncem. Nemerljivi osećaj prisnosti, ljubav bez granica, zakletva na večitu vernost, dubine bez straha, talasi bez slutnje. More!   
ℑℑℑ
Dok pišem ove redove, ispred mene šumi duboka, prozirna, tirkizna duša Atlantika. Mekoća ružičastog peska, dodir netaknute prirode, plaže bez ljudi, vazduh bez mirisa i neka neobjašnjiva, večito prisutna čeznja. Pitam se koje li je više moje – ovo strano, tuđe, uz koje živim, ili ono tamo, daleko, ono što se nekad naše zvaše. More.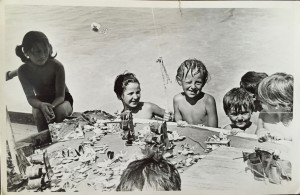 All this in English:
August. A month when half of Europe is waiting for the train to the South. At that time we, also, were part of that Europe, and we, too, were waiting for the same train. We were waiting for the morning strolls through the fresh scent of the pine woods, for the evening dance in some of the gardens under the vine, for guitars, for singing, for sleepless nights, for the sun and for that long, thin line, the line that divides the blue sky and the deep, almost purple water. The sea!
I think that we spent half of our childhood reminiscing about those two jovial, denudative weeks full of smells and colours of life, full of pebbles and sand, of ripe tomatoes, full of murmurs of the waves at night,  of the barges stranded on the coast selling fresh and less fresh fish. Who could swim further, submerge deeper, who could stay longer under the water, who knows how to dive, who was stung by the sea urchins and who by the jellyfish, whose sunburns were treted with yogurt and whose with olive oil. The sea!
We leave at dawn to avoid the heat. The suitcases are packed, a couple of swimsuits (and one which we ware, of course!), a few shirts and dresses, flip- flops, a jeans jacket, several books. The bag full of apples, two plastic boxes on a side, the savoury croissants in one, the sweet ones in the other. Food and refreshment for the trip. Three hours of a sleepy ride, some questions and a quiz of a general knowledge, a description of surroundings, a few historic, quickly forgotten facts, karst, stone, karst again and- Hey, I see it! No, that's not it, that's Bileca Lake. Oh! Are we almost there? Thirty more minutes, after Trebinje. A croissant, please! Wait 'till Trebinje, you have to wash your hand first! The parking is full, it's a market day. Coffee for adults, a short exercise and a toilet for all. We continue our trip with three largest, sweetest watermelons. The sun is almost in zenith, the road steeper, narrower. One more bend and, after that Lokrum, a lonely island, as a fault of nature amid the vast blue infinity. The sea!
With the first dive, with a total surrender and the bliss that follows it, we dive deeper, swim further, until all the senses are awakened and all the pores open, full of the salty magic. Behind, at the only free spot at the bach, we left our nicely spread towel and carelessly abandoned clothes, a mass of bare, sunburned bodies, a sound from the radio whose batteries were dying, an old man – Olive oil, lavender, photos!, children in the shallow waters – Look at me, look at me!, mothers – I see you, don't go too far!. Behind we left our worries, responsibilities, obligations. Hedonists, decadent and relaxed, we watch our laziness on the sun tanned skin. Intimacy without limits, love without borders, promises for an eternal fidelity and trust, depths without fear, waves without premonition. The sea!
ℑℑℑ
As I'm writing this, in front of me murmurs an immense, totally transparent, turquoise soul of the Atlantic Ocean. The soft sand, an intact nature, beaches without people, air with no smell, and some inexplicable yearning that never leaves me. I wonder which one is more mine – this one here, where I live, strange and someone else's, or that one over there, so far away, the one that, at that time, we happily called ours. The sea.
En français:
Un août. Le mois au lequel (où) l'Europe se tient toute prête, en attendant le train pour le Sud. En ce temps–là nous avons été (fait) la partie de cette Europe, nous avons, aussi, attendu ce même train. Nous étions attendus par les balades du matin, le parfum frais du bois en (de) pin, par les soirées de la danse dans les jardins sous la vigne, les guitares, les chansons, les nuits blanches, par le soleil et cette ligne fine et longue, la ligne qui devise le ciel bleu et l'eau bleue et profond. La mer!
Il me semble que (qu'on passait) la moitié de notre enfance passait avec (à raconter) les histoires de ces deux semaines joviales, nues, pleines des odeurs et des couleurs de vie, pleines des cailloux et du sable, des tomates trop mures (mûres), du murmure des vagues (du) soir, des barges échoués sur la côte, avec du poisson frais et ces autres, moins frais. Qui peut nager plus au large, se submerger au plus profond, qui peut rester plus long(temps) sous l'eau, qui sait comment plonger, qui était piqué par l'oursin, qui par des méduses, à qui on mettait le yaourt et à qui l'huile d'olive. La mer!
On partait à l'aube, de s'éviter la chaleur. Les valises sont prêtes, un pair des maillots de bain (l'un porté l'un sur soi, bien sûr!), quelques chemises et robes, les tongs, la veste jeans, plusieurs des livres. Sur le coté, le sac plein des pommes et deux boîtes plastique, les croissants salés dans l'une et les sucrés dans l'autre. Le petit déjenuer pour le voyage. Trois heures sur le route à demi-dormir (à somnoler), quelque(s) quiz et les questions de savoir faire, la description des endroits, un fait historique, vite oublié, le karst, la pierre, encore le karst et- C'est là-bas! Mais no, c'est le lac de Bileca. Oh! Ce sera presque?  Encore trente minutes après Trebinje. Un croissant, s'il te plaît! Attends jusqu'à Trebinje, tu dois (te) laver tes (les) mains! Le parking plein, le jour de marché. Le café pour les adultes, un courte exercice et la toilette pour tous. On continue, avec trois grands melons sucrés. Le soleil est presque au zénith, l'embouteillage s'est augmentée, la route est devenue plus étroite. Une virage de plus et, après ça, Lokrum, une île solitaire, comme l'erreur da la nature, au milieu d'immensité bleu, infinité (infinie). La mer! 
Avec le premier plonge(eon), avec un engagement total et tous les sentiments qui arrivent avec lui, on plonge au plus profond, on nage plus loin, jusqu'au point où tous les sens sont éveillés (s'éveillent) et tous les pores sont pleins (se remplissent) de cette magie salée. Derrière nous, sur (le) seul endroit libre, on laisse notre serviette et les vêtements abandonnés, on laisse une masse des corps nus et rouges, le son de la radio sans assez des (de) batteries, un vieil homme – L'huile d'olive, la lavande, les photos!, les enfants dans les eaux pas (peu) profondes – Regarde-moi, regarde-moi!, les mères – Je te vois, ne vas pas plus loin!. Derrière nous, on laisse des soucis, des responsabilités, des obligations. Les hédonistes, détendus et décadents, nous montrons notre paresse sur la peau ensoleillée, bronzée. L'intimité sans mesure, une amoure sans des frontières, les promises (promesses) à la fidélité éternel(le), des profondeurs sans peur, des vagues sans une prémonition anxieuse. La mer! 
ℑℑℑ
Lorsque j'écris ces lignes, en face de moi murmures l'âme turquoise de l'Atlantique immense et transparent. Le sable doux, la nature intacte, les plages sans des gens, l'air sans odeur et une nostalgie inexplicable, toujours présente. Je me demande ce qui est plus le mien (à moi) – ce ici (ce qui est ici), à coté duquel je vie, étrange, quelqu'un d'autre, ou ce là-bas, au loin, ce qu'était le notre (à nous), à ce moment là, en ce temps-là. La mer.