I dok ja lutam u potrazi za nekim blažim izrazom od onog « udati se », dok premotavam film vraćajući se u svoju mladost, dok bežim od sopstvenih misli i samo na brzinu gledam svadbene fotografije moje ćerke koje, skoro tajno, preuzimam od drugih, ispred mene se, nad dubokim brazdama sveže preoranih, glinenih njiva prelivaju septembarske boje zalazećeg, toskanskog sunca. Lenja poslepodneva, usporeni život uspavanih sela Val d'Orće, pogled u nedogled, bledo lisće starih maslina i mnogo istorije iza debelih, kamenih zidova i belih, vezenih zavesa. "Buongiorno, come stai?" izgovaram lako i sa mnogo više sigurnosti nego kad to isto kažem na francuskom, a u glavi stalno ista pitanja: Šta je to što me, pored ove lepote i ovog, za nas i lakšeg i prirodnijeg jezika,  toliko vuče Francuskoj? Da li bi mi se dovoljno dopala ta Španija koja mi i dalje izmiče, a za čiju lepotu važi da je skoro magična?
Jednom davno, htela sam da osetim život u nekoj dalekoj zemlji. Htela sam da idem u Rusiju, u daleko Carsko Selo, da vidim zbog čega ga je Puškin toliko voleo i kome je stvarno pripadao luksuz u kojem je živela i patila Katarina. Želela sam da vidim i pokušam da što bolje razumem razliku izmedju komunizma i kapitalizma. Da nosim rusku šubaru, pričam na tom bliskom, mekanom jeziku i da, sa ruskim studentima, pevam uz zvuke balalajke.  Onda je iz Minska, preko Moskve, došla Sveta i rekla mi da je situacija u Jugoslaviji veoma loša, isto onoliko loša koliko i u Rusiji, a meni ništa nije bilo jasno. Dvadeset godina kasnije, moja mlađa ćerka se, opčinjena, vratila iz Sankt Peterburga, rekavši: "Sad mi je sve mnogo jasnije."
Moj muž je, kao odličan student, dobio ponudu da u Francuskoj radi doktorat, dok su mnogi njegovi prijatelji, u to vreme, svoje teze pisali po prestižnim američkim univerzitetima. On je, ipak, izabrao Beograd, saradnju sa profesorom koga je cenio, rad i predavanja na srpskom jeziku i blizinu roditeljskog doma. Ubrzo smo napustili i Beograd i Jugoslaviju, došli smo u Kanadu, a moj muž nikada nije završio svoj doktorat. Prošle su godine, mi smo šest odmora zaredom proveli u Francuskoj, a Aix-en Provence proglasili najlepšim studentskim gradom u Evropi.    
Gledajući kako sunce napušta blaga brda Toskane i čekajući da mi Francuska dosadi, još uvek tražim onaj izraz koji mi nedostaje i maštam o Španiji. Ako jednom, gledajući nebo nad Alhambrom, budem osetila čuveni "el duende", možda ću, umesto komplikovanog francuskog, početi da učim malo bliskiji, bolom ispunjeni španski.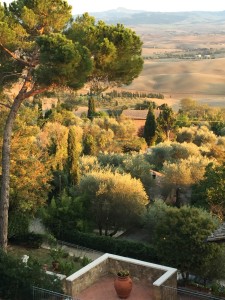 All this in English:
While, going through reflections of my youth, I'm still searching for the more adequate word than the word "married", while I'm still running away from my own thoughts, skimming through my daughter's wedding photos, almost stolen from our friends, I watch the September sun slowly fading over the deep creases of freshly ploughed Tuscan fields. Lazy afternoons, slow life in the sleepy villages of Val D'Orca, a look into infinity, pale leaves of the ancient olive trees and so much history behind the thick stone walls and crispy white lace curtains. "Buongiorno, come stai?" I keep repeating this phrase with way more confidence than I ever said it in French. And, all the same old questions in my head again: What is it that always draws me to France, despite all this beauty and despite this language, so much easier and way more natural for us than French? Would I like Spain, the country that constantly runs away from me, but with beauty proportionate to the that of Italy and France, to say the least?
Once upon a time I wanted to feel the life in a faraway country. I wanted to go to Russia, all the way to Tsarskoye Selo, to see for myself why Pushkin loved it so much and to whom really belonged all that luxury, in which Catherine lived and suffered. I wanted to learn and understand more about the differences between communism and capitalism, to wear the Russian fur hat, to speak in that familiar, soft language and to sing to the sounds of balalaika, with my fellow students. Then, Sveta came from Minsk and from Moscow and told me that the situation in Yugoslavia was as bad as it was in Russia, but I understood nothing. Twenty years later, my younger daughter came back from Saint Petersburg, completely fascinated. "Mom, now I understand", she said. 
As one of the top students, my husband was offered to do his PhD in France. Most of his friends were already writing their theses at the prestigious American universities. Still, he chose to to stay in Belgrade, work with one of his professors, lecture in Serbian language and be close to home. Soon enough, we left Yougoslavia and immigrated in Canada. My husband never finished his PhD. Years later we spent one vacation in France and then, year by year, went back five more times in a raw. For us, Aix-en-Provence is the most beautiful student city in Europe.
Staring at the fading sun over the mild hills of Tuscany and waiting to get bored of France, I'm still looking for that missing word and dreaming of Spain. Who knows, maybe once, when I see the big sky over Alhambra, the magic of "el duende" will get to me and I will start learning much less complicated Spanish, instead of very complicated French.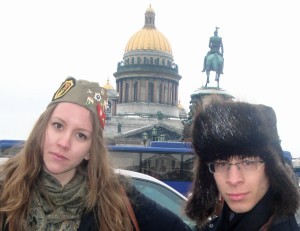 En français:
Toujours en asseyant de trouver le mot plus adéquat que le mot "se marier", toujours en fuyant de mes pensés et en regardant les photos de mariage de ma fille, superficiellement seulement, toujours en retournant dans ma jeunesse pandant le premier anniversaire de ma nièce, je jouis dans les couleurs du soleil (de) septembre, (au) dessus les (des) champs de Toscane, fraîchement labourés. Les après-midi paresseux, la vie lente de les villages de Val d'Orcia, la vue à l'infinité, les feuilles pâles de les oliviers vieux, et beaucoup d'histoire derrière les murs épais et les rideaux de dentelle blancs. « Buongiorno, come stai? » – je dis simplement et avec plus de courage que je le dis en français. Et encore, les mêmes questions dans ma tête: Qu'est ce qui me tire à (m'attire vers) la France, malgré cet paysage si beau, malgré ce (cette) langue plus semple et plus naturel (naturelle) pour nous? Est-ce que j'aimais L'Espagne, la pays que me fuit toujours, mais que (qui) devrait être aussi séduisante.
Il y a longtemps, je voulais sentir la vie dans contrée lointaine (des contrées lointaines). Je voulais aller à La (en) Russie, dans le loin Tsarskoye Selo. Je voulais voir pourquoi Pushkin l'aimait tellement et à qui appartenait tout ce luxe dans lequel Katherine vivait et souffrait. Je voulais mieux comprendre le différence entre la communisme et le capitalisme, je voulais porter le chapeau russe, parler cette langue doux (douce) et familier (familière) et chanter les chansons avec le son de la balalaïka. Puis, Sveta est venue de Minsk et de Moscow. Elle m'a expliquée que la situation en Yougoslavie est terrible, mais je ne comprenais rien. Vingt ans plus tard, l'une de mes filles est revenue de Saint Petersbourg (en) disant: » Je pense que je l'ai compris en peu.»
Comme un bon étudiant, mon mari a reçu l'offre de faire son doctorat à Paris. Beaucoup de ses amis écrivaient leur thèses aux les universités prestigieux (prestisieuses) de les (des) Ètats-Unis. Il a choisi Belgrade, le travail en serbe langue avec l'un de ses professeurs, et la proximité à (de) ses parents. Avant longtemps, nous avons immigré au Canada et mon mari n'a pas fini son doctorat. Plus tard, nous allions au vacances en France six fois en continu. Pour nous, Aix-en-Provence est la plus belle ville pour les étudiants.
(En) Regardant le soleil (au) dessus des collines de Toscane et en attendant d'être ennuyée par la France, je recherche cet mot que me manque est je rêve de mon voyage en Espagne. Si, un (une) fois, (en) regardant le ciel (au) dessus L'Alhambra, je sens le magique ( la magie) de « el duende », peut-être je débuterai (commencerai à) apprendre l'espagnol plus simple, au lieu du français très compliqué.