Napipavši rukom dugme, uključim aparat. Inicijalni šum malog mlina prestaje za par sekundi. Za nepun minut uzimam šolju, znajući po mirisu da je već puna. Deset koraka do sofe i sve je opet na svom mestu, kao da nisam ni bila tu.
                                                     <<<>>>
Iskrao  se iz sobe s odećom u rukama, da ne pravi buku. Negde u daljini, iza nekih bledih zavesa, gorelo je jedno svetlo. Ne želeći da bilo čime poremeti besčujnost trenutka, izbrojao je tačno šest koraka i, preskočivši prag, sačekao da brava lagano škljocne iza njegovih leđa. Duboki uzdah i vlažnjikavost u nozdrvama označili su početak potpunog i sigurnog olakšanja. S rukama u džepovima, vukao je nogu za nogom praznim trotoarom, prepustivši se modrini neba i nazirućoj ivici dana koji je tek trebalo da počne. Jos svega dvestotinjak lenjih koraka, prvo i najiskrenije jutarnje "Dobro jutro, komšija, kako ste danas?", vruć hleb pod miškom i najnovije vesti pored pulta, a onda istim putem nazad, u danu koji je, u međuvremenu, daleko negde odneo magičnu moć rane zore.
                                                     <<<>>>
Na unutrašnjim zidovima šolje ostali su samo osušeni, bledi tragovi latea. Odlažući knjigu, sa dna ispijam potpuno hladan, skoro sasvim bezukusan, poslednji, najvažniji gutljaj. Sklonim zavesu, otvorim vrata, razgrnem prostrti ves. Sloj po sloj, neizostrenim pogledom secem maglu, pokusavajuci da pronadjem bledo zutilo, ili bar ivice tamno crvenog dimnjaka na krovu komsijske kuce. Vreme je da spremim dorucak, bice danas lep dan, gusta je magla.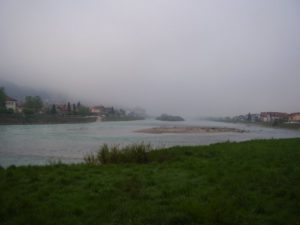 All this in English:
By the touch of the button I turn the coffee maker on. The initial noise of the small mill stops in a couple of seconds. After a minute I take the cup, knowing that's already full. Ten steps to the couch and everything is again back to its place, as I wasn't here at all.
                                                       <<<>>>
With clothes in hands, not to make noise, he left the room. Somewhere in the distance, behind the pale curtains, there was a dim light. Trying not to disturb the sound of silence, he counted six steps and, crossing the threshold, he waited for the door knob to make the soft "click" behind his back. A deep sigh and moisture in the nostrils were sign of relief, complete and certain. Hands in pockets and dragging his feet on the empty and slippery sidewalk, he surrendered to the dark sky and to the contours of the day that has yet to begin. Two hundred more steps, the first and the most sincere "Good morning, how are you?" of the day, a warm baguette under his arm and the latest headlines on the counter, then the same way home, only in a day that, in a meantime, swept the magic of dawn somewhere far away.
                                                        <<<>>>
On the inner walls of the cup, there are only dry and pale traces of what was the cappuccino until a few minutes ago. Leaving the book I take the last, but the most important sip from the bottom, almost tasteless and completely cold. I remove the curtains, open the balcony door and push the laundry hung on the line. Layer by layer I cut the fog with eyes still unadjusted to the daylight, trying to find a pale ray of sunlight, or at least the edges of a red chimney on the roof of the neighboring house. It's time for breakfast, it will be a sunny day today. The fog is very thick.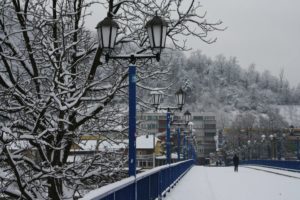 En français:
En touchant le bouton, j'allume le cafetière. Le bruit initial de le petit moulin arrête dans le couple de seconds. Après une minute je prends la tasse, en sachant qu'elle est déjà pleine. Dix pas à le canapé et tout est encore sur son endroit, comme je n'étais pas ici.
                                                      <<<>>>
Il a sorti de la chambre avec les vêtements dans ses mains, de ne pas faire le bruit. Dans quelque part à loin, derrière quelques rideaux pâles, il y avait un lumière tamisé. N'en souhaitant pas perturber le son de la silence, il a compté six pas et, en traversant le seuil de la porte, il a attendu que le bouton fasse le "clique" doux, derrière son dos. Un soupir profond et l'humidité dans le nez ont marqué le commencement du soulagement, complet et certain. Les mains dans les poches, il a trainé les pieds sur le trottoir, vide et glissant, en se rendant au ciel sombre et à les contours de la journée qui devrait juste commencer. Deux cent marches de plus, le première et le plus sincère "Bonjour, ça va!" de ce jour, la baguette chaude sous le main et les dernières titres des journaux sur le comptoir, puis le retourne par le même chemin, dans la journée qui a, dans un intervalle, emporté la magique de l'aube au loin.
                                                       <<<>>>
Sur les murs intérieurs de la tasse, il y a encore seulement les traces du cappuccino, secs et pâles. En laissant le livre je prends la dernière gorgée, presque sans le gout, froide, mais la plus importante. Je retire le rideau, ouvre la porte du balcon et pousse le linge. Le couche par le couche, je coupe la brouillard avec un oeil encore émoussé, en essayant de trouver un rayon du soleil pâle, ou, au moins, les bords de la cheminée rouge sur le toit de la maison voisine. C'est le temps pour le petit déjeuner, il fera beau aujourd'hui, la brouillard est épais.