Gramofon je u našu kuću stigao još dalekih 60-ih prošlog veka, a sa njim i prve ploče koje su se u to vreme pojavile na  našem tržištu. Od ušteđevine kupovane, pažljivo birane i s ljubavlju čuvane, longplejke su bile smeštane na levu, singlice na desnu stranu police, nestrpljivo čekajući da se dotaknu negde na sredini. Veoma sporo se popunjavao taj prostor između leve i desne strane police nad kojim su, u početku, kontrolu, uglavnom, imali moji roditelji. Dugo su u mene gledali samo staromodni Charles Aznavur, plavooki Joe Dasen, napirlitana Lola Novaković i romantični duo Arsen Dedić / Gabi Novak. Svoj prvi, lični izbor sam napravila 1971. godine, kupivši revolucionarni album Bijelog dugmeta na čijem omotu, konačno, nije bilo neko staro, skromno, romansijersko lice, već obnažene grudi neke hrabre, plavokose devojke, čije oči nikada nismo videli. Ubrzo nam je polica postala mala, Billie Holiday nikako nije mogla da se meša sa Stonsima, odvojili smo ploče, odvojili smo police, odvojili smo porodičnu kolekciju od lične, ali, sve u svemu, imali smo jednu dobro organizovanu diskografiju kvalitetne muzike koju smo svi zajedno čuvali i pothranjivali ličnim izborom i zajedničkom ljubavlju.
U to isto vreme, malo se putovalo u neke daleke zemlje i malo se novca trošilo na nepotrebne sitnice. Pored muzičke, rasla je i moja lična kolekcija retkih i teško dokučivih japanskih i nemačkih salveta. Cvetnih dezena i bledih, pastelnih boja na tankom, skoro providnom pirinčanom papiru, te japanske salvete davale su utisak najfinije, perfektno ispeglane, oslikane svile i ja sam se, upravo tako, prema njima i odnosila. Nikada ni jednu nisam stavila na pogrešnu stranu, nikada nisam ni izgužvala, a kamoli pocepala neki ćošak. Zajedno sa onim nemačkim, impresionističkih motiva i dubokih i jarkih boja na debelom, mekanom, pamučnom papiru, moje pozamašno papirno blago čuvano je u najvećoj kutiji od cipela, a otvarano je retko, obično nedeljom posle podne, o nekom prazniku, ili tokom vrelog, dosadnog, letnjeg dana.
Čitalo se mnogo i čitalo se drugačije. Tomovi klasika čekali su svoj red, uglavnom utvrđen po periodu u kome su nastali, zemlji iz koje dolaze i mom starosnom dobu. Nije se mnogo preskakalo, a moja poslepodneva uglavnom su prolazila u poluležećem položaju, nosa zabijenog u neku sitnu štampu kvalitetnog, tvrdog poveza. Ono što nije bilo u našoj pozamašnoj, lepo sređenoj, kućnoj biblioteci, nalazilo se u gradskoj iz koje me je, jednog dana, bibliotekarka izbacila rekavši da će me tužiti ocu jer prečesto uzimam knjige i, bez sumnje ih, vraćam nepročitane. U to vreme, moj otac je, uglavnom, iz mene izvlačio kompleksne pisane tekstove i poneku nagradu.
Prošle su decenije, prošao je jos jedan rat odnevši sa sobom i rokere i romansijere i japanske trešnje oslikane na tankom, pirinčanom papiru. Ostala je, da nas sa neke druge police, u nekoj drugoj zemlji, tužnih očiju i božanskog glasa gleda jedina preživela, čudom sačuvana, večna i neunštiva Edit Piaf. Ostala je i ova moja, još jedna opširna i bespotrebno kompleksna, obična zabeleška. Onako, iz hobija.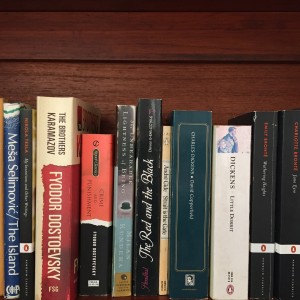 All this in English:
We've got our first record player somewhere around mid 60-is, and with it the first records that appeared on the market. Purchased from the savings, carefully picked and cared for with a lot of TLC, the LP-s had their place on the left and the singles on the right side of the shelf, all impatiently waiting to meet in the middle. It took a long time to fill that empty space between two sides, at the beginning mostly controlled by my parents. For the longest time, I'd been watched by Charles Aznavour, that old fogey, the blue eyed Joe Dassin, ondulated Lola Novakovic and, oh-ever-so-romantic duo Arsen Dedic and Gabi Novak. I made my very first, personal choice in the year 1971, buying the debut album by Bijelo Dugme. Instead of the modest, icy profiles of those old-fashioned romantics, on the cover of this groundbreaking album were the naked breasts of a young, faceless girl, disguised only by her long, blond hair. Very soon, our shelf became way too small for our collection. Since it was impossible to have Billy Holliday too close to the Stones, we divided all the records, the shelf and the collection into the family one and the one of my personal choice. Still, together, they made one well organised and regularly updated discography of good quality music which we all loved and cared for.
At that time, only few were travelling into the foreign countries and very little money was spent on anything more than just necessities, or an occasional vacation. Along with my growing music collection, so was growing my collection of the rare and not easily attainable Japanese and German napkins. With the beautiful floral designs, painted in pastel colours on the soft, almost transparent rice paper, those Japanese napkins looked like the finest, perfectly ironed and carefully folded, painted silk and that is, exactly, how I was treating them. Not a single one was placed the wrong way and not a single corner was ever creased, or torn. Along with the German ones, those with the impressionist motifs and strong colours pressed on the most dense, the softest, cotton-like paper, my paper treasure was kept in a large shoe-box, opened only for the occasion, usually on the slow Sunday afternoon, for the holidays or during the hot, lazy summer days. 
In those days, we read a lot and we read differently. The volumes of classics were waiting their turn, mostly based on the period they were written in, the country they were coming from and my age. I didn't skip many of them and most of my afternoons were spent with my face submerged into the fine press of the hard-cover titles. What I wouldn't find in our own, I would borrow from the well equipped city library from which I was kicked out one day by the librarian, saying that she must report me to my father, as I'd been taking out too many books too often and, most likely, never read them. At that time, my dad was, occasionally, extracting from me the meaningful complexities of my writings and a few literary awards. 
The decades have past since and so has one more war, taking with itself the rockers, the romantics and the blossoming Japanese cherries on the finest, almost transparent rice paper. What's remained on some other shelf, in another country, is the miraculously saved, the only one survived, with her sad eyes and divine voice, eternal and indestructible Edith Piaf.  And this, one more among my ordinary and complex notes. For no reason.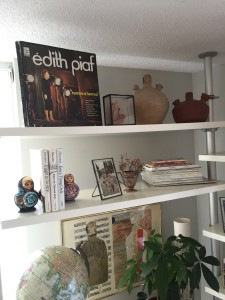 En français:
Le tourne-disque est arrivé chez nous pendant les années de 60 et, avec lui, les premiers disques qui ont (sont) apparu dans nos magasins. Achetés de (grâce à) l'épargne et sélectionnés avec bonne (beaucoup) attention, des LP-s restaient sur la gauche, les 45-tours sur la droite de notre étagère, en attendant de se toucher au milieu. Ce n'était pas facile (de) remplir cet endroit vide entre deux cotés de l'étagère, initialement controlé exclusivement par mes parents. Pendant longtemps, le portrait de (du) démodé Charles Aznavour, les yeux bleus de Joe Dassin, le visage ondulé de Lola Novakovi et le célèbre duo romantique d'Arsen Dedic et Gabi Novak me regardaient. J'ai fait mon premier choix personnel dans l'année 1971, en achetant un album débutant et révolutionnaire de Bijelo Dugme. In (Au) lieu des profils trop sérieux et très romantiques, sur mon premier album personnel il y avait les seins d'une jeune fille, couvert que par ses cheveux blonds. Un peu plus tard, notre étagère est devenu trop petit pour notre collection parce qu'on n'a pas pu mélanger Billy Holiday avec les Rolling Stones. On a séparé les disques, on a séparé les étagères, on a séparé  les collections de l'une, familiale, et l'autre, personnelle. Les deux ensemble, nos collections des disques faisaient une discographie bonne qualité, bien organisée et bien conservée par notre attention et affection.
Dans ce temps, on n'a pas souvent voyagé dans les pays étrangers et on n'a pas dépensé beaucoup d'argent pour des choses pas importantes (bagatelles). Ainsi (Au fur et à mesure) que ma collection de musique grandissait, ma collection de serviettes japonaises grandissait aussi. Avec les fleurs pastels sur le presque transparent papier de riz, ces serviettes ressemblaient à une très fine soie peinte, parfaitement pressée. Il n'y avait aucune qui était laissée incorrectement et il n'y avait jamais des coins froissés. Ces mes serviettes, ensemble avec mes serviettes allemandes, celles avec les motifs impressionnistes et les couleurs forts, faisaient mon grand trésor en papier, maintenu dans la plus grande boite des chaussures. C'était rarement ouvert, habituellement le dimanche après midi, pendant les fêtes, ou le (dans une) chaude journée d'été.
On s'a lu beaucoup, mais on s'a lu différemment. Les tomes de classiques déterminés par la période à laquelle ils ont devenu (appartenu), par le pays auquel ils appartenaient et par mon âge, ont attendu son (leur) tour. Il ne m'en manquait plus beaucoup, j'ai lu presque tous (je les ai presque tous lus). Mes après-midis ont par d'habitude passé (se sont passées d'habitude) avec mon nez dans un bon livre relié. Ceux qui n'existaient pas dans notre grande bibliothèque de famille, je les ai trouvés dans la bibliothèque de la ville. Un jour la bibliothécaire m'a chassée en disent qu'elle parlera (parlerait) à mon père parce que « je prends (prenais) les livres presque chaque jour mais, sans doute, je ne les lisais pas ». Pendant ces années, mon père lisait mes text(e)s complexes et, après plusieurs prix reçus, il m'encourageait d'écrire (à en écrire) plus.
Les décennies ont passé, l'une guerre (de plus) a (avait) fini en prennent avec elle– même les rockers et les romantiques et les fleurs de cerises japonais(es) sur le doux papier de riz. Sur une autre étagère, dans un autre pays, avec ses yeux tristes et avec son voix divine, éternelle et invulnérable Edith Piaf nous regarde. Le seul, en miraculeusement, disque rescapé et l'une plus (autre) de mes notes complexes et inutiles. Mon petit violon d'Ingres.