Pisati na ovu temu uopšte nije jednostavno jer ne postoji nešto kao "kratka" istoirja Srbije. Zahvaljujući raznim imperijama koje su više od petnaest vekova dolazile, ostajale i prelazile preko naše zemlje, naša istorija je nejasna, teška i tužna.   
Početkom modernog doba, najveći uticaj na razvoj onog dela sveta na kome danas leži Srbija imali su nomadi, uglavnom drevni Iranci i Kavkaski Sloveni sa severa, a Stari Rimljani i, kasnije, Vizantijci, s juga. Prisustvo vrlo uticajnih i veoma različitih religija kod nas potiče još iz tog doba.
Negde u Srednjem Veku Srbija je postala nezavisna država i jedna od najrazvijenijih zemalja u Evropi, ali nakon jedne teške bitke na Kosovu, izgubila je svoju nezavisnost, a onda je, 1459. godine, postala deo Otomanskog Carstva. Još jedna religija i jos jedan snašan uticaj stigli su i učvrstili se na našoj teritoriji.
Sredinom XVIII veka Habzurška Monarhija je osvojila severni deo Sribje i od tada, pa sve do Prvog Svetskog Rata, srpska država je bila podeljena izmedju Osmanlija na jugu i Austro-Ugara na severu. Dve ogromne imperije, dve vrlo jake i vrlo različite kulture i dve, nikad pomirene religije.
Nakon Drugog Svetskog Rata, za vreme Socijalističke Jugoslavije, religija nije bila popularna u našim krajevima, da bi kasnije, upravo ona, bila iskorištena kao povod za jedan novi rat.
Balkan je kompleksan i komplikovan. Smešten izmedju "Istoka" i "Zapada" , oivičen Mediteranom,  njegov geopolitički položaj bio je i ostao večito poprište različitih interesa i sukoba. Kada bilo gde, a posebno na jednom tako osetljivom području oslabi ekonomija neke države, prvo što iz te slabosti nikne su niske ljudske strasti, korupcija i borba za moć jedne od najnižih. A kad te osobine nadvladaju sve ostale, onda se tu više ne radi o ljudima. Bog je njima okrenuo leđa.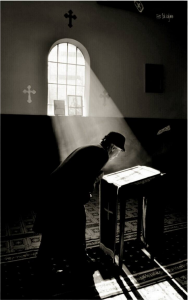 All this in English: 
To write about this topic is very difficult, since there's no such thing as a "short" history of Serbia. 

  

Thanks to the many different empires that, for many centuries, were coming, staying and passing through our country, our history is a long and sad one.
At the beginning of Modern Age, a huge influence on our culture had Iranian and Caucasian nomads, who were coming from the North and the Romans, and later the Byzantines, from the South. A presence and an influence of big and different religions and cultures on our territories date since then.
During the Mid-Ages Serbia had become an independent and one of the most developed countries in Europe. However, after one tragic battle in Kosovo, Serbia lost its independency again and became a part of a Great Ottoman Empire, in 1459. Another culture and another religion have arrived. 
Around mid 18th. century, the Habsubrg Monarchy had occupied the northern parts of Serbia and since that time, up until the First World War, Serbia was divided between Austro-Hungarians on the North and Ottomans on the South. Two huge empires, two very strong and very different cultures and religions. 
After the Second World War, during the Socialist Yugoslavia, religion wasn't very popular in our country. Later, though, a religion itself was used as an excuse for the new war. 
The Balkans are very complicated. Its geopolitical position is an everlasting battlefield between The East and The West. And, when the economy of a country weakens for any reason, the corruption rises bringing to the top those that are ready to take any steps to climb the ladder of power. Very human, is it not?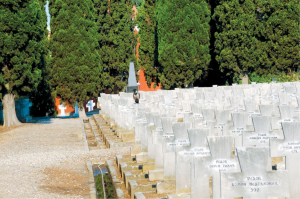 En français:
Écrire sur ce sujet est une tâche plus difficile que 

je l'ai espérée (

je ne l'avais espéré)

. Il n'y a pas

 quelque chose comme 

de "courte" histoire de la Serbie. Grâce à les nombreux empires qui sont venus, restés et partis de notre pays pendant plus que quinze siècles, notre histoire est lourd et triste.
Au début de L'Epoque Moderne, la plus grande influence étais exercée par entre les nomades du Nord (les anciens Iraniens et Slaves de Caucase) et les anciens Romains et, après, la Byzantine par Byzance, du Sud. Vous pouvez déjà observer la présence de quatre grandes religions sur notre territoire.
Pendent Moyen-Âge la Serbie devient une dynastie indépendante et une de la plus développé pays dans Europe un des pays les plus développés d' Europe, mais après une très grand et importante bataille sur au Kosovo, la Serbie devient le une partie de du Grand Empire Ottoman, dans en 1459. L'une plus de religion et encore plus d'influences différentes sur le territoire.
Au milieu du XVIII-e (XVIIIème) siècle La Monarchie de Habsbourg, avec sa son influence, a gagnée le Nord partie la partie nord de la Serbie et notre pays se divise entre Les Ottomans sur au Sud et l'Empire Austro-Hongrois sur au Nord. Deux empires très grands, deux cultures et deux religions très forts et différents régnaient jusqu'a la Première Guerre.
Après le Second Guerre Mondiale, pendant La Yougoslavie Socialiste, la religion n'a pas été populaire sur notre territoire, mais plus tard, la même celle-ci a été utilisée par tous les parties (mondiales) du monde comme prétexte pour une nouvelle guerre.
Le territoire des Balkans est compliqué. C'est la territoire entre Est et Ouest l'Est et l'Ouest, bordé par le Méditerranéen, avec beaucoup d'intérêts différents. En autre, quand l'économie devient pauvres s'appauvrit et la cupidité deviennent larges s'élargissent, les gens ne choisissent pas des les moyens de venir an puissance. C'est très humain, n'est pas?