Godinama je u nasu kuću, pred neko novo svetsko prvenstvo u fudbalu, pred svetsko prvenstvo u košarci, pred olimpijadu, ili pred neki sličan, veliki sportski događaj, stizao novi, iz prvenstva u prvenstvo, sve veći televizor.
U sportove se ne razumem, ne pratim ih, o njima čak i nemam mnogo pozitivno mišljenje, smatram da je i bez njih svet previše podeljen u timove, da je previše  protivnika, previše borbe za prvo mesto, previše onih koji idealizuju jedne omalovažavajući i potcenjujući druge. Međutim, ovakvo moje, nesportsko i nefer mišljenje verovatno mnogo više govori o mojoj iskrivljenoj slici sveta, o mojoj nekompetenciji, neznanju, nerazumevanju, čak i o ljubomori prema svima onima koji, uz pivo i čips, sate i dane provode zavaljeni u fotelje, junački navijajući za jedne i boreći se protiv drugih, uz povremeno gađanje televizora daljinskim i uz žuččno raspravljanje o tome šta je trebalo, ko je ispao glup, kome pripada tron, a kome se treba majke…
Nikad nisam mnogo razumela ni vesti u kojima jedni uvek stradaju, drugi napadaju, jedni se guše u bedi, drugi se bogate. Nisu mi išle ni humorističke emisije u kojima izrežirani smeh publike signalizira trenutak sveopšteg dobrog raspoloženja, pa sam uvek bila ona koja ispadne glupa u društvu i jedina koja nije razumela vic.
Deca su prerasla dečije emisije, dokumentarci i putopisi su već odavno pripadali nekim bivšim vremenima, kulturu je zamenila nekultura, film se samouništio nemaštovitim zaplet- radnja-rasplet -srećan kraj scenarijom. Svi zajedno ugušili su se pod bujicom reklama koje su, kao nabujala reka ili kao, ne daj bože, neka pošast, iz naše kuće, konačno, izbacile i televizor. I odjednom, olakšanje! Oaza tišine, vremena, prostora; za sebe, za druge, za priču, za refleksije, za smeh, za ljubav.
I trajalo je to, ostasmo u oazi sve dok se, iz jednog posla u drugi, iz jedne školske godine u sledeću, između potreba i želja, iz dosade ili iz zabave, od prvog, ogromnog i zajedničkog, pa preko sve manjeg i ne tako zajedničkog, ne nađosmo svako ispred svog ličnog, kompjuterskog ekrana. Zbogom miru, zbogom druženjima, zbogom pričama, smehu, porodici, zbogom svim bližnjima, odosmo mi u Gugl! Tamo nas čekaju i znanje i pesma i fudbal, čekaju nas filmovi, prijatelji, hiljade prijatelja, tamo je naša sreća, naša budućnost, tamo je život! Ovo ovde, ova svakodnevnica u kojoj smo se zatekli, ova oaza mira, smeha, priča, ljubavi, sve je to samo slučajnost, sve je to san, iluzija jednog vremena, prolaznost jedne epohe. Fatamorgana.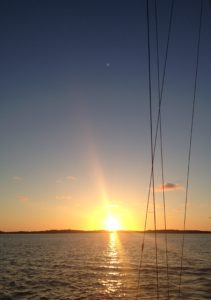 All this in English:
For years, right in time for a new FIFA World Cup, or the World Basketball Championship, or for the Olympics, in our house would arrive a new TV, always larger than its predecessor.
I do not really understand sports and I don't follow them. More to the point, I don't even have a very positiv opinion of them. I believe that even without the sports this world is divided into too many teams, too many opponents. There is way too much fighting for the first place, too many of those who idealize their teams, all the way humiliating the others. However, this my opinion, so unathletic and so unfair, talks more about my distorted picture of the world, about my incompetence, ignorance and misunderstanding, even about my jealousy of all those who, with a beer and chips in hand, spend their days reclining in the chair, heroically cheering for their team and swearing at the other, with occasional throws of the remote control.
I've, also, never liked the news. To me, they always meant that someone has died again, someone was attacked again, some became richer, while others drowned in misery. Even the TV comedy shows in which the canned laughs of the audience signal the moment of universal good mood, were strange to me; I was always the most oblivious one, the one who did not understand a joke.
Kids have grown and outgrown the children's shows, documentaries and travelogues had been burried for some time already, the culture was replaced by all sorts of reality shows, the film distoroyed itself  by the ever so predictable flows of prelude- action-outcome – happy endings. All together, they suffocated under a torrent of commercials which, as fluds or, God forbid, tsunamis, came, distroyed the joy and, finally, took away the TV from our house. What a relief! An oasis of silence, of time, of space; for oneself, for others, for the friendships, for reflections, for a laugh, for love.
We remained in that oasis until, from one job to another, from one school year to the next, between the needs and the desires, out of boredom or out of fun, from the first, very large and very ours, each of us found himslef in front of the very small and very personal computer screen. Farewell to peace, to the friendships, goodbye to stories, to laughter, to a family, goodbye to all, we're off to Google! In Google, we found it all again: the knowledge, the music, football, movies, friends, thousands of friends. In Google there's future, there is life! This life of ours, this everyday reality in which we find ourselves, this oasis of peace, laughter, stories, and love, that is just a coincidence, a dream, an illusion of time, the transience of an era. A mirage.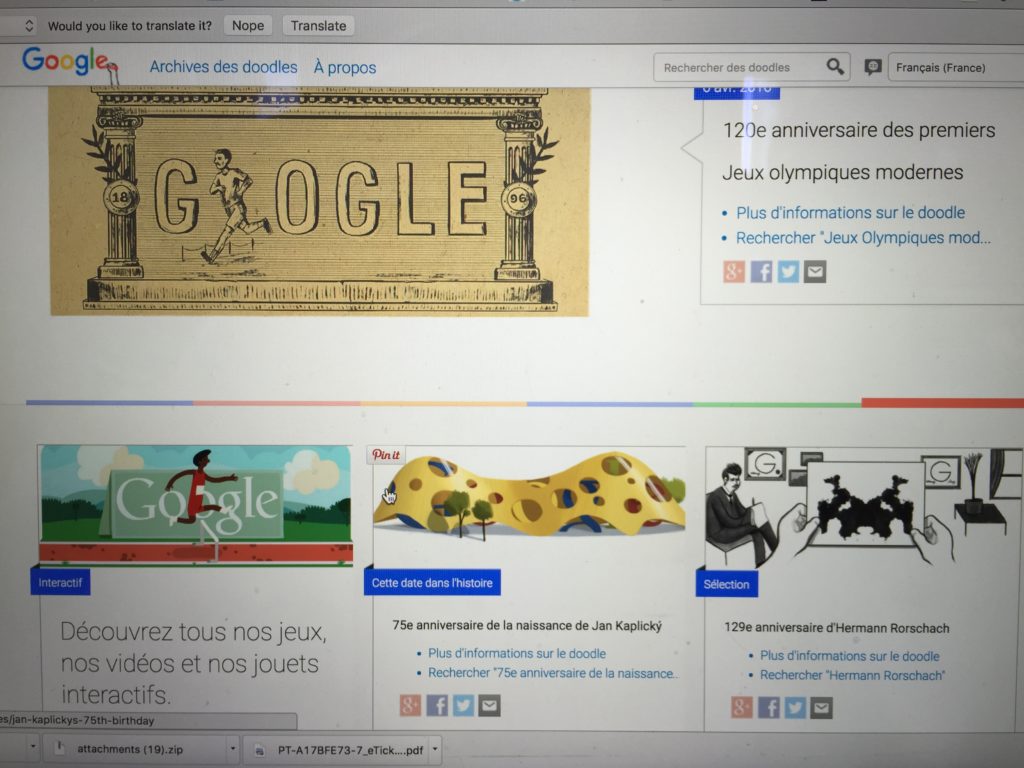 En français:
D'une année à l'autre, avant chaque nouveau Coupe du Monde, ou Championnat du Monde du basket-ball, ou pour l'Olympiade, nous avions acheté une nouvelle, plus grande télévision. 
Je ne comprend(s) pas bien les sports, je ne les (n'en) fais pas, je ne les suis pas (suivre?), je n'ai même pas un bon opinion sur eux. À mon avis, le monde est, même sans les sports, trop divisé à (en) d'équipes, il y a trop d'adversaires, trop de batailles pour la première place (en premier lieu), trop de ces (ceux) qui idéalisent les unes, en dédaignant les autres. Cependant, je crois que mon opinion, pas sportif et pas loyale, parle plus de mon vue déformé du monde, de ma (mon) incompétence, mon ignorance, ou de ma jalousie à (envers) tous (ceux) qui passent leur jours dans les canapés, en supportent leur athlètes et en luttant les adversaires avec (de) la bière et des chips, en tirant (de??) la télévision avec la télécommande, en jurant et en criant à tout le monde.
Je n'ai jamais compris les nouvelles (qui sont) pleins de catastrophe(s), des morts, des (d')attaques, des pleurs, des misères, ou les (de) comédies dans lesquelles le rire dirigé a signifié (exprime) le moment de la bonne humeur générale. J'étais toujours celle qui avait l'air stupide et qui n'a(vait) pas compris le truc. 
Les enfants ont grandi et on a fini avec les programmes (émissions) pour les enfants, les documentaires étions resté (appartenaient) aux temps passés, la culture était re(m)placé avec (par) l'ignorance, les films avait l'autodestruction (s'autodétruisaient) avec la prévisibilité et les fins heureuses. (L')Ensemble ils étaient morts dans l'inondation de publicités, qui ont, comme les grands courants, ou comme la catastrophe, jeté (banni) la télévision de notre maison. Et, tout à coup, quel soulagement! L'oasis de silence, du temps, de l'espace; pour soi, pour les autres, pour les conversations, pour les réflexions, pour le rire, pour l'amour.
On est resté dans cette oasis jusqu'au moment que, d'un travail au l'autre, d'une année scolaire à l'autre, entre la nécessité et l'envie, de l'ennui ou des divertissements, nous nous sommes trouvés en face du premier, un grand ordinateur partagé, et à bientôt, en face des autres, (de) plus en plus petits, écrans d'ordinateur personnels. Au revoir au (à la) paix, au revoir à les (aux) amitiés, au revoir à les (aux) histoires, aux rires, à la famille, au revoir à tous, nous partons à (sur) Google! Là-bas, tout nous attend: des connaissances nouvelles, des chansons, (du) football, des films, des amis, des milliers des amis, des nouvelles familles plus proches, (le) bonheur. Là-bas, c'est le future, c'est la vie! Ceci ici, cette oasis de paix, du rire, d'amour, tout ça (c')est une coïncidence seulement, un rêve, une illusion du temps, la fugacité d'une époque. Le Mirage.