Ako dolazite iz bivše Jugoslavije, mozete voleti i diviti se najvećim svetskim umetnicima, ali imena kao što su Danilo Kiš i Ivo Andrić pratiće vas kao senka, uvek i svuda. 
Danilo Kiš, (1935-1988), književnik kojeg je Salman Rušdi uvrstio u 10 najvećih književnika 20. veka
"Opsednut sam iskustvima iz detinjstva. Opsednut sam holokaustom, nestankom oca, uspomenama na teško ratno detinjstvo. Morao sam da se oslobodim te opsesije. Zato sam o tome pisao. A kada se o tome pedesetih, šezdesetih godina počelo govoriti o komunističkim koncentracionim logorima, gulazima, čije su postojanje francuski intelektualci negirali, tada sam postao opsednut tom temom. Danima i noćima sam o tome diskutovao. Iz te opsesije nastala je 'Grobnica za Borisa Davidoviča',  objavljena prvi put 1977. godine i prevedena na sve veće svetske jezike."
 "Ljudska retkost je bio Danilo Kiš; ljudska, ne etnografska." - "Vreme"
Ivo Andric (1892-1975), dobitnik Nobelove Nagrade za knjizevnost
"Na Drini Cuprija" – 24. (poslednje) poglavlje
"Ali neka, mislio je on dalje, ako se ovde ruši, negde se gradi. Ima valjda još negde mirnih krajeva i razumnih ljudi koji znaju za božji hator. Ako je bog digao ruke od ove nesrećne kasabe na Drini, nije valjda od celog sveta i sve zemlje što je pod nebom? Neće ni ovi ovako doveka. Ali ko zna? (Oh, da mu je malo dublje i malo više vazduha udahnuti!) Ko zna? Može biti da će se ova pogana vera što sve uređuje, čisti, prepravlja i doteruje da bi odmah sve proždrla i porušila, raširiti po celoj zemlji; možda će od vascelog božjeg sveta napraviti pusto polje za svoje besmisleno građenje i krvničko rušenje, pašnjak za svoju nezajažljivu glad i neshvatljive prohteve? Sve može biti. Ali jedno ne može: ne može biti da će posve i zauvek nestati velikih i umnih a duševnih ljudi koji će za božju ljubav podizati trajne građevine, da bi zemlja bila lepša i čovek na njoj živeo lakše i bolje. Kad bi njih nestalo, to bi značilo da će i božja ljubav ugasnuti i nestati sa sveta. To ne može biti."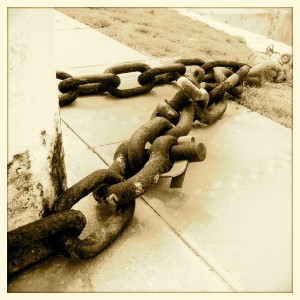 All this in English:
When you come from former Yugoslavia, you can love and adore the most renowned world artists and their art, but the names like Danilo Kis and Ivo Andric will follow you all your life, no matter where you are. 
Danilo Kis, (1935 – 1988) – Writer, one of the 10 greatest writers of the 20th century, according to Salman Rushdie
"I'm obsessed with the childhood experiences. I'm obsessed with holocaust, with the disappearance of my father, with the memories of my childhood in times of war. I had to get rid of that obsession and that's why it was important for me to write about it.  Then, in the 1950-is and 1960-is, when the world finally opened up about the communist regime holocausts whose existence had been negated by the French most influential intellectuals, I became obsessed by it, again. I used to spend days and nights discussing that topic and that's how I ended up writing the "Tomb for Boris Davidovich", first time published in 1977. and translated into all major languages."
"He was a human rarity, not an ethnic rarity" -"Vreme", 11th April, 2013.
Ivo Andric (1892-1975), writer, Nobel prize for literature
"The bridge on Drina" – the last chapter
"That's fine," he thought, "if they are destroying everything here, they must be building somewhere else". Hopefully, there are still some peaceful places and reasonable people, aware of the God's love. If God gave up on this miserable village on Drina, hopefully he didn't give up on the whole world. This can't last forever. But, who knows? If this rotten religion that, at one moment, organizes, modifies and refines all, just to waste it and destroy it at the next, spreads across the world, it could transform it into one huge, empty field for its pointless construction and bloody demolition, or into one huge pasture, to satisfy its hanger and its incomprehensible demands. Everything is possible. However, one thing is impossible: it is not possible for the great, intelligent people, people with with soul who will, for the love of God, build something beautiful, something that will last, something that will make our life better, it is not possible for them to disappear forever from this world. Because, if they disappear, the world will disappear and if the world disappears, the God's love will disappear. And, that is not possible."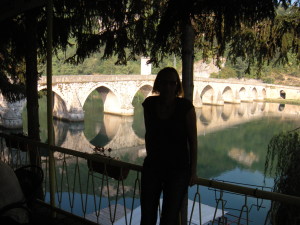 En français:
Si vous venez de Yougoslavie, vous pouvez être 

les

 (un des) grands maîtres de tous types d'art, mais des noms comme les noms suivants vous suivent tout la vie. 
Danilo Kis (1935-1988)— L'écrivain, l'un de dix meilleurs écrivains du XX siècle, par Salman Rusdhie    
« Je suis obsédé par mon enfance. Je suis obsédé par un holocauste, par le disparition de mon père, par les souvenirs de mon enfance dure, de la guerre. J'avais besoin de me débarrasser de cette obsession et j'écrivais de ce sujet. Pendant les années cinquante et soixante, les intellectuels français niaient les goulags et ma (mon) obsession grandissait.  « Un Tombeau de Boris Davidovich », le livre traduit à toutes les principales langues (les langues principales) de monde, est né de cette obsession."
"Danilo Kis était une rareté humaine, pas une rareté ethnique"-
'Vreme',11eme avril,2013.
Ivo Andric (1892-19750) – L'écrivain, l'aureat du prix Nobel 
«Le pont sur la Drina » , le dernier chapitre
"Mais, d'accord", il pensait, "s'ils le détruisent içi, les autres construisent là-bas, au loin. J'espère qu'il y a les (des) endroits paisibles et les (des) gens qui connaissent pour Dieu. Si Dieu a oublié ce village pauvre, sur la Drina, j'espère qu'il n'a oublié pas le reste des humains sur le monde et sous le ciel. Et, cette tragédie doit finir. Mais, qui savait? C'est possible que cette religion mauvaise et toxique, cette religion qui nettoie et organise tout cela et qui tout cela détruit et dévore immédiatement par la suite, c'est possible que cette religion élargira (se répande)  à travers du monde entier. C'est possible que cette religion va faire (fasse) des champs vides de des champs de Dieu, pour ses (par des) constructions sans sens et pour (par) sa destruction sanglante. Tout est possible. Mais, il y a quelque chose d'impossible: c'est impossible que tous les grands gens, les gens intelligents, les gens d'âme, les gens qui feront les structure permanentes pour un meilleur monde, pour une meilleur vie, vont disparaître (disparaissent). Si ils disparaissent, l'amour de Dieu va disparaître (disparaîtra), aussi. Et, ce n'est pas possible."