(Sa zakasnjenjem...)
Te, sad već davne, dvehiljadite godine, dok sam u trećoj zemlji koju je trebalo pretvoriti u dom lutala kroz svoj novi život pokušavajući da ga razumem i da u njemu nađem svoje mesto i dok sam tiho patila za onim što je ostalo iza mene, "Tumač bolesti" sjajne Džumpe Lahiri čekao me na ivici mojih lutanja, pružio mi utehu za moju tugu, dao objašnjenje za moje čežnje, strahove, nepripadanje, osvetlio mi put i ukazao na toplinu tog novog doma i na sunce koje ga okružuje.
Oduvek sam se bavila nekim pisanijama, nikada ozbiljnijim pisanjem. Nemam ja neku maštu, ne umem da stvaram ni junake iz bajke, ni viline konjice, ni heroje iz ulice. Ja mogu samo o onome što znam, što mi je blisko, što me dotaklo, gurnulo, raznežilo, samo o onome što je moje. Međutim, provalija između moja tri doma toliko je duboka da nisam znala ni odakle da krenem, ni čime da je popunim da bih te moje zemlje, moje misli, moje reči spojila i pretvorila u jedan, jedinstveni dom.
Iza nas je ostala jedna urušena zemlja, a u njenim ruševinama ostao je i jedan, duboko zatrpani deo mene. I ničega nije bilo u tim ruševinama a da već nije bilo napisano ili rečeno u vestima, dokumentima, ili knjigama, a na jeziku koji je meni bio stran i nerazumljiv i koji nisam mogla da prihvatim kao svoj. Sve ostalo bile su patnje, obične ljudske patnje kojih je ovaj svet ionako prepun, tako da mu dodatne, o kojima se jedino moglo pisati, nisu bile potrebne. Tragajući za neutralnim, neobojenim jezikom, ja nisam pisala.
U onoj drugoj zemlji naišla sam na monotoniju, uranjala sam sve dublje u jedan novi, običniji život i jedan novi, pragmatičniji jezik. Oko mene protezali su se hladnoća ogromnih prostranstava, stidljivi životi ljudi iza zatvorenih prozora, poneko "Dobar dan" uvučeno u tople, vunene šalove i svakodnevnica. Ništa o čemu bi se dalo pisati.
Godine prolaze i uz sve ono što mi i dalje nedostaje, uz ono što sam zavolela, ono što još uvek ne razumem i ono što ne mogu i ne želim da prihvatim, ja se osećam kao šetač na žici koji pokušava da održi ravnotežu da ne bi pao u provaliju dok, tražeći sigurnost, prelazi sa jedne na drugu stranu.
Stene su potrebne da bi se ta provalija ispunila, a ja sam u nju posložila tek poneki bledunjavi, beznačajni oblutak. Konopac za koji se držim dok spuštam kamenčiće se odmotava polako, moja trojezična priča zapinje pri svakom čvoru i svakom sloju, ali se razdaljine između mojih domova, ipak premošćuju. I baš kao što mi je nekada "Tumač bolesti" ponudio mnoga objašnjenja o novom životu, u Džumpinim "Drugim rečima" pronašla sam važnost i moć svakog oblutka koji mi je potreban da popunim provaliju, da stvorim vezu između života i jezika i da, konačno, uokvirim i svetlom obasjam svoj jedinstveni dom.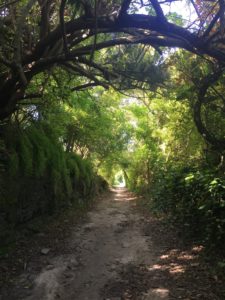 All this in Englsih:
(While being late...)
Years ago, after we had just moved to a third country to be called home, while I was struggling to understand it and to find my space in it, while I wondered through my new and silently cried for my old life, the yearnings, the sadness, the fear, the discomfort – all found in "The interpretor of maladies", helped me learn, accept, adjust, find comfort and solace.
For the lognest time I wanted to write. They all wanted me to write, the family, friends, others. However, there was a big hole between the three of my countries, three continents, three homes, and I didn't, I couldn't, I didn't know how to fill up that hole, how to put my homes, my thoughts, my words together.
There was a scrumbled country left behind, and a piece of me burnt in it. There was nothing to write about withuot a screem, nothing that already wasn't written or said all over the news, papers, books, and in the languages that, to me, were new, strange, unfamiliar. Nothing to participate in, nothing to fight for, or against, nothing to belong to. The rest were sufferings, but the world has plenty of those, and who would need, or read about more? So, I didn't write.
In our second home I found a distance and a monotony that pleased me, I dug a trench through a new life, a new language, I gasped for new, less descriptive, more pragmatic words. Vast, cold and empty landscapes around, shy lives of those behind the closed windows, bundeld up "Hi-s" of those outside, and work. Nothing to write about.
Years have passed, I've been still looking for comfort, haven't settled down fully. With much of that missing, more still unrecognizable, some unacceptable, some very much appreciated, I feel like a thightrope walker losing a balance while trying to cross the high wire. I need boulders to feel the holes, but have the pebbles only. The pebbles neutral in colour, a few oval and many, thousands of the sharp ones that I need to breake and shape somehow, as they're all in a language still new to me.
The rope I hold is unwinding slowly, my trilingual story is stummbling at every knot, but each pebble I lay keeps me walk steady on that high wire, helps me cross over onto the firm grounds. While digging through the piles of the sharp rocks, like in "The interpretor of maladies" all those years ago, "In other words" of Jumpa Lahiri I found a thread, I recognized the importance, the power of those other words, that rope that holds my homes together.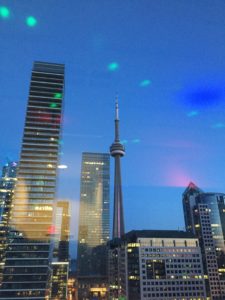 En français:
(En retard...)
Il y a longtemps, dans l'année deux milles, pendant mes vagabondages dans le troisième pays qui devait devenir notre nouvelle résidence, qui j'essayais comprendre et où j'essayais (de) trouver mon endroit, pendant mes chagrins pour les choses qui on (qu'on) laissait derrière, "L"Interprète des maladies" de (la) célébrée Jumpa Lahiri m'attendait au bord de mes errances, en apportent la consolation pour ma tristesse et l'explication pour ma nostalgie et mes peurs, en éclairant le chemin à (vers) notre nouvelle maison avec beaucoup de soleil.
J'ai toujours voulu écrire, mais je n'étais jamais très sérieuse. Je n'ai pas assez d'imagination, je ne sais pas faire les histoires sur des héros, des amans, des princesses. Je peux écrire seulement sur cela que je connais, qui m'est familier, quoi (qui) m'ai touché ou poussé, seulement sur cela qui est le mien. Cependant, le trou entre mes trois maisons est tant (tellement) profonde, que je ne savais ni où de commencer ni avec quoi de le remplir à (pour) connecter ces mes pays, mes penses, mes paroles, à (pour) faire une maison unifiée.
Derrière nous il y avait un pays détruit où j'ai laissé un morceau de moi. Il n'y avait rien à écrire sur ces ruines que les autres et les nouvelles n'ont (n'aient) écrit pas déjà, mais dans une langue étrangère, pas familière, une langue qui je ne savait (savais) pas, qui n'était mien(ne). Je pouvais seulement écrire sur la souffrance des gens ordinaires, mais ce monde est plein de la souffrance, on n'a pas besoin pour (de) plus. Et, je n'écrivais pas.
Dans mon autre pays, j'ai cherché la monotonie, j'ai plongé profonde(ément) dans la vie nouvelle et ordinaire, dans la langue moins descriptif(ve), plus pragmatique. Autour (de) moi, le froid de l'espace vaste, les vies timides derrière les fenêtres fermées, quelque "bonjour" sous les écharpes chaudes, et la vie quotidienne. Rien à écrire.
Les ans passent, et avec tous les choses qui me manque(nt), les autres qui j'ai appris d'aimer, ces (celles) qui (que) je ne comprends pas bien encore et ces (celles) qui (que) je ne veux pas et qui (que) je ne peux pas accepter, je me sens comme le marcheur sur le câble qui essaye de faire l'équilibre et (de) ne pas tomber dans le trou, tandis qu'il cherche la sécurité en marchant d'un coté à l'autre.

     
J'ai besoin pour les (de) grand(e)s pierres à (pour) remplir le trou, mais jusque là je y (je n'ai y) mis (que) quelques pâles cailloux, insignifiantes. La ficelle que je tiens tandis que je descende les cailloux (se) déroule lentement, mes histoires dans trois langues se trébuche au (à) chaque noeud et chaque couche, mais le(s) distances entre mes maisons sont moins (s'amoindrissent). Et, au (de la) même façon comme (que) "L'interprète de maladies" m'aidait (à) trouver la lumière dans mon pays nouveau et dans ma vie nouvelle, j'ai trouvé dans "En  d'autres paroles" de Jumpa Lahiri l'importance et la puissance de chaque caillou requis pour remplir le trou, faire la liaison entre les pays et les langues différents qui seraient la lumière de ma maison unifiée.