Morala sam mnogo da osluškujem, čitam i posmatram da bih bar malo shvatila kompleksnost jednog sistema, veoma izraženog na malom parčetu kopna na kome smo se slučajno zatekli, a potpuno drugačijeg od onog u kome sam rasla. Dete sivih, betonskih blokova socijalzima koji se, dok sam ulazila u svet odraslih, raspadao pred vratima pakla pretvarajući se u primitivni oblik neke kaubojsko- korleoneovske zajednice, imigrant početnik u zemlji dugih zima, u kojoj se već dugo ne gleda ko je domaćin, a ko gost, stiže u raj i spoznaje ogoljeni kapitalizam, serviran na zlatnom poslužavniku za sve one koji umeju da se posluže. Međutim, pravila posluživanja niko ne objasnjava, niko ih ne spominje, ne tumači i ne nudi, pa se ne zna tačno za koga je glavno jelo, a za koga su ostaci.    
Pokrivene belim, stepeničastim krovovima, kuće raznih boja i nijansi, kao izvrnuti sladoledi vire iz buketa palmi, oleandera i hibiskusa. Đaci u urednim školskim uniformama, poslovni muškarci u teget mornarskim sakoima, dokolenicama sa ranflom i savršeno ispeglanim roze bermudama, elegantne žene u haljinama živih, letnjih boja, uklopljene u ambient i spremne za koktel u bilo kom trenutku. U restoranima jela odličnog kvaliteta servirana na finom porcelanu i praćena dugačkom listom visokokvalitetnih vina iz malih i velikih svetskih vinarija. Razgovori o egzotičnim, svetskim destinacijama (ima li egzotičnije od toga?!), o elitnim sportovima, privatnim školama, privatnim klubovima, privatnim večerama, privatnim plažama, privatnim jahtama i tradiciji. Engleskoj, naravno, za one koji smatraju da se u tradiciju razumeju, i o američkoj, za one koji bi, dobro poznavajući moć novca, istoriju najradije zanemarili.
Ljubazno dobar dan, drago mi je da smo se upoznali, odakle ste, imate zanimljiv naglasak, kod vas je do skoro bio rat- zar ne, moramo se uskoro opet videti i otići na neki ručak, ili bar na kafu. Sledeći susret, sledeća osoba, ista ljubaznost, isti osmeh, ista pitanja, isti zaključak. S kezom na petnaest do tri, u trenutku pomisliš kako je došlo vreme za popunjavanje rupa jedne isprazne priče, pa, pun nade čekaš, očekuješ, stojiš u niskom startu, kao rezervni igrač tokom utakmice koja polako prolazi, kao dete u novom komšiluku koje svi gledaju i koje bi da se igra, ali ga niko ne zove.      
Tih zlatnih, sunčanih dana je mnogo, ali kad udari tropika i kad naiđu oni teški oblaci koji stoje na leđima sve dok kičma ne zaboli, nebo se zacrni kao da nikada više ne može i neće biti plavo. Sunce nestane u ogromnim čeljustima Atlantika ostavivši za sobom vrelinu koja probada i peče sve dok se iz onih oblaka ne sruči kiša. Kiša koja ne pada i ne pljušti, već se izliva, razliva i teče, odnoseći sa sobom zlatna vrata raja, razgolitivši ostrvo, ostrvljanje i sve one koji su se na njemu zatekli.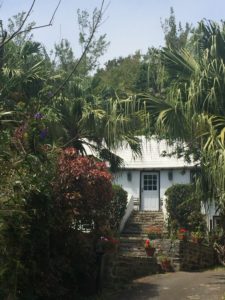 All this in English:
In order to better understand the complexity of the system so different from the one I came from, there was a lot reading, listening and browsing I had to do during our first years here. A child of the socialism that was disintegrating at the Hell's door, transforming itself into some primitive form of the cowboy Corleone's community, an immigrant in a country of long winters, in which no one knows anymore who's the host and who's the guest, arrives in Paradise, and there meets the bare capitalism served on the golden tray to all of those who know how to be served from it. However, nobody explains the rules, nobody tells you who gets the main course and who gets the leftovers.
The pastel houses with white, stepped roofs peek from the bouquets of hibiscus, oleanders and palm trees. Proper-looking kids in their neatly ironed school uniforms, businessmen in the navy jackets with golden buttons, knee-high socks and pink Bermuda shorts, and the elegant women, conveniently dressed for the cocktail hour at any given moment in time. Fine dining and the best vintages from all over the world, just enough to make a perfect finish of the day. Conversations about the most exotic world destinations (is there anything more exotic than that?!), about elite sports, private schools, private parties, private clubs, private gardens, private yachts, private beaches, and tradition. The English tradition, of course, for those who think they know what the tradition is, and the American tradition for those who, choosing the power of money, chose to leave the history behind. 
A pleasant hi, how are you, nice to meet you, your accent is interesting, where are you from, oh, you recently had a war, right, oh, we, definitely,  have go for coffee or lunch soon. The nest person, the next encounter, the same pleasantries, the same smiles, the same questions, the same conclusion. And, for a moment, you think that it's time to fill the gaps of an empty conversation and, as hopeful and ready as ever, you wait, patiently, like a reserve player waits at the match that's almost finished, like a new kid on the block who would like to play with others, but they just look at him curiously and cary on with their game.     
From time to time, sun disappears in the wide open jaw of the Atlantic, leaving the piercing, tropical heat and the heavy clouds behind. The sky opens without warning and, smashing the golden Haven's door, God pours rivers on the small island, the islanders and all of those who happened to be there.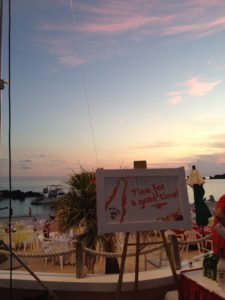 En français:
Si j'ai voulu comprendre un peu la complexité de la (du) système qui était complètement différente que la (du) système dans le pays d'où je suis venue, je devais beaucoup d'écouter, lire et regarder autour de moi sur cette ile où on est arrivés par hasard. L'enfant des grises bâtiments de socialisme qui a (s'est) décomposé devant la porte de l'enfer en se transformant dans quelque communauté de la (en une sorte decommunauté à la) "cawboy- Corleoné" sorte primitive (en primitif), une immigrée dans le pays des hivers longues où il n'y avait pas la (de) différence entre les hôtes et les invités, vienne (vient) au paradis et rencontre (le) capitalisme nu, servi sur le (un) plat en or pour tous ceux qui savent servir leur (eux)-mêmes. Pourtant, personne n'explique les règles du service, personne n'offre de l'aide et ce n'est jamais clair qui obtient le plat principal et qui obtient les restes.
Les maisons des couleurs pastels en dessous des toits blancs resemblent les (des) crèmes glacées des (aux) saveurs différentes par (entre) les bouquets des palmes, des lauriers roses et des hibiscus. Les élèves dans les uniformes propres, les hommes des affaires dans les manteaux officiels du meilleur tissu anglais et des bermudas bien repassés, les femmes élégantes des (aux) grandes sourires, habillées dans les robes des couleurs vivantes en ressemblant de l'ambiance, prêtes pour le cocktail à n'import quel moment. Dans les restaruants, la bone cuisine accompagnés des cartes des vins longues des grands et des petits vignobles mondiaux. Les conversations des destinations exotiques (quoi plus exotique que ça?), des sports élites, des jardins privés, des écoles privées, des clubs privés, des dîners privés, des yachts privés, du bon comportement et de la tradition. De la tradition anglaise, bien sûr, pour ceux qui comprennent une vraie tradition, et de la tradition américaine pour tous ceux qui préfèrent traverser les siècles, en sachant (connaissant) la puissance et ne sachant pas l'histoire. Un poli "bonjour, enchanté, votre accent est très intéressant – d'où vous venez, oh, vous aviez la guerre il-y-a quelques années, n'est pas, oh on doit avoir (prendre) le (un) café bientôt!". Le prochain rencontre, la prochaine personne, les mêmes cordialités, le même sourire, la même conclusion. Et, rien de plus. Tu (On) espères que ce nouveau (cette nouvelle) rencontre remplira les trous de la précédente conversation vide et, avec une grande sourire, tu (on) attende, optimiste, tu es (on est) prêt de (à) participer, comme le joueur de réserve du match presque fini, comme l'enfant dans un nouveau voisinage qui aimerait jouer, mais qui n'appartient pas ici (à cet endroit) et que personne n'a appelé ici.
Il y a beaucoup de ces jours ensoleillés, néanmoins, quand le tropique flambe et les nuages lourds viennent, ces nuages qui restent sur nos dos pour longtemps, le ciel devient tellement noir comme il ne va jamais plus être bleu (qu'il semblerait qu'il ne sera plus jamais bleu). Le soleil disparait dans les grand(e)s mâchoires d'Atlantique en laissant derrière soi-même la chaleur qui perce et brûle par ces nuages des lesquels (desquels) il ne pleut pas et il ne tombe pas les (des) cordes, mais des lesquels (d'où) l'eau coule comme une fleuve en détruisant la porte d'or du paradis, en dénudant l'ile, les insulaires et tous ceux qui sont arrivés là-bas.