Svoju nonšalantnu mladost konačno sam počela da napuštam s rođenjem mojih devojčica. Nonšalantnost moje mladosti odnosila se, uglavnom, na ne-planiranje, ne-kuvanje i na bilo koje slično ne-znanje sa kojim sam uplovila u svoj, tj. naš brak. Ni slutila nisam da će to silno neznanje koje sam sa sobom donela imati veliki uticaj na moju, tj. našu novu svakodnevnicu.
Pravilna ishrana imala je veliki udeo u kući mojih roditelja i u mom odrastanju, ali o hrani se nije mnogo pričalo, pravilna ishrana se samo podrazumevala. Pri tome, bila sam dete kome se topla supa pretvarala u polučvrstu, nejestivu, masnjikavo-želatinoznu masu, dete kojem kolači i torte nisu predstavljali praznik za oči, dušu i telo, dete koje je obožavalo zeleno voće ubrano sa što daljih grana i žbunova i dete koje ga je, tako zelenog i neopranog, jelo u jednom zalogaju. 
Odjednom, u novoj ulozi supruge i u novoj, bračnoj svakodnevnici, počese na važnosti da dobijaju neki pohovani bataci, neke zimnice, domaći sokovi, džemovi, ajvari, a sve to u količinama koje sam dotle viđala samo u supermarketima, ili pri retkim odlascima u restoran. Ni osvrnula se nisam, nisam shvatila ni gde se nalazim, ni šta mi se desilo, a primat u mojoj/našoj novoj svakodnevnici uzeše, meni dotle sasvim periferni, životni detalji. Bez mnogo entuzijazma, a trudeći se da ispunim očekivanja, u otežalom vazduhu male kuhinje postajala sam žena.
Negde oko prvog rođendana naše velike devojčice, najzad sam pronašla svoj kuhinjski kutak. Mladost u meni htela je da se igra, a majka u meni želela je da se okuša na novom, nepoznatom terenu. Jer, tamo gde srce najjače kuca, tamo se čovek lako upušta u avanturu i svaki korak u toj avanturi nosi u sebi toliko ljubavi, da mišljenja drugih postaju potpuno nebitna.
Moja sestra je zrela žena i ona ne kuva. Juče smo proslavili prvi rođendan njene ćerkice, uz tortu iz samoposluge. Moja sestra je presrećna, ispunjena žena. Ona ne obraća pažnju na mišljenje okoline. Njena sreća joj je dovoljna. Moja sestričina je luče od deteta koje svi obožavamo. Ona je naša zvezda. Kuvanje? Domaće torte i kolači? Šta je to? To je prošlost. I moja sećanja.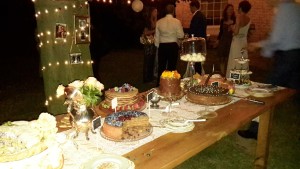 All this in English:
I, finally, started leaving my nonchalant youth after our girls were born. The nonchalance of my youth was, mostly, referring to not-planning, not-cooking, and other not-knowings that followed me into my/our marriage. Not even in my wildest dreams was I able to imagine an impact that all those not-knowings would have on my/our everyday life.
Healthy eating habits were always important in my parents' house and in my childhood, but we never talked about it much, really.  Eating healthy was the same as just eating. Besides, I was a child whose soup was often transformed into a half solid, inedible, greasy, jello-ish mass, a child who never thought of cakes as food for the eyes, body and soul. I used to reach to the furthest tree branches for an unripe fruit, to enjoy the numbiness in my mouth caused by its acidy, bitter taste.
All of a sudden, the quantities of homemade pickled peppers, homemade juice and jams, up until then seen mostly in the supermarkets or restaurants, took over both my new role of a spouse and my/our new, spousal life. And, before I was able to realize what was going on and where my place really was, the details from the furhtest peripherals of my nonchalant thoughts became a main focus of my/our marriage. Without giving it too much thought and trying to met the expectations, in a heaviness of a small kitchen air I was becoming a wife.
Finally, just around our older daughter's first birthday, I found my real place in a kitchen. The youth in me still wanted to play and the mother in me wanted to do her absolute best on that new territory. Following my heart's strongest beats, it was easy to step into any adventure. And each and every cake in that adventure has carried in itself so much love, that no one's opinion mattered anymore.
My sister is a mature woman and she doesn't cook. We celebrated her daughter's first brithday with a cake from a supermarket. My sister was absolutely estatic, but, also, she never paid attention to other people's opinions. Being happy is just enough for her. My neice is a little doll, adored by all of us. She is our star. Cooking? Or, baking? Home made cakes? What's that? That's the past. And my reflection.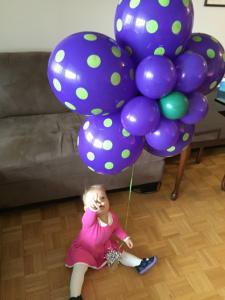 En français:
J'ai, finalement, commencée quitter ma nonchalant jeunesse après mes filles ont né (sont nées). La nonchalance de ma jeunesse a référé surtout à non-planer, non-cuisiner (faisait surtout référence à ne pas planifier, ne pas cuisiner) et tout le reste que je ne savais pas faire et que m'ont suivi dans mon/notre mariage. Dans mes rêves les plus sauvages je n'ai pas peut (je ne pouvais pas) imaginer que tous de ces non-savoir(s) auraient un grosse influence sur mon/notre vie quotidienne.
La nourriture santé a joué une grande rôle chez mes parents et dans mon enfance, mais nous n'avons pas le discuté très souvent, ça été entendue (c'était entendu). En outre, j'étais un enfant à qui la soupe s'a transformée dans (se transformait en ) une masse gélatineuse, une masse grasse et non-mangeable. J'étais l'enfant qui n'a pas pensé que les gâteaux sont la nourriture pour les yeux, le corps et pour l'âme. J'aimais d'atteindre les plus éloignées branches (atteindre les branches les plus éloignées) pour les fruits verts et j'aimais les manger immédiatement, pas mûrs et pas levés.
Mais soudainement, l'importance du poulet frit, de la confiture maison, du jus maison, des poivrons rouges grillés dans la maison,  et tout cela en les quantités  que j'ai vu (j'avais vues) seulement dans les supermarchés jusque-là, devenaient les priorités dans ma/notre vie d'épousée. Avant que j'ai (j'aie) compris ce qui ce passait, les détails de la périphérie de mes pensées devenaient le sujet principal dans ma/notre vie nouvelle. Essayer de faire ce qu'était attendu de moi, dans le dense air de la cuisine je devenais la femme mûre. 
J'ai finalement trouvée mon lieu dans le cuisine autour du première anniversaire de notre fille ainée. Ma jeunesse voulait jouer et la mère en moi voulait de faire quelque chose d'extraordinaire sur ce territoire nouveau. Sur le lieu où le battement de la coeur est le plus forte, c'est simple s'engager dans l'aventure. Chaque gâteau de cette aventure était fait avec assez d'amour et il portait assez d'amour dans lui-même, que l'opinion des autres n'avait pas le signification (de poids).
Ma soeur est la femme mure et elle ne cuisine pas. Sa fille a un an, exactement. Nous venons de célébrer son première anniversaire, avec le gâteau acheté dans le supermarché. Ma soeur a été extatique. Mais, elle n'a jamais fait attention à l'opinion des autres. Elle est heureuse et ça est assez. Ma nièce est une petite poupée qui nous tous adorons. Elle est notre étoile. Le cuisine? Le gâteau fait à la maison? Qu'est ce que c'est? C'est du passé. Et ma réflexion.   
"On ne voit bien qu'avec la coeur. L'essentiel est invisible pour les yeux." –Antoine de Saint- Exupéry