Nekada je to bila kafana – svratište i utočište svih onih koji su nekuda pošli, ili se odnekud vraćali, neki umorni, gladni, zalutali, zbunjeni, izgubljeni, drugi druželjubivi, radoznali, željni priče i razonode. Od neznanca do prijatelja bilo je potrebno nekoliko ukrštenih pogleda, pola čaše nečega da razgali dušu i još toliko razmenjenih reči. Posle je sve bilo lakše, nikome se više nije žurilo da iz kafane izađe, jer čim bi izašao, činilo se da je za sobom ostavljao jedan svet manje stran, Vesti iz svetabliskiji za jedan susret, bogatiji za jednu priču, događaj, vest. A vesti su oduvek bile važne, one kafanske bile su najvažnije, nekad lepe, nekad ružne, često bolne, ali uvek istinite. Nad tim kafanskim vestima bi se čovek duboko zamislio, one su bile i putokaz i odrednica i smernica.         
Naše kafane su odavno prestale da postoje, a i ako postoje, u njih već dugo ulaze neki drugi ljudi, u njima prijateljuju neki novi stranci i iz njih izlaze i šire se neke druge, nama potpuno nevažne vesti. Mi smo se iz tih kafana odavno iselili i raselili uselivši se u nove, one koje su nam bile usput, drugačije. Tražeći ono pola čaše nečega da razgali dušu, sreli smo se opet, slučajno ili ne, više to nije važno, jer tako je to u životu – jednom ukršteni pogledi zauvek se prepoznaju i uvek se pronalaze, a reči, jednom razmenjene, dobro se razumeju, ma u kom obliku, ma na kom jeziku bile. I nema tu iznenađenja, postoje samo putevi, slučajni i oni drugi, koje sami biramo, putevi koji uvek vode ka istom mestu, ka nekoj zajedničkoj kafani, onoj u kojoj nam je svet bliži i manje stran, a vest najveća, najistinitija.
Svratih juče u Facebook, najnovije stecište meni bliskog sveta, a tamo, između nekih poznatih lica, iscuri vest teška i bolna, jedna od onih pred kojima se skamenimo pozelvši da je lažna, a znajući da nije.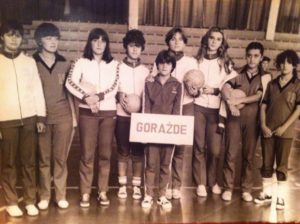 Fotografija preuzeta od vlasnice, s tugom i bez pitanja. Nazalsot.
All this in English:
A while ago, that was a tavern – a meeting place and a refuge to all those who were going somewhere, or came from afar, tired, lost, confused, or simply social, willing to chat and have a good time. From total strangers to good friends it wouldn't take longer than eyes to meet and a couple of words to exchange over a glass of something warm to melt the soul. After that everything was easy, and no person wanted to leave the tavern knowing that, once out, they left behind the world less strange, closer, richer for a friend, a story, an event, news. And, news have always been important, those from the tavern the most important. Sometime good, sometimes bad, often painful, always truest, the news that would make one think, show the way, the direction.
Our taverns don't exist anymore and even if they do, they became refuge to some other people, new strangers in search for new friends, and to the news that, every time the tavern opens, leave without a meaning to most of us. Those taverns we left long time ago and, being dispersed all over the place, we got into the new ones, less personal, but nearby. Looking for a glass of something warm to melt the soul, we met again, by chance or not, that's irrelevant because such is life – once met, the eyes never forget each other and they always look for each other, and the words, once exchenged, stay understood forever. No surprises there, only different paths, some taken by chance, some by choice, but all with the same crossroad, the same meeting point, the one in which the world is less strange, the news biggest and truest.
I stopped by Facebook yesterday, the newest refuge for the world close to me. Inside, among some familiar faces, news as heavy as a rock, one of those we wish to be lie but knowing it's true, found its way out.          
Avant, c'était la taverne – l'endroit de rencontre et l'abri pour ceux qui allaient quelque part ou qui revenaient de quelque part, certains fatigués ou perdus, les autres simplement sociables, curieux et disposés à parler. Des étrangers aux amis il a fallu quelques regards croisés, quelques paroles échangés et un demi-verre du quelque boisson chaud(e) pour réchauffer l'âme. Après ça, tout était plus facile, personne n'était pressé de sortir en sachant que dedans 'il y a(avait) un monde moins étrange, plus proche et plus riche pour un rencontre, pour une histoire, un événement, une nouvelle. Comme toujours, les nouvelles étaient importantes, ces (celles) de la taverne étaient les plus importantes. Quelques fois elles étaient bonnes, (d')autres fois mauvaises, souvent douloureuses, mais toujours véritables. Les nouvelles de (la) taverne nous faisaient penser, elles nous montraient la direction, elles nous donnaient l'orientation.    
Il y a longue temps depuis (que) nos tavernes n'existent pas (plus) et si elles existent, elles servent aux autres (à d'autres) gens, quelques autres étrangers y deviennent des amis, quelques autres nouvelles les sortent, les nouvelles qui nous ne touchent pas. Il y a longtemps qu'on a déménagé de ces tavernes en s'installant dans les autres, nouvelles et différentes, celles qui se sont arrivés (à) être autour. En cherchant quelque boisson chaud pour réchauffer l'âme, nous nous rencontrions encore, par hasard ou pas, ce n'est pas plus important parce que c'est la vie – les regards une fois croisés se toujours rencontrent (toujours) et (se) retrouvent, et les paroles, une fois échangées, restent toujours compris(es). Il n'y a pas les (de) surprises dans tout ça, il y a (avait) seulement les chemins différents, ceux qui se croisent par hasard et les ceux que nous choisissons, mais les chemins qui nous conduisent au même point, dans la taverne communale, où le monde moins étrange et plus proche nous attend et d'où la nouvelle sort, la nouvelle plus grande, plus véritable et, souvent, plus douloureuse.                      
Hier je me suis arrêtée à Facebook, l'abri le plus nouveau de mon monde proche. Là bas, entre les visages connus, la nouvelle était accrochée. Une nouvelle dure, l'une de ces (celles) qui nous font froid dans le dos, cette nouvelle qu'on veut soit (être) faux (fausse) en sachant que c' (qu'elle) est vrai(e).   
Hier je me suis arrêtée à Facebook, l'abri le plus nouveau de mon monde proche. Là-bas, entre les visages connus, la nouvelle était accrochée. Une nouvelle dure, l'une de celles qui nous font froid dans le dos, cette nouvelle qu'on veut être fausse en sachant qu'elle est vraie.