Ako kažem da je sve ovo uzalud,
reći ćeš, kao i uvek:
Samo napred, videćeš – nije.
Ako kažem da ovo niko više ne čita,
reći ćeš, kao i do sad:
Samo ti hajde, nikada ne znaš šta Sutra krije.
Učitelj pravi, to si ti:
Dosadan, neodređen, brbljiv, uporan.
Pred sobom jedino đaka vidiš:
radoznalu glavu, odlutale misli,
nedorečene želje i pogled umoran.
I kreneš za svojom pričom, učitelju:
u beskraj, u neviđeno, za snovima svojim.
Izađeš iz ove realnosti tupe, zastaneš negde u prošlosti slavnoj,
u srcima dečijim
i ovim glupim, pesmama mojim.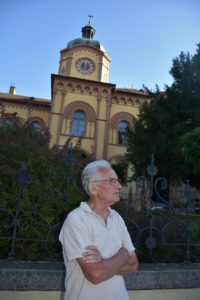 All this in English:
None of this makes sense, I say.
Just try, as if you don't, you might regret it one day.
But, no one reads it, anyway!
Take a grip, do it, don't let me pray.
One true teacher, that's who you are:
boring, persistant, chatty, insistant,
in front of the classroom that never copes,
curious heads, dreams full of hopes,
gaze from afar, unspoken thoughts.
And you keep nagging, my teacher-man,
You follow your mind as far as you can.
You distance yourself from this reality of ours,
and chasing your famous, unsettling past,
you settle forever in children's hearts.
And in these stupid poems of mine.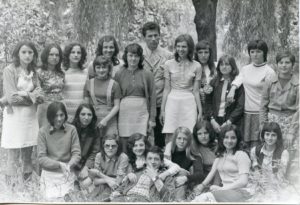 En français:
Si je te dire (dis) que tout ça n'a pas de sense,
tu me diras, comme toutes les autres fois
"Juste essayes, et tu verras."
Si je te dis que personne ne lit rien,
tu me diras, vas-y, tu ne sais pas quoi (ce que) viendra demain.
Un prof ordinaire, c'est que tu es.
Ennuyeux, persistant, bavard, insistant.
Des élèves qui n'écoutent jamais,
c'est eux que tu vois seulement,
les têtes curieuses, les pensées errantes,
les désirs inexprimés, le vue turbulent.
Et tu suis ton histoire,
tu vas à l'infini et au-delà pour tes rêves et tes idéaux.
Tu pars (de) la réalité en s(t)'arrêtant au passé fameux,
en (t')installant dans les coeurs des enfants
et dans ces mes vers, fous et assommants.