Već na prvi pogled, sasvim izdaleka, znala sam da ću se zaljubiti. Ali, onako, bez zadrške, totalno i iz duše. Onaj nepogrešivi trenutak obnevidelosti, srce u grlu, stomak u čvorovima, ruke mlitave, nigde tla pod nogama. "Oh, uzmi me, prihvati me, obrgli me, zadrži me, ne daj me, lepoto duše moje!" A, onda onaj glas sa strane, onaj što izbija srce iz grla, bistri razum, ali ne razvezuje čvorove: 'Polako, smiri se, šta ako se razočaraš?" Zastanem, udahnem, vratim ono srce tamo gde mu je mesto, počnem da razmišljam, ali ne predugo, jer što sam mu bliža, što ga bolje vidim i osećam, sve sam sigurnija u svoju ljubav, u njegovu savršenost prepunu mana, u to da mi pomoći više nema. Još samo jednom sam, tamo negde daleko, tako brzo, tako naslepo, tako duboko zavolela i, ne znajući ni do danas da li mi je ta ljubav ikad bila dovoljno uzvraćena, dugo, iskreno i nepromišljeno volela.        
Jedan po jedan, danima i bez žurbe, skidala sam slojeve kojima se štitio. Tamo gde bi mi se pogled zamutio, a krv sjurila u pete, zastajala sam pažljivo proučavajući koordinate svake male tajne zbog koje mi se vrtelo u glavi, ne bih li je što bolje upamtila, ne bih li joj se, omađijana, što pre vratila.
A tajni je bilo skoro svuda, ostavljale su me bez daha, budile čula od krika do uzdaha, od pesme do suza, od mirisa znojavih tela prljavog tanga do uzvišenosti čitalaškog časa na nekoj klupi, u parku, od ćutanja pred božanstvom tela i duha tamo gde i bogovi ćute, do vatre i vina za kafanskim stolom.
Da li je moguće da, tako daleko, u nekom potpuno drugačijem, paralelnom svetu, vidim, prepoznajem, osećam, doživljavam isto? Da želim samo da se prepustim, da uronim u svaku njegovu poru pamteći dobro put do nje, da se tu sto duže zadržim, da tu zauvek ostanem, diveći mu se, ne želeći ništa da menjam, čeznuvši samo da me prihvati, da kaže – moja si, ja biću tvoj, uz mene pronašla si dom.
Nije se desilo. Kao što se nije desilo ni onda, u nekom drugom svetu, u kome sam prvi put tako zavolela, totalno, iz duše, bez zadrške. I nije on otišao od mene ni ovog, kao ni prethodnog puta. Opet sam otišla ja, onda kada sam osetila da ga gubim, kada sam shvatila da je, tako razgolićen, svačiji i ničiji, ali nikada dovoljno moj.
Jednom, davno, tamo negde, daleko, mnogo sam volela. Od naše ljubavi ostala je pesma i onaj opojni, neizbrisivi miris lipe. I moj, a nikada dovoljno moj Beograd. Ovog puta ostao je tango, onaj znojavi, prljavi, sa krikom. Nečiji tuđi, a opet toliko moj, Buenos Aires. I džakaranda.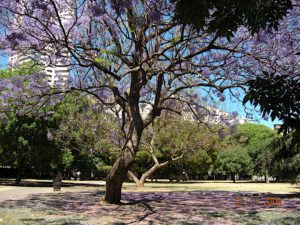 All this in English:
Even from a very far distance, I knew that I was falling in love. Deeply, uncontrollably, from the bottom of my heart. That unmistekable moment of blindness, a heart in a throat, a stomach in thousands of knots, hands weak, ground nowhere to be found. "Oh, accept me, please, take me, hold me, hug me, don't let go of me, the beauty of my soul!" And then, a voice from the side, the one that pulls the heart out of the throat, clears the brain, but doesn't untie the knots: "Slow down, take it easy, what if you get disappointed?" I stop, inhale, put the heart back where it should be and start thinking, but not for long. Closer to him I am, better I see him and deeper I feel him, more certain in his perfection full of faults I am, more I love him and nothing can save me from it. Only once more, long time ago, someplace far from here, I fell in love like this, at the first site, blindly, severly.
Day after day, without a rush, I was taking off the layers that were protecting him. And each time my eyes got blurry, I'd stop, carefully studying the coordinates of every single secret that made me dizzy, making sure I'd know how to get back to it again.
And, secrets were many, they where everywhere, leaving me breathless, awakening all the senses, from sreamming to sighing, from singing to crying, from the smell of bodies sweating in a dirty tango to a nobleness of reading on a random bench in the park, from absolute silance while surrounded by the saints to the sparks of fire submerged in wine at the table of a local taverna.
Is it possible to recognize, to feel, to experience the same in this faraway, completely different, almost parrallel, world? Is it possible to let the guard down, to disappear in his pores and stay there forever adoring him, aware of all the drawbacks, but without a desire to change anything, longing only to hear – With me, you have found home.
It didn't happen. Same as it didn't happen then, in some other world in which I first fell in love like this, at the first site, deeply, uncontrollably, from the bottom of my heart. And, same as the last time, he didn't leave me. It was me who left him, at that moment when I sensed that I was losing him to others, that, so naked, he'd always be everyone's and no one's, but never mine.
Long time ago, in the land far, far away, once I fell in love deeply. From that love, there are songs and that intoxicating, unforgettable smell of a linden tree left. And mine, but never mine enough Belgrade. This time, there is tango, that dirty, smelly one, the one with the scream. And someone else's, but also, so much mine, Buenos Aires. And a jacaranda tree.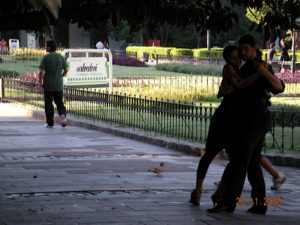 En français:
Déjà de loin, je savais que je tomberais amoureuse. Sans en (y) penser, du fond de l'âme, totalement. Ce moment de la cécité – un coeur dans un gorge, un ventre en des noeuds, des mains sans force, des pieds ne touchent pas la terre. "Prends(-)moi, acceptes(-)moi, tiens(-)moi, ne (me) quitte pas moi, la beauté de mon esprit!" Puis, ce(tte) voix de raison à coté de mon épaule, celui (cell) qui tire le coeur de la gorge, celui (cell) qui purifie la tête, mais ne dénoue pas les noeuds, me dit: "Doucement, lentement, quoi si tu seras déçu?" J'arrête, je soupire, je mis (mets) le coeur sur son (à sa) place, je pense, mais pas trop long(temps), pour, chaque fois quand j'arrive plus proche de lui, quand je le vois et quand je le sens mieux, je suis plus sûre de mon amour, de sa perfection qui est pleine des fautes et du fait ce qu'il n'y a plus aide (de secours) pour moi. C'est seulement une fois avant, il y a longtemps, quelque part au loin, que j'ai (je suis) tombé(e) amoureuse comme ça, automatiquement, sans empêcher (empêchement), tellement profondément! Et j'aimais (j'ai aimé) longtemps et honnêtement, ne sachant pas, jusqu'au (à) présent, si mon amour était, au moins en peu réciproque.              
D'un jour en (à) (l')autre, sans une hâte, je déshabillais des couches que lui protégeaient. Là-bas, où mon (ma) vue était floué(e) et le sang courrait dans mes pieds, j'arrêtait (je me suis arrêtée), en faisant attention sur les (aux) coordonnées de chaque petite secret que me provoquait les vertiges, et en essayant de les mémoriser pour le retourner là-bas au plus vite, ivre d'amour.   
Les secrets étaient partout. Ils me laissaient sans souffle, ils réveillaient tout les sens, de crier au soupirer, de chant au(x) pleur(s)er, d'(de l')odeur des corps en sueurs de tango sale à la noblesse de la lecture dans le jardin, de la silence devant des corps et des âmes des saints au le feu et le (au) vin autour de la table de taverne.    
Est-il possible que, si loin, dans un monde different, totalement étranger, presque parallèle, je vois (voie), je reconnais (reconnaisse), je sens (sente), j'expérience (expérimente) encore les mêmes choses? Est-il possible que je souhaite de me laisser (abandonner) à lui, de me plonger dans chaque (chacun) de ses pores, en mémorisant tous les trajectoires à eux, est-il possible que je veux (veuille) rester là aussi longtemps que possible, ou toujours, en l'adorant, n'en voulant rien changer, pleine de désir qu'il m'accepte, qu'il me dise – je serai le tien, tu trouveras la maison (ton chez toi) avec moi.     
Ce(la) n'a pas eu lieu. La (De) même qu'il n'a pas eu lieu au (en) ce temps là, dans l'autre monde dans lequel j'ai (je suis) tombé(e) amoureuse comme ça la première fois, totalement, du fond de mon âme. Et, ce n'était pas lui qui m'a laissé, c'était moi qui est partie encore, au (à) ce moment quand (où) j'ai senti que je lui (le) perde(ais), quand j'ai réalisé que, tellement dénudé, il a été de tout le monde et de personne, mais jamais assez le mien (à moi).    
Une fois, il y a longtemps, au quelque part loin, j'ai (je suis) tombé(e) amoureuse. Aujourd'hui, c'est seulement la chanson et l'odeur du tilleul qui restent de notre amour. Et mon Belgrade, mais jamais assez le mien. Cette fois là, c'a (ça a) été le tango sale, en sueur, avec le cri. De quelqu'un autre, mais encore tellement mien, Buenos Aires. Et le jacaranda.