Nekada davno, u mestu Kale na severu Francuske, Plavi Voz je, početkom novembra, otvarao vrata svoje prve i jedine klase svim Britancima prve klase koji su imali taj životni luksuz da im se moze da ne podnose, kao i da mogu da napuste one sive i vlažne engleske zime. Uz večeru koja se na srebrnim poslužavnicima servirala uz najbolja vina Bordoa i Loare, putnici poput Kralja Edvarda VIII, Čarli Čaplina, Vinstona Čerčila i drugih, stizali su u večernjim satima na stanicu Lion u Parizu. Koko Šanel, Aga Kan, Marlen Ditrih i razni drugi osvanuli bi u Marselju, a voz napuštali u Nici, mašući suncu i šireći ruke Azurnom moru.
Kasnije je jedan drugi Plavi voz, ništa manje luksuzan, vozio nekom drugom prugom, s jednog na drugi kraj neke druge zemlje. Iz njega se, svima koji su ga s divljenjem dočekivali na malim i velikim usputnim stanicama, smešio Tito, a u salonima prekrivenim vunenim tepisima, nameštajem od ružinog drveta i zidovima postavljenim plišom i svilom, oko raskošne večere čavrljali su gosti poput kraljice Elizabete II, cara Haila Selasija, premijera Indire Gandi, generalnog sekretara Leonida Brežnjeva, predsednika Nikolaea Čaušeskua, lidera Moamera el Gadafija, grčkog kralja Pavla, poslednjeg iranskog princa Reze Pahlavija i njima sličnih. Jedan plavi vagon je, kažu, ostao neiskorišten. Bio je, kažu, specijalno namenjen za francuskog predsednika Šarl de Gola koji, za razliku od mnogih drugih, njemu sličnih, nikada nije prihvatio Titov poziv da mu bude gost. Zato što je, kažu, Tito naredio streljanje njegovog ratnog druga, generala Draže Mihajlovića.
Možda je misterija Plavog voza Agate Kristi, kao i svaka sličnost izmedju francuskog Le Train Bleu i Titovog Plavog voza sasvim slučajna, ali diveći se raskoši restorana Le Train Bleu, na stanici Lion u Parizu, ova mi se čudna paralela sama nametnula.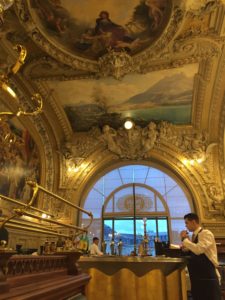 All this in English:
The Blue Train used to open the door of its 1st and only class at the beginning of November, in the port-town of Calais, in Northern France, to all the Brits of the 1st class who had a luxury not to be able to stand and to be able to leave the damp and cold winters in England.
Along with a five-course dinner served on the silver trays and followed by the best of the Bordeaux and Loire vines, in the salons covered in blue velvet with gold trims, the train would arrive at the station Lion in Paris where the travellers like King Edward VIII, Charlie Chaplin, Winston Churchill would be joined by their French piers Coco Chanel, princess Grace of Monaco, prince Aga Khan and others. They would wake up in Marseille and their luxury ride would finish in Nice, with the blue door open to Cote d'Azur.
Another Blue Train, no less luxurious, came little later, on some other rails, and rode across another country. Along the way, comrade Tito was waving to all of those who, with admiration, were waiting to see him in different stations, while in the salons with wool rugs and silk and velvety walls, lavishly dined queen Elisabeth II, tsar Haile Selassie, premier Indira Gandhi, secreter general Leonid Brezhnev, president Nicolae Ceausescu, leader of Libya Muammar Gaddafi, king Paul of Greece, the last prince of Iran Reza Pahlavi and others of their kind.  Although Tito had one wagon particularly built and decorated for him, the one leader who never accepted to be the guest of the Tito's Blue Train was the French president Charles de Gaulle, because Tito had ordered the shooting of his comrade from the war, general Dragoljub-Draža Mihajlović.
Any similarity between the French Blue Train and Tito's Blue Train is, most likely, accidental, however during a moment of admiration I couldn't resist seeing it.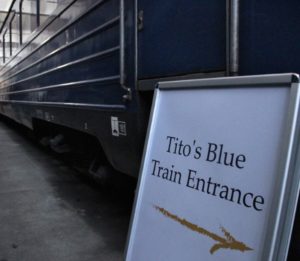 En Français:
Le Train Bleu a ouvert sa porte de la première et de la seule classe au début de novembre, à Calais, au Nord de la France. La porte était ouverte à tous les Anglais de la première classe qui avaient la luxe de quitter les hivers britanniques, gris et humides. Après le diner qui était servi sur les plateaux en argent dans les salons d'or (dorés), après du (le) vin de Bordeaux ou de la Loire, les voyageurs comme (le) roi Eduard VIII, Charly Chaplin, Winston Churchill,  étaient rejoints avec leur amis comme Coco Chanel, princesse Grace de Monaco et les autres à Paris, sur la gare de Lyon. Tous se sont réveillés à Marseille et tous ont quitté le train à Nice, avec le vue de (sur la) Cote d'Azure.
Un autre train blue pas moins luxueux, a (est) apparu en peu plus tard, (en) allant sur un autre chemin de fair (fer), d'un en l'autre coté (à l'autre) d'un autre pays. De ce train Tito a souri à tous qui l'attendaient avec une grande admiration à (dans) les petites et les grandes gares. Au (En) même temps, dans les salons du train avec les meubles en bois de la rose et les mures en soie et en velours, ses visiteurs ont été Indira Gandhi, Leonid Brezhnev, Nicolae Ceausescu, Muammar Gaddafi, le roi Paul de Grèce, le dernier prince d'Iran Reza Pahlavi, reine Elisabetta II et les autres. Un des vaguons était battu (bâti) et préparé pour (le) president de la France Charles de Gouille, mais il a promis de ne jamais être le visiter de le Train Bleu de Tito, parce que Tito à commandé l'assassinat de Draža Mihajlović, le grand ami de president de Gouille pendant la guerre deuxième mondiale.
Chaque similarité entre le Train Bleu français et le Train bleu de Tito est, probablement fortuite, mais au moment d'une grande admiration à la gare de Lyon, ça similarité s'est simplement imposée.