Moje česte, dosadne, zamarajuće i zabrinjavajuće prehlade brzo su bile potisnute mojim novim, debelim i jos više zabrinjavajućim naočarima! Ako su do tada izostajali s posla svaki put kada sam kašljala i imala temperaturu, moji rodtelji su, uz moje naočare, krenuli u potragu za dodatnim razumevanjem kod svojih kolega. Bar jednom mesečno, tačno u sedam sati subotom ujutro, čekali bismo tata i ja, ili mama i ja, autobus koji nas je, nakon osam, ili devet, ili deset sati, zavisno od kvara koji bi se na njemu zadesio toga dana, ostavljao na beogradskoj autobuskoj stanici. Odatle bismo išli kod strica, ili jedne od mojih tetaka, nedelja je bila rezervisana za moj odmor, za moje sestre, igre i druženja, a već u ponedeljak rano ujutro, u čekaonici prepunoj dece sa istim takvim, debelim naočarima i sa flasterima preko bar jednog oka, satima smo strpljivo čekali da lekar izgovori moje ime.                     
Još jedan osmosatni dan, kuca/kućica, je li kuca u kućici, jeste, a sad, nije, upravo je ušao, još samo da stavimo kapi i da dođe čika doktor, a onda bismo se našli na širokom bulevaru koji je vodio do knjižare sa najlepšim i najšarenijim nalepnicama Diznijevih junaka. Nezamenljivo iskustvo! Nisam poznavala nikoga ko je imao nešto slično, a moja kolekcija, zalepljena na zid iznad onog istog ćoska u kome su živeli gumenjaci, rasla je sa svakim povratkom od očnog lekara. Šta više da traži jedno dete od pet godina, kada joj je taj ceo, mali, šareni svet bio nadohvat ruke? Još osam- devet- deset sati autobusom u utorak, ili sledeće subote i jedinstvena kolkecija na zidu prefarbanom masnom farbom, iznad kauča u kuhinji porašće za još nekoliko članova.
Bila sam presrećna kada sam pošla u prvi razred i svom učitelju sam ubrzo izjavila ljubav, kazavši mu da lepo miriše. Ne znam da li su svi jedinci takvi, ali ja sam imala stalnu potrebu da pričam i tih četrdeset pet minuta, koliko je trajo jedan čas, delovale su beskrajno duge i nepremostive. Zbog toga sam bila smeštena u klupu sa nekim dečakom koji je dugo bio bolestan pa sam, već za par nedelja, dobila žuticu. Onako privilegovana, nisam završila u bolnici, ali sam, zato, šest nedelja ležala i mirovala na naninom kauču u kuhinji, dok ga je ona, opet, preuzimala noću. Bila sam toliko žuta i umorna, da su svi verovali i u moju poslušnot i u nanin autoritet. Hranili su me nekim posnim sirom koji je, svake nedelje, sveže obran stizao sa sela direktno do našeg stana i pila sam kozje mleko sve dok se polako, ali sigurno, žutilo sa mojih ruku, stopala i beonjača nije potpuno povuklo.
Da li zato što se tada rodila moja sestra i što više nisam bila u centru pažnje, ili zato sto sam u to vreme već znala kako da ukradem zelene jabuke sa tuđeg drveta, pa da pobegnem, ili zato što sam jela neoguljene krastavce, direktno ubrane iz komšijske njive, ili možda zato što sam u sivoj, štofanoj haljini upala u potok i iz njega se, kroz neko trnje izvukla kao osveštana, tek moje prehlade su se proredile, ledena sankanja produžila, a pluća su me, uglavnom, bolela od udaraca loptom koju je iz sve snage bacala najjača devojčica u komšiluku, a ja, uporna mazga, imala potrebu da je uhvatim skoro svaki put dok smo, iz dana u dan, igrale igru 'između dve vatre'.
Osim u grudi, gađali su me još i u glavu, ali ne samo loptom već i kamenjem,  pa pretpostavljam da su hteli da vide koliko mogu da izdrže ona moja debela stakla na naočarima, a da ne puknu. Zatvarali su me u šahtu, da me što teže, ili uopšte ne nađu dok smo igrali žmurke. Nekoliko balvana sa nekog kamiona istreslo mi je u krilo celo prozorsko okno dok sam pri jednoj od onih osam- devet- dest sati dugih vožnji, zavisno od kvara na autobusu koji je vozio do očnog lekara, spavala bezbrižno naslonjena na tatino rame. Uglavnom, nakon nekoliko burnih, glasnih, dugih i bolnih diskusija između mog oca i glavnih aktera svih tih događaja, ja sam već bila jaka, izdžikljala mršavica masne kose, bubuljičavog lica, s cipelama broj trideset devet. Tada smo već živeli u novom, ružnom stanu sa dve sobe, a nana, koja je tada brižno vodila računa o mojoj sestri, a mene u školu ispraćala s pletenicama od kiselog testa koje su mirisale kao duša, dobila je unapređenje i više nije spavala na kauču u kuhinji, već  u dnevnoj sobi, na klik-klak sofi sa onim udubljenjem po sredini. Tu je heklala nove stolnjake za novu unuku, a kosa joj je, već, bila sasvim seda.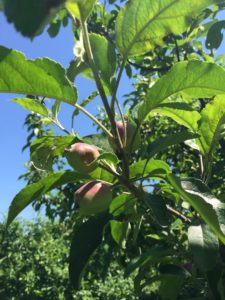 In English:
My annoying, tiring and disturbing colds had been overshadowed by my new, thick, ugly glasses that were, at least, as disturbing as my colds. If, until then, my parents had to take sick days every time when I coughed or had a fever, with my glasses, they needed more understanding from their colleagues than ever. At least once each month, at seven o'clock sharp, my mother and I, or my father and I would wait for the bus, and after eight or nine long hours and numerous malfunctions of the bus, we would arrive in Belgrade and one of my aunts' houses. Sunday was reserved for my cousins, but on Monday, a new eight-hour wait in the room full of children with thick glasses and bandages on their eyes, would start at almost dawn.
The large house, the little house, is the puppy in the house, yes, and now, no, he's out, he is on the left, no, on the right, the drops again, the new prescription and we would soon be on a wide boulevard which would, always, unmistakably take us to the bookstore with the best Disney stickers. What an experience! I didn't know anyone who had something similar and my collection, placed on the wall above my rubber toys, grew with each trip back from the ophthalmologist. What else a girl of five would need, having that colourful, fancy world at her fingertips? Only eight or nine hours by bus again on Tuesday or next Saturday and this unique collection on the glossy wall will be richer for a few new members.
At the beginning of the first grade I declared love to my teacher telling him how good he smelled. I do not know if all only-children are the same, but I had an urge to talk all the time, and the forty- five minute classes were too long for the antsy me. For that reason, I was given a seat next to the boy who was sick for a long time, and soon after I had jaundice. Pampered by all, instead of being sent to the hospital I stayed at home, switching the place on that same couch in the kitchen with nana who, of course, was taking care of me. I was so yellow and so tired that everybody had a huge confidence in my obedience and in nana's authority. During my long, yellow days, I ate only unsalted goat cheese, delivered to our door every Sunday, and drank only goat's milk until my hands, my feet and my face turned white again.
I don't know if that was because my sister was born at that time and I was no longer the centre of attention, or because I already knew how to run away after picking green apples from someone else's tree, or because I ate unwashed cucumbers from our neighbour's garden, or, maybe because I, fully dressed, fell  from the wooden bridge into a cold creak and came out of it like the saint, but my colds have become more seldom. The pain in my chest was almost forgotten, present only when we played the "crossfire" and I caught the ball thrown by the strongest girl in the neighbourhood.
Apart from the ball, kids were throwing other things in my head, mostly stones. I guess they wanted to see if my thick glasses were strong enough. They also pushed me in a manhole when we played "hide and seek", not to be easily found, or not to be found at all.
During one of the trips to Belgrade, while I was sleeping quietly on the shoulders of my father, the glass of the window, broken by the truck- load of logs, ended up in my lap. This trip and a few loud and painful arguments between my father and the main actors of all those events later, and I already was a tall, skinny girl with a face full of acne, with oily hair and shoes size thirty nine.  At that time we lived in a new, ugly apartment with two bedrooms, and nana, who at the time was taking care of my baby sister while making the best pastry braids ever, was promoted from the couch in the kitchen to the "click-clack" sofa in the living room. In that apartment, she was crocheting new tablecloths for a new granddaughter and her hair was already completely grey.
En français:
Mes rhumes ennuyeux, fatigants et inquiétants avaient (été) supprimé par mes lunettes nouvelles, épaisses, laides et plus inquiétant(es) que mes rhumes. Si jusque- là mes parents devaient prendre l(d)es congés de maladie chaque fois quand (que) je toussais ou quand j'ai eu (avais) (de) la température, avec mes nouvelles lunettes, ils devaient chercher plus de la compréhension de ses collègues. Au moins une fois chaque mois, à sept heures exactement, ma mère et moi, ou mon père et moi attendions le bus qui, après huit ou neuf heures du (de dur) voyage dure, beaucoup des malfonctions et des odeurs qui me faisaient mal nous étions à le gare de Belgrade. Puis, nous allions chez l'une de mes tantes, le dimanche était réservé pour mes cousines et pour les jeux, et à l'aube de lundi, dans la salle d'attente plein(e) des (d')enfants avec les (des) lunettes épais(ses) et les bandages sur l'un des yeux, on attendait (le) docteur huit heures prochains (tout au long des huit prochaines heures). 
La grande maison, la petite maison, est(-ce que) le chien (est) dans l'intérieur?, oui, et maintenant?, non, il est dehors, il vient d'entrer, (encore) l(d)es gouttes encore, la (une nouvelle) dioptrie nouvelle et nous étions sur un grand boulevard qui nous amenait jusqu'à la librairie avec les meilleurs autocollants de Disney. Un expérience irremplaçable! Je ne connais personne qui avait quelque chose semblable, et ma collection sur le mur (au)-dessus mes jouets en caoutchouc a grandi avec chaque retour d'ophtalmologue. (Que peut demander d'autre) Quoi d'autre une fille des cinq ans peut demander, si elle avait tout le monde coloré à portée de main? Seulement huit ou neuf heures encore par le bus le mardi ou le samedi prochain (d'après) et cette collection unique, sur le mur glosé, sera plus grande pour (grâce à) quelques nouveaux membres nouveaux.   
J'étais trop heureuse quand j'ai commencé d'(à) aller à l'école et bientôt j'ai déclaré l'(mon) amour à l'enseignant, en (lui) annoncent (annonçant) qu'il avait un bon parfume. Je ne sais pas si tous enfants uniques sont les mêmes, mais j'avais besoin de parler tout le temps, et ces quarante(-)cinq minutes de notre cours étaient trop longues et insurmontables. Pour ce raison, mon endroit était à coté d'un garçon qui était toujours malade et, bientôt, j'avais (j'ai pris) la jaunisse. Privilégié par (entre) tous, je n'allais pas dans l'hôpital, je restais chez nous en interchangeant le lieu (mon place) sur le canapé dans la cuisine avec nana. J'étais tellement jaune et tellement fatiguée, que tous avaient la confiance (croyaient) à ma tranquillité et mon obédience (obéissance) et (tout comme) à l'autorité et à la puissance de nana. Pour (Pendant) long temps après mes jaunes jours, je mangeais du fromage jeun, pas salé, qui était arrivé à notre porte chaque dimanche, je buvais du lait de chèvre, et lentement, mes mains, mes pieds et mon visage devenaient blancs à nouveau.
Je ne sais pas si était grâce à ma soeur qui était née au (à) ce temps (moment)-là et je n'étais plus le centre d'attention, ou car (si c'était parce que) je savais déjà comment fuir après je prenais (avoir volé) des pommes vertes (dans) l'arbre du quelqu'un autre, ou car (si c'était parce que) je mangeais déjà des concombres non pelés directement de jardin de notre voisin, ou peut être parce que je suis tombée, complètement habillée, dans un ruisseau froid et j'ai le sorti (j'en suis sortie) dans une (enveloppé par ma) robe, comme la (une) sainte, mais mes rhumes (s)ont devenu(s) plus rares. Le(a) douleur dans ma poitrine était présent(e) seulement dans un jeu "entre deux feux", quand j'attrapais une balle, jetée par la (fille) plus forte fille dans notre voisinage.
En dehors de mes poitrines, ils me frappaient dans la tête, mais pas seulement par (avec) la balle, mais par (avec) l(d)es pierres aussi. Je suppose qu'ils voulaient voir si mes lunettes épaisses étaient assez fortes. Ils me fermaient (m'enfermaient) dans la bouche d'égout, pour être trouvée durement quand on jouait le (à) cache-cache, ou à me ne pas trouver du tout.
Quelques bûches de quelque (d'un) camion ont (avaient) jeté la (le) verre d'une fenêtre sur mes genoux pendant (que) je dormais tranquillement sur l'épaule de mon père, dans le bus pour Belgrade. Après quelques voyages comme ça et quelque grandes disputes douloureux (douloureuses) entre mon père et des (les) acteurs de ces événements (actes), je suis devenu une grande fille mince, avec une visage plein des acnés, avec les cheveux gras et avec (une pointure de) 39. Au ce temps-là (À ce moment-là) on habitait dans un nouveau appartement laid avec deux chambres et nana, qui encore venait (encore) de garder ma soeur et qui faisait les plus meilleurs tresses de la pâte, elle était promue de canapé dans la cuisine au "clic-clac" sofa dans le salon. Dans cet appartement elle crochetait les (de nouvelles) nappes nouvelles pour une (nouvelle) petite-fille nouvelle et ses cheveux étaient déjà complètement gris.