Ne mogu ja da pričam o našem detinjstvu i našem odrastanju, o tome mogu naši roditelji. Jedino oni imaju kompletnu i neiskrivljenu sliku onoga što je činilo te naše živote i što ih je gradilo ovakvima kakvi jesu. Njihove su slike tih naših detinjstava i menjanja broja cipela iz godine u godinu, neobojene, ili su, opet, toliko prošarane svim mogućim nijansama između bele i crne, da su se sasvim stopile u neku bledo sivu ili prljavo roze. Oni su, za nas i zbog nas, doživeli sve i mnogo bolje mogu da objasne naše padove, rane, podizanja, bolove, trpljenja, cerekanja, suze, igre, sreću, maštanja, želje, tajne. Mi smo bili tu da budemo zdravi, da jedemo na vreme, da budemo dobri đaci, da slušamo i poštujemo starije, volimo Tita i branimo drugarstvo. Nije oko toga bilo mnogo filozofije i sve ono između tih krucijalnih, životnih stavki moglo je, a i nije moralo da se dešava. A mi smo voleli bas to između. 
Mene su, u početku, šuvale neke žene kojih se uopšte ne sećam. Jedna se udala i otišla, drugoj se svidela neka mamina ogrlica, pa je odnela iz kuće, a posle je i sama morala da ode iz iste. Tako sam krenula u vrtić koji nam je, valjda, svima preseo jer sam stalno bila bolesna, pa su mama i tata izostajali s posla više nego što su stvarno radili. Taman se mi svi nekako uhodamo – ja se zaigram s nekim klincima, moji dođu po mene kad je najzanimljivije, odvedu me kući gde se ja dosađujem i jedva čekam da se sutradan vratim u onu dugačku sobu s gomilom minijaturnih dušeka, kockica i lopti, da nastavim igranje, da jedem hleb s paštetom, ili viršlu, ili sendvič s puterom i salamom, sve ono sto nije zdravo i od čega se ne raste – onda opet počnem da kašljem, a iz pluća mi gudi, isto onako kao što gude  gusle u rukama guslara – početnika. Još jedna u nizu nedelja koje sam te godine, ispod debelog jorgana, preležala na kuhinjskom kauču uz mleko sa preprženim šećerom, toplu limunadu, redovnu dozu antibiotika, puno voća i dežurnog rodtelja koji, zbog pitanja zbog čega opet nije došao na posao, koje neminovno sledi, pokušava da ubrza moje ozdravljenje nutkajući me nekom supom i povrćem koji mi se, za razliku od onih viršli i salame, uopšte ne jedu.
Bolumenta mojih igračaka i slikovnica, obično odlaganih u fijoku ispod kauča, rasla je tokom tih dugih, dosadnih nedelja. Dolazile su nove limene šerpice, vangle i tanjirići za sve one gumene lutke za koje je trebalo kuvati i mesiti. Nije tu bilo mnogo lutaka sa onom divnom, dugačkom kosom za češljanje i pravljenje kika i pletenica jer su one skupljale prašinu, a ja sam od prašine kašljala još više. Sve one zdrave devojčice bile su ponosne na frizure svojih lutaka, a ja sam, otprilike, imala pravo da sve to zamislim, nacrtam i obojim. To je dobro, govorili su mi, razvija dečju maštu.
Nastavice se...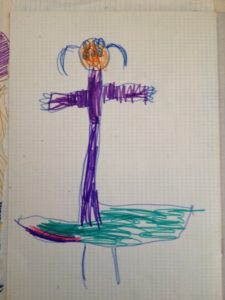 All this in English:
I can't talk about our childhood, that's something our parents should do. They are the only ones with a complete and undistorted image of all the things that were a part of our lives then and that have built them the way they are today. Their images of our childhood, growing out from one shoe size to another and from one year to another, are either not as colourful as ours, or they have so many shades between black and white, that, through our parents' eyes, everything seemed to be in some kind of pale grey, or dull pink. They are the ones to much better explain all our wounds, pains, sufferings, fantasies, giggles, plays, happiness, tears, desires, secrets, as, for us and because of us, they've been through it all. Our role was to be healthy, to eat well, to be good in school, to listen to and to respect adults, to love comrade Tito and to protect the camaraderie. There was no much philosophy about it and everything between those crucial tasks of life could, but didn't have to be happening. That being said, we mostly loved everything between.
At the beginning, there were some women who were taking care of me and who I don't remember. Then one got married and left with her husband, while the other took my mom's favourite necklace, making herself leave immediately after. Our next solution was a daycare, but soon enough that became just another nightmare, as I was always sick making one of my working parents stay home more often than they should. Just as we all get into the routine – me, deeply involved in a game with some kids and my parents picking me up right then and taking me home where I am completely bored, having hardly been able to go back to that narrow room with rows of little cribs, building blocks and balls, to eat salami and hotdogs and all other unhealthy food that otherwise was forbidden – I start wheezing again. Another week, one of many that year spent under a thick duvet on the kitchen couch with ongoing servings of caramelized milk, bowls of hot soup, hot lemonade, regular prescription of antibiotics and plenty of fruits and vegetables, which, as opposed to that salami and hotdogs, all offered by the parent in charge, were completely untasty.
The mountain of my toys and books, usually kept in one of the couch drawers, was growing during those weeks of wheezing. There were enough sheet metal pots and pans for all those rubber dolls that had to be fed all the time. Those other dolls, those with beautiful, long hair, great for all sorts of fancy hair-dues, they were not for me. They were there for some other, healthy girls, for those who didn't have problems with dust in their chest. As for me, I was allowed to draw and colour all those dolls and hair-dues as much as I wanted. "It's good for your imagination", they were telling me.
To be continued...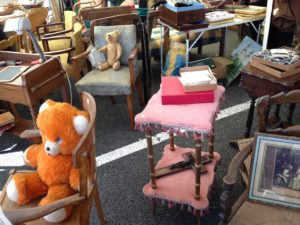 En français:
Je ne peux pas parler de notre enfance et de notre croissance, c'est pour nos parents de parler. Ils sont les seuls qui possèdent l'image claire et complète de toutes les choses qui ont fait ces nos vies et qui ont les construit sur le manière que nous vivons aujourd'hui. Leur images de nos enfances et des changements de la taille de nos chaussures d'année en année, ne sont pas colorées, ou ils (elles) ont un grand mélange des teintes noirs et blanc(che)s qui ont (se sont) tous mélangé dans quelque (un) gris pâle, ou le (un) rose sale. Ils ont eu, pour nous et car (à cause de) nous, l'expérience avec tout ça et ils peuvent expliquer milieux nos chutes, nos chutes, les douleurs, les rires, les souffrances, les jeux, la bonheur, les larmes, les imaginations, les secrets. Nous étions la-bas d'être (alors) en bon santés, de manger en temps (aux heures précises), d'être les élèves bons, de respecter les adultes, d'aimer Tito et de protecteur notre amitié. Il n'y avait pas beaucoup de philosophie autour ça, et tous les autres choses, entre ces cruciaux(les), ont pu arriver, ou pas. Mais, nous adorions bien ceux (celles-ci), entre les choses cruciaux(les). 
Au début, Il y avait quelques femmes qui prenaient soin de moi et qui je ne me souviens pas. L'une s'est mariée et elle est parti(e), l'autre aimait l'une des colliers de maman et elle l'a amené avec soi de notre maison (l'a porté sur elle de chez nous) d'où, après, elle a dû partir elle-même. Donc, j'ai commencé à aller dans la garderie, mais j'étais malade tout le temps et maman et papa ont dû rester dans la maison plus qu'ils(au) travaillaient. Aussitôt que nous entrons à (prenons nos) l'habitude – je commence de (à) jouer avec les autres enfants, les parents arrivent et ils me prennent chez nous où je me suis ennuyée  et ou j'attends de retourner encore dans cette chambre plein de ces petits lits, les jeux et les balles, j'attends de (pour) continuer (à) jouer, de manger le pain avec (du) pâté ou (du) salami ou quelque autre alimentaire (nourriture ) qui n'est pas bonne pour notre santé et de (avec) laquelle on ne se grandit pas – puis, je commence tousser encore et mon poitrine commence faire le son semblable à le (au) son du violon dans les mains du violoniste  – débutant. Un autre semaine, dans le chaine des semaines que je passais sous le duvet épais, dans le canapé dans la cuisine, en boivent le chaud lait caramélisé, la limonade et la dose des antibiotiques régulais (adoucie ) avec beaucoup des fruits et avec un parent en charge qui attend l'interrogation de son absence et qui essaie (de) m'aider guérir rapidement en m'offrent (de) la soupe et les (des) légumes que (qui), pour (à) la différence de ce (du) salami et ce (du) pâté, je déteste absolument.
Le colline de mes jouets et mes livres a grandi pendent ces semaines longues et ennuyés. Les assiettes et les casseroles plastiques pour toutes les poupées de caoutchouc qui attendaient leur dîner sont arrivés. Il n'y avait là-bas beaucoup des poupées avec les cheveux longs et les tresses jolies, mais elles collectaient la poussière et c'était la poussière qui m'faisait tousser encore plus. Tous les filles en bon santé étaient fiers de la coiffure de leur poupées, mais j'avais le droit d'utiliser le papier et tous des couleurs et de dessiner tout ça. C'était très bon pour moi, ils m'ont dit, ce développe l'imagination d'enfants. 
On continue...