Ne čekasmo ni do trećeg razreda da, iz jedne od boljih osnovnih škola u Torontu, naš veliki đak počne da donosi domaće zadatke malo ozbiljnijeg sadržaja od onih deset reči čije je spelovanje trebalo naučiti za svaki petak. Skoro da ne poverovasmo, ali eto, desilo se i to odzvonivši konačan kraj našim sumnjama u kanadsko školstvo.
Kao i većina roditelja iz našeg imigranatskog komšiluka, decu smo u školi ostavljali u 7 ujutro, po njih dolazili u 6 uveče, a posle se, preplašeni budućnosti, do kasnih večernjih i ranih noćnih sati bavili novim životom i raznim vrstama učenja i doučavanja. Krajem decembra tog istog trećeg razreda, mrtvi umorni, ali sa čvrstom verom u dobru školu, sedimo na roditeljskom sastanku. Učiteljica ozbiljna, priča o nastavi, o đacima, o planovima za sledeće polugodište. "Ima li neko pitanja?" U vazduhu ruka sa dijamantskim prstenom i crvenim lakom sparenim s karminom, kosa sveže ofarbana i još svežije ukrojena, čuveni Ralph Lauren-ov jahač na štepanom teget prslku, faca samouverena: "Moje dete je preopterećeno i ja zahtevam da ukinete domaće zadatke. Škola je da se u njoj uči, poslepodneva su za golf i za hokej." Bez reči, spuštamo se niz ulicu. Sutra je novi, radni, imigrantski, dan.
Malo dete trčkara kroz kuću, pa kad kroz one svoje ljubičaste, +6 naočare i flaster na levom oku primeti novine, zaustavi se, pročita naglas neki članak, onda nastavi da trči. Kad se umori, uvuče se u knjige iz kojih izađe tek kad sklopi korice. Iz škole svakodnevno donosi neke knjižice na francuskom, stalno je opominjem da ne zaboravi da ih vrati. "Vaše dete ne čita dovoljno." kaže učiteljica predškolskog uzrasta. Kako, bogte, ne čita, zapanjujemo se sami sa sobom, ali naglas samo tupo pitamo:"Kako to mislite?" "Mi pratimo program po kome deca skupljaju poene za pročitane knjige, a za svakih pet poena dobijaju parče pice. Vaše dete, do sada, nema ni jedan poen." "Kako to da nemaš ni jedan poen, a stalno nešto čitaš?" "Ne volim picu." Ne pitamo više ništa, skoro će kraj i ovoj školskoj godini.
Dođemo na ostrvo, kad ono – međutim! Šezdesetak hiljada ljudi okruženih nepreglednim Atlantikom deli između sebe četrdeset kvadratnih kilometara zemlje i nekoliko škola vrednih bilo kakvog internacionalnog preopoznavanja. Liste čekanja za upis su duge, prijemni testovi za niže razrede maltene na univerzitetskom nivou, al' uđosmo. Cijena – prava sitnica, platimo i ćutimo, za decu je. Našu.
Tokom sledećih nekoliko godina videću više medalja nego što će Đoković za života uspeti da skupi. Razne su se delile i skupljale, ne samo u nasoj kući, već diljem ovog ostrvceta.  Shvatim kasnije onu "što je mesto manje, to su snovi i nagrade veći". Sve talenat do talenta, porastu samopouzdanja nema granica, a kako ono raste, tako kriterijumi padaju sve niže. Nema veze što se u osmom razredu još uvek sriče, nema veze ni mučenje sa množenjem u devetom, nema veze što jedan nastavnik predaje i fiziku i hemiju i biologiju – ništa od toga nema veze jer svi plešemo, trčimo, pevamo i talenat za to je nepresušan. Za svaki korak napred po jedna medalja, a sa svakom medaljom sve smo bliži verovanju u sopstveni uspeh neograničenih razmera. Sa takvim samopouzdanjem, uredno plaćanim iz godine u godinu, sve prepreke se ruše, a neki dobar univerzitet opet je samo novac.
"Kolega, Vi ovu materiju ne znate, ne mogu Vam dati prelaznu ocenu." "Profesore, ja sam ovu školsku godinu uredno platio, očekujem da polozim Vaš predmet." Kolege i koleginice, vi koji ste se podigli kredite zbog svog obrazovanja, vi koji ste na fakultet krenuli sa priličnim predznanjem, ali bez novca i bez medalja, vi izvinite! Vaše mesto je zauzeto, u punom iznosu plaćeno je iz porodičnih fondova onih koji su navikli da dobijaju medalje na takmičenjima bez konkurencije i da novcem otvaraju razna vrata, makar ona bila i univerzitetska. Jer, kakva bi to škola bila, ako nas ne uči poslovnosti? I, zašto se uopšte školujemo, ako ne da bismo postali jos veći i uspešniji biznismeni od naših roditelja?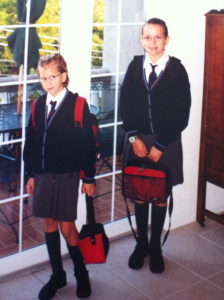 All this in English:
In the third grade, in one of the better primary schools in Toronto, our big girl had finally began bringing home homeworks, a little more serious than those ten spelling words for the test on Fridays. We couldn't believe it, but it was happenning, meaning the end of our suspicions of the Canadian school system.
As many other immigrant parents who were leaving their children at school at 7 am only to pick them up at 6 in the evening, terrified of the future we had our late evenings and nights dedicated to all sorts of learnings, from the new life to the new studies. In December of that same third grade, exhausted, but full of faith in a good school and a good teacher, we're sitting at the only  parent-teacher meeting, scheduled for that year, listening the teacher talk about the program, the pupils, about responsibilities and plans for the next semester. "Any questions?" The arm with a diamond ring and shiny red nail polish in the air, the face framed in freshly done highlights,  the famous Ralph Lauren's rider on the navy vest, a voice full of confidence, saying: "My child is overloaded and I require that you stop giving kids homeworks, as we send them to school to do the work. The afternoons are for golf and hockey. " Speachless, we go home, just down the street. Ahead of us is a new working day for the immigrants.
Our little firl is running around the house. When, through her purple, +6 glasses and a patch on the left eye she sees the newspapers, she stops, reads aloud an article, then continues with her game. When she gets tired, she dives into the books and comes out from them closing the back cover. Every day she brings from school at least three booklets in French and I constantly have to remind her to take them back on time. "Your child doesn'tt read enough." says the teacher of the preschool group. What the heck is she talking about, we think, astonished, but ask only "What do you mean?" "We follow the program under which children collect points for each book they read. For every five points they get a pizza slice. Since the beggining of the school year, child hasn't received any points yet." "Why don't you have any points, since you read so much?" "Because I don't like pizza." We say nothing. The school year will be over soon.
We are on the island and in for more fun! Sixty thousand people surrounded by the endless Atlantic share forty square kilometers and several schools worthy of any international recognitions. Long waiting lists, entrance tests for primary school almost at the university level, but we're in. The price is peanuts, but it's for our kids, we pay without a word.
Over the next few years I will see more medals than Djokovic will be able to collect in a lifetime. All sorts of medals were received, and not only in our household, but all across the island. I would realize later that " smaller the place, greater are the dreams and the rewards." Everyone is talented, and with every new boost of the self-confidence, the criteria goes down. No one seems to notice the problems with reading in eighth grade, or with a limited knowledge of the prime numbers in the ninth. There seem to be no problems with having only one teacher for the physics, chemistry and biology. None of that really matters, as everybody dances, runs and sings, and that talent is unexhaustable. For each new step forward there is a new medal, the difference is only in the colour of the ribon. And with each medal, we are a step closer to beleive in the success without the limits. With such confidence, regularly paid each year, there are no obstacles and good universities mean money only.
"Colleague, you do not know this material, I can not give you a passing grade." "Professor, I have paid the full tuition for this year and I expect to pass this exam." Colleagues, you who took loans for your education, you who came to university with knowledge, but without money or medals, we're sorry. Your seat's been taken already, paid in full from the family funds of those who are accustomed to medals in all the competitions without competition and to the money that opens many doors, the university doors included. Any way, what kind of school is it that doesn't teach us how to succeed in business?  And, why would we be studying, if not only to become bigger and greater businessmen than our parents?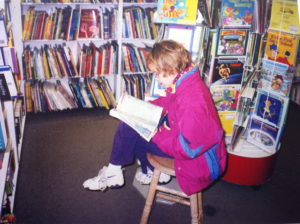 En français:
Dans une de meilleures écoles primaires à Toronto, notre grand élève a commencé d'avoir (à avoir)  les devoirs dans la troisième année finalement. On ne pouvait pas (y) croire, mais c'était vrai et c'était le fin à notre (de nos) doutes dans (sur) le système d'école (scolaire) canadien. 
Comme les autres immigrés, les parents qui ont laissé (laissions) leur enfants à l'école chaque matin à 7 heure et qui ont (venions) les cherché à 18 heure(s), en ayant la peur de la (du) future, nous avons passé les soirs et les nuits en apprenant (à apprendre) de la vie nouvelle, des (les) nouvelles "études" et des (les) autres nouveautés. À (En) décembre de cette troisième année de l'école de notre fille ainée, sur (à) la réunion des parents,  nous écoutions, bien fatigués, ce que professeur parlait (disait) sur des (les) élèves, des (les) devoirs et des (les) plans. "Des questions?" La main avec un anneau en diamant et les clous rouges est dans l'air. La (le) visage avec les lèvres rouges et la coiffure frais et le chevalier célèbre de Ralph Lauren dit:" Mon fils est épuisé et je demande que vous arrêtez (arrêtiez) avec les devoirs. C'est pour ça qu'on envoie les enfants dans (à) l'école. L'après midi on se (va) faire le (du) golf ou le (du) hockey." En retournant chez nous, on descend dans le rue sans un mot. Demain est un jour nouveau, un jour ouvrable pour les immigrés.                    
Notre petit enfant court à travers la maison et qu'elle (lorsqu'elle) voit les nouvelles par les lunettes et le cache-oeil, elle s'arrête à (pour) lire an article et puis elle continue son jeu. Si elle est fatigué, elle entre dans des livres et elle les (en?) sort en fermant la (dernière) page dernière. Chaque jour elle prends les (des) livres françaises de l'école et je dois lui rappeler de les retourner à l'heure (rendre à temps). "Votre fille ne lit pas assez", professeur des enfants préscolaire nous dit. (nous dit le professeur de la maternelle). C'est incroyable, nous pensons, complètement étonnés, mais nous demandons simplement:" Qu'est que vous voulez dire?" "Il y a le programme par lequel les élèves collectent les (des) points pour chaque livre qu'ils ont lu. Avec cinq points ils gagnent (de) la pizza. Votre fille n'a qu'un point depuis le commence (début) de cette année." "Pourquoi tu n'as pas des points, tu lis tout le temps?" "Car je n'aime pas la pizza." On ne demande rien de plus. Cette année bientôt passera (bientôt). 
Nous sommes sur l'ile, et quelle surprise! Soixante mille des gens entourés par l'Atlantic énorme, partagent quarante mille carrée(s) de la terre et quelques écoles de quelque signification internationale. La liste d'attendre (d'attente) est longue, les examens d'entrés(e) pour les écoles primaires sont dures, mais en (de) quelque sorte, on (y) entre. Le prix est énorme comme l'Atlantic, mais c'est pour nos enfants, pour notre seul investissement et nous le payons n'en (ne) disent rien.
Pendant quelqu'uns (quelques-unes des) années suivant(e)s, je verrai plus (beaucoup) des médailles que Djokovic collectera dans sa vie. Il y avait les (des) médailles de tout sorte, dans notre et dans chaque l'autre maison sur ce(tte) petit(e) île. Après quelques années je comprendrai (comprenais?) que "si l'endroit est plus petit, le succès est les récompenses sont plus grands". Tous sont les (des) talents, avec le croissance de (la) confiance en soi, le critères deviennent plus faibles. Pas de problème avec l'orthographe incorrect(e) dans l'huitième année ou avec l'addition de nombres premiers dans le (la) neuvième, pas de problème s'il n'y a pas assez des professeurs de la physique, la chimie et la biologie, pas de problème pour tout ça. C'est le danse, le (la) course, le (la) chant qui comptent et ce talent est interminable. Pour chaque pas d'avance il y a une médaille de plus et avec chaque médaille on est plus proches(?) à (de) la foi dans notre grand succès sans limitations. Avec (une) telle confiance en soi payée régulièrement d'année en année, le (la) bon(ne) université est garanti(e), ce n'est plus que (de) l'argent seulement.
"Chère collègue, vous ne savez (connaissez) pas cette matière, je dois vous donner un marque (une note) négatif (négative)." "Chère professeur, j'ai payé pour ce cours et j'attend le passer." Chères collègues, vous qui avez pris les crédits pour votre études, vous qui avez le savoir faire, mais n'avez pas d'argent ou les médailles, nous sommes désolés, mais votre place est déjà occupé. C'était payé par le prix complet, de les (des) fonds des ceux qui avaient le coutume (l'habitude) de gagner des médailles sur (dans) les compétitions sans la concurrence, des ceux qui ouvraient toutes (les) portes par (avec) d'argent (de l'argent), les portes des universités compris(es). Quelle sorte de l'école est ça, si on n'apprend pas faire les grandes affaires? Pourquoi on va dans (à) l'école si non de (ce n'est pour) devenir (de) plus grands businessmen (hommes d'affaires) que nos parents?!