Došlo je proleće, ljudi bi da izađu iz kuća, iz jakni, iz osame, iz polusna. Priroda se, u svom najnovijem, sezonskom trendu, već uveliko probudila i rastegnula, a s njom i ideje, s jeseni konzervisane, posle ozimovljene. Došlo je vreme novih okupljanja, gužvi po ulicama, vreme razgolićenosti, provetravanja ustajalih kuća, garderobe, mozgova, vreme odmrzavanja ideja, njihovog sejanja, širenja, cvetanja.
Razradili se ljudi, bacaju, spaljuju, čiste, pretresaju, prekopavaju, čupaju korov. S korovom je najteže, njega se teško osloboditi, on uvek prezimi, preživi i prvi zaživi i razgrana se. S njim nikad nisi siguran, nikad ne znaš jesi li, čupajući ga, iskidao i polomio i neku dragu i plemenitu biljku, jer čudno je proleće, mnoge biljke još uvek liče jedna na drugu i tek se kasnije vidi šta je počupano, šta je ostalo i kolika je šteta napravljena. Ali, to je kasnije, za to se u proleće nema mnogo vremena, život se tek raspupao, a tada je najlepši, ne treba ga kvariti onim što tek dolazi.
U proleće se seju njive, livade, bašte, cvetnjaci, ideje. Seju ih razni, i oni što se u sejanje razumeju i oni drugi, seje se svuda po božijoj bašti, pa šta kome nikne. Kakvo sejanje, takva žetva. Jedina je razlika u tome što su nečije njive velike, na njima će pored korova nići i pokoji dobar klas, na nečijim će većim cvetnjacima ostati i poneki zdrav, prethodno nepočupani cvet. Oni koji znaju i umeju, paziće kakvo seme biraju, odvojiće ono loše i odbaciti ga, sejaće samo zdravo. Oni što imaju, oni ne moraju previše da znaju, oni će platiti da njihovo i dalje bude primamljivo, da se očuva i da, bar prividno, izgleda zdravo. Najgore je, kao i uvek, onima koji moraju da rade po tuđim njivama i baštama jer svoje nemaju i onima čije su bašte male i neugledne, često na škrtoj zemlji, onoj iz koje se samo korov probija lako. A, takvih, tih što moraju ili što nemaju je najviše, oni su svuda najbrojniji, najradniji i najumorniji, oni su oni koji ne stižu ni da odahnu, ni da se zamisle, ni da promisle. I nema veze što oni, možda, jedini znaju šta treba, šta vredi što im je iskustvo savilo leđa kad, morajući i nemajući, ne stigoše da podignu glavu i da nam na vreme ukažu odakle sunce dolazi i gde najjače sija. Jer, da su mogli, možda bi stali, okrenuli se, predahnuli, udahnuli, krenuli za tim suncem sejući usput zdravo seme, zdravu ideju.
                                                             <<<>>>
Razni su izbori popularni ovih dana. Biraju se rasadi, semena, šetališta, kafane, društvo, viđeni ljudi, viđena mesta, pesme, govori, citati, muzika, publika. Ide se i s mesta na mesto, njuška se po ćoškovima, osluškuje se, žmirka, namiguje, traži se najbolja i najpogodnija atmosfera. Plaćaju se pića, ture, večere, reklame, a sve po sistemu časa više – glas više, svaka igra, svaka dobija. Dosta je bilo učmalosti, svi su željni aktivnosti, promena, bilo kakvih promena, pa makar i promena vlade. Ili, bar promene vlade, ako ničeg drugog. Tamo odakle sam došla, društvanca su sve brojnija, iscepkanija, tiša, intimnija. Samo ponekad iskoči neka preglasna, neumesna,  besmislena psovka, bez ideje, bez ishoda. Ovde gde jesam, umesto idejom, bubnjevima i maskaradom krenuli su protiv onih koji su došli i koji rade. Između tamo i ovde, a iznad svih nas, velika aždaja razjapljenih usta preti da će, i ne znajući tačno zašto, ipak progutati sve koji joj se ne sviđaju.
Svima je nešto dosadilo, svi bi neku promenu, a rešenja, uglavnom, niotkuda. Sakrilo se u svetskoj ekonomiji koju je progutala aždaja, ili korov, svejedno, i koja, kao da više nikada neće opet nići.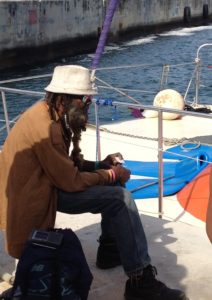 All this in English:
It's spring, the time for people to get out of their coats, their loneliness, of the semi-hibernation. The nature, in its latest seasonal haute- couture, is already awake and so are the ideas, preserved by last fall and frozen by winter. It's time for new friendships, new crowds, for open houses, time to undress, to refresh clothes, to refresh brains, time to clear, plant, grow and spread the seeds, the ideas.   
People are cleaning, burning, digging, weeding. There's so much to do, but weeds are the hardest to get rid of, they survive every winter, they grow and spread fast in the spring. One never knows with them. Also, the spring itself is strange, all plants are similar and, while weeding, it's impossible to seprate the bad from the beautiful and precious ones. By the time we see a mistake it's too late, the damage is already done. But, at this moment it's spring, life has just blossomed and it's at its most beautiful phase. We shouldn't spoil it by all that will come later.
Spring is the time for seeding and planting. The fields, the gardens, the ideas. There are many people doing it, from those who are the experts to those with no experience at all. Everything and anything's been planted in God's garden, and no one knows what and where will come out of it. You pick what you plant. The only difference is that some fields are large and, beside weeds, there is also room for some of the precious plants. Those who have the knowledge, they'll pay attention, they'll seed only the healthy plants. Those who are rich, they must not have the expertise, they can always pay for the visually appealing and healthy looking plants. It's always the hardest for those who must work the fields and gardens of others because they don't have their own and for those whose gardens are too small and with the soil in which only weeds grow easily. However, they are plenty in this world, people who work too hard, people who are too tired and do not have time to sit down and think. With their expertise, they are, perhaps, the only ones who know what we should do, but their backs are bent all the time and they can't raise their head to tell us either where the sun comes from, or where it's burning. If they could, they would stop, they would take a deep breath, they would follow the sun and spread only the healthiest seeds, the healthiest ideas.
                                                             <<<>>>
There are many choices to make in a spring. The choice of plants, seeds, walks, restaurants, people, places, speaches, quotes, audiences. One goes from place to place to watch, to listen, to look for the most fertile soil. Drinks are being paid for, and so are the diners, or the advertising. More beer, more votes. Tired of stagnation, people want activities, they want a change, any change, even if that means the change of government. Or, the change of government only. There where I come, frienships are fragile, friends fewer, more intimate. From time to time, we can hear "Damn" or something similar, providing no further meaning. Here, where I live, protests against those who work the most, with drums and masks and all. Between here and there, and above all of us, a large dragon, with an open mouth threatens that he'll eat all of those he doesn't like.
Everyone is bored, everyone wants a change, no one offers a solution. The solution has disappeared with the world economy, eaten by the dragon, hidden in the weeds.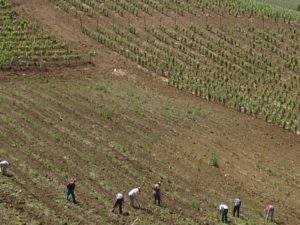 En français:
(pas corrigé)
C'est le printemps, le temps que les gens veulent de sortir des manteaux, de la solitude, de la somnolence. La nature, dans la dernière haute-couture saisonnière, est déjà réveillée et, avec elle les idées, en conserve par l'automne et congelées par l'hiver. C'est le temps pour des amitiés nouvelles, des foules nouvelles, le temps pour un déshabillage, pour les maisons ouverts, le temps pour rafraîchir des vêtements, des cerveaux, le temps pour dégager, planter, répandre et épanouir des idées.
Les gens oeuvrent, ils jettent, ils brûlent, ils nettoient, ils creusent, ils arrachent les herbes mauvaises. Elles sont les plus difficiles, ces herbes mauvaises. Elles sont vivantes, elles survient à l'hiver et elles se répandent plus vite au printemps. On ne se sait jamais avec elles, et le printemps est étrange, tous les plantes sont semblables et c'est possible que, avec les herbes mauvaises, on s'arrache quelques plantes aimées et précieuses. C'est plus tard qu'on se voit qu'est ce que c'est ça, mais puis c'est en retard, la dommage a déjà fait. Pour ce moment,  au printemps, que la vie s'est juste épanouie et qu'elle est la plus belle, on ne lui gâche pas par ce qui arrivera plus tard.
Le printemps est le temps pour l'ensemencement des champs, des jardins, des idées. Il y a beaucoup des gens qui les sèment, quelques uns qui sont les experts et les autre, sans aucun expérience. Tout se sème dans ce jardin de Dieu, et personne ne sait ce quoi grandira à qui. Vous cueillez ce que vous semez. Une seule différence est qu'il y a les champs qui sont assez grands pour les deux des herbes mauvaises et pour quelques plantes précieuses. Ceux qui ont le savoir faire, ils feront attention au choix de la semence, ils jetteront les mauvaises, ils planteront les saines seulement. Ceux qui sont riches, ils ne doivent pas avoir le savoir faire, ils payeront pour leur plantes jolies et, apparement, saines. Comme toujours, c'est le plus dure aux ces qui doivent oeuvrer sur les champs et les jardins des autres car ils ne possèdent pas leurs, ou aux ceux dont les jardins sont trop petits, avec le sol dur, du lequel seulement les herbes mauvaises grandissent facilement. Après tout, le monde est plein des gens comme ça, des gens qui oeuvrent trop durement, des gens qui sont trop fatigués et qui n'ont pas le temps de s'asseoir et de penser. Avec leur expertise, ils sont, peut être, les seuls qui savent qu'est ce qu'on se doit faire, mais, ils sont recourbés et ils ne peuvent pas élever sa tête de nous dire d'où le soleil vienne est où il est le plus fort. S'ils pouvaient, ils arrêteraient, retourneraient, respireraient en sauvant cet soleil, en semant les semences saines, les idées saines.
                                                              <<<>>>
Il y a beaucoup des manières de faire tous sortes des choix ce printemps. On se choisit les plantes, les semences, les promenades, les restaurants, la compagnie, les gens, les endroits populaires, les discoures, les citations, la musique, l'audience. On se va d'un endroit au l'autre, on se regarde, on s'écoute, on se cherche la meilleure ambiance. On se paie les boisons, les dinées, les pubs. Une verre de plus, un voix (un vote) de plus. Tout le monde avait assez la stagnation, tout le monde veut quelques activités nouvelles, quelle sorte des changements, même si elles étaient les changements de gouvernement. Ou, le changement de gouvernement seulement. Là-bas d'où je vienne, les groupes sont de moins en moins, plus fermées, plus intimes. De temps en temps, on entende "Merde" ou quelque chose semblable, sans une signification, sans idée, sans solution. Ici, où j'habite, au lieu des idées pour des emplois nouveaux , on se proteste contre ces qui oeuvrent avec les masques et les tambours. Entre ici est là-bas, et en haut tous nous, un grand dragon, avec sa bouche ouverte menace qu'il mangera tous ceux qu'il n'aime pas.
Tout le monde est ennuyé, tous cherchent le changement, mais aucun offre la solution. La solution a disparu avec l'économie du monde, mangée par le dragon, couchée dans les herbes mauvaises.