Jedan od dirljivijih prizora koji ispred sebe ugledam skoro svaki put kada zaronim u dubine svog detinjstva je onaj u kome moj mali, inače uspavani grad dočekuje neku od državnih svečanosti tog vremena. I dan danas osetim tu živost koja se odjednom javi na ulicama, u kućama, na ozarenim dečijim licima i u užurbanim koracima odraslih. Slavile su se nove godine, praznici rada, dani državnosti, dani republike, rođendani našeg velikana, a svi ti praznici bili su dočekivani zajedničkom ushićenosti i jedinstvenim simbolima naše države i našeg grada. Od štafete do pionirskh recitala, preko jagnjetine na ražnju ili kičasto dekorisane jelke, pa do onog crvenog karanfila, po jednog za svaku ženu, za svaku radnicu, za svaku mamu, 8. marta svake godine.          
Od svih praznika, grupno dočekivanih sa jednakim uzbuđenjem bez obzira na redosled programa koji se uvek odvijao po već utvrđenom redu, Dan Žena je, difinitivino, bio moj lični favorit. Nije to bio ni najsvečaniji, ni najuzbudljiviji praznik, ali pored onog zajedničkog, donosio je sa sobom i dodatno, moje lično ushićenje. Tog dana bi, moja, inače skromna, ali uvek elegantna i doterana mama, s posebnom pažnjom prilazila svom delu plakara dugo birajući haljinu, cipele i nakit za večernji izlazak. Znala je ona, a znala sam i ja da je to veče mnogo više njeno od bilo koje druge praznične večeri u to vreme, u toj našoj tadašnjoj zemlji. Moja majka, ratom ucveljena, sistemom prognana, od strane svojih đaka poštovana, od strane kolega nedovoljno prihvaćena, sugrađanima strana, prema meni stroga, nije mnogo marila za onu državu, ni za njene zvanične praznike, ali je znala da će se svake godine za Dan Žena, čim s mojim ocem zaigra na osmomartovskoj svečanosti, osećati kao kraljica. Nije se mnogo igralo u to vreme u našem gradu, pa su se, svojim ritmičnim, ujednačenim, laganim i uigranim koracima, moji roditelji, važeći za najbolji plesački par u gradu, i tu pomalo odvajali od drugih, ako je to uopšte bilo bitno. Ono što je meni taj jedan dan činilo specijalnim, bio je izraz na licu moje mame dok bira haljinu i dok se sprema za večernji izlazak, izraz na licu jedne obične žene, supruge, radnice, majke kojoj se jednog dana u godini poklanja malo veća pažnja nego inače, a koja se i tog dana trudi da tu pažnju zaradi.
Izronivši iz detinjstva u svoju sadašnjicu, ne mislim da je išta oko moje majke bilo posebno, verujem da su, u to vreme, sve majke i sve žene izlazile iz svojih kuća na isti način i da su sve, bar tog jednog dana u godini, želele da se, u nekom svom svetu, osećaju kao kraljice.
Ovako odrasla, ja bih taj 8. mart pretvorila u jedan sasvim običan dan, a volela bih da se, svih drugih dana u godini, muškarci, deca i ostali sete da pored sebe imaju kraljice i da se prema njima, baš tako, kraljevski, odnose iz dana u dan.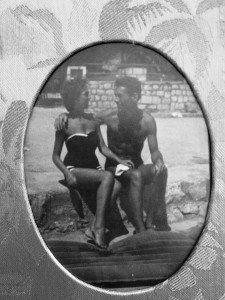 All this in English:
One of the most touching scenes I see every time when I dive into my childhood is the one in which my, otherwise, sleepy little town waits for and participates in the national holidays. Even to this day, I feel the liveliness on the streets, in homes, on children's faces and hurried steps of the adults. We celebrated new years, labour days, national days, days of the republic, the birthdays of our great president, and all these festivals was welcomed with a shared excitement and unique symbols of our country and our city . From the relays to the pioneers' recitals, from roasted lambs to the Christmas trees (decorated for new years, not for christmases), to a carnation, one for every woman, every worker and every mother, every year, for the 8th of March.      
Of all these holidays without much imagination and with the same programs from one year to another, the Women's Day was definitely my favourite one. It's not because that was the most glorifying or the more thrilling festivity, but, apart from the shared excitement, there was something very personal about that day. Always elegant but also modest, my mother was paying extra attention to the dress, shoes and jewelry she'd wear for that day and for that special evening. She knew, my mother, and I knew, too, that this evening belonged to her more than to others in our town, at that time. My mother, bereaved by the war, exiled by the system, respected by her students, not overly welcomed by her colleagues, strange in the small town, strict with me, did not much care about the national holidays, but also knew that, as soon as she'd start dancing with my father for the Women's Day, she'd feel like a queen. There was no much dancing in our city, at the time, and if that's important at all, my parents, like two very good dancers, stood out by their rhythmic, light and unified dance steps. What was the most precious to me that days, were the expression on my mother's face and the moves she made while she was standing in front of the mirror, trying the dress and the shoes for the evening. Happy, confident, proud, radiant. A face of an ordinary woman, the wife, the worker, the mother who, once a year, receives little more attention than through the rest of it, and yet she tries hard to deserve it. 
Emerging from my childhood to the present time, I'm sure that there was nothing special about my mother at the time, however that all the mothers and all the women were leaving their houses on the 8th March wanting, at least for a day, to feel like the queens in their little worlds.
As an adult woman, I wish that the Women's Day was an ordinary day and that the rest of the year, the men, the children, and all the others do not forget that, next to them, they have the queens who deserve to be treated as such.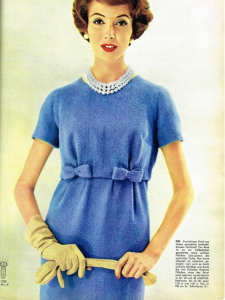 En français:
L'une de plus bonnes (belles) scènes que je vois chaque fois quand (que) je plonge dans mon enfance, c'est ça (celle) dans laquelle ma petite ville endormie attends et participe à les (aux) fêtes nationales. Même aujourd'hui je sens une (la) vivacité dans les rues, dans les maisons, sur les visages des enfants et (aussi) aux (dans) des (les) pas pressés des adultes. On se célébrait les nouvelles années, les fêtes du travaille, les jours nationales (de nationalité), de la république, les anniversaires de notre grand président, et tous (toutes) ces fêtes étaient (les) bienvenus avec une excitation commune (générale) et avec les symboles uniques de notre pays et de notre ville. Des baguettes-relais jusqu'aux les récitals des pionniers, des l'agneaux rôtis aux les sapins très kitsch, ou au l'oeillet rouge, l'un pour chaque femme, chaque ouvrière et chaque mère, chaque année pour le 8 mars.   
Entre tous ces fêtes sans beaucoup des surprises et avec les mêmes programmes d'une année à l'autre, Journée des Femmes définitivement était ma fête préférée. Ce n'est pas parce que c'était la fête la plus réjouissant ou la plus excitée (émouvante), mais il y avait quelque chose (de) plus personnelle que de générale (d'habitude), ce jour-là. Toujours élégante mais modeste, ma mère faisait supplémentaire attention supplémentaire à la robe, les (aux) chaussures et les (aux) bijoux qu'elle portait ce jour-(là) et cette soirée extraordinaire. Elle a connu (savait), ma mère, et j'ai connu (je savais) aussi, que cette soirée était plus sienne que des (d')autres, dans notre pays, en ce temps-là. Ma mère, endeuillée par la guerre, exilée par le système, respectée par ses élèves, insuffisamment la bienvenue par ces collègues, étrangère à ses concitoyens, stricte avec moi, n'avait pas beaucoup de soin pour les fêtes nationales, mais elle a connu (savait) que, aussitôt qu'elle commençait à danser avec mon père pour (pendant la soirée)(?) le Journée des Femmes, elle se sentirait comme une grande reine. On ne dansait pas beaucoup dans notre ville, en ce temps-là, et, si cella est du tout important(?), mes parents, comme deux bons danseurs, se sont distingués(?) par leur pas rythmiques, doux et unifiés. Ce qu'a fait ce jour-là précieux pour moi, c'étaient la visage et les bouges (mouvements) de ma mère pendant elle se regardait dans le miroir, en choisirent la robe pour cette soirée. Contente, confiante, fière, élégante. Une visage de la femme ordinaire, de l'épouse, de l'ouvrière, de la mère qui, une fois dans l'année, reçoit en peu plus attention que les autre jours et, encore, elle essaie lui mériter. 
En émergent de mon enfance au temps présent, je pense qu'il (n')y avait rien (de) spéciale autour ma mère, je crois que, en ce temps-là, toutes les mères et toutes les femmes sortaient (de) leur maisons de la même façon, cette journée-là, et que chacune d'eux (d'elles) a voulu (voulait) se sentir comme la reine dans son propre monde, pour un jour au moins. 
Comme la femme adulte, je voudrais que le 8(-ème) mars était (soit) un jour ordinaire et que, du reste de l'année, les hommes, les enfants et tous les autres n'oublient pas que, à coté d'eux, ils ont des vraies reines qui méritent (d')être traité(es) comme ça (telles).