"Kupi hleb kod čika Aca i nemoj pola da pojedeš usput!" petogodišnju mene upozorava mama, ne sluteći dimenzije jednog običnog trenutka i učestalost prepričavanja te jednostavne rečenice koje će, mnogo decenija kasnije, biti pečat jednog vremena i života koji vise ne postoje.
Savijena papirna novčanica u džepu, miris prženog luka iz komškijskih kuća, karikature na asfaltu  iscrtane kredom u boji, dve klupe na travi za fudbal na "goliće" i, iza naočara sa debelim staklom, odvažna ja. Skakućem, šutiram kamenčiće, pevam, pozdravljam, zastajkujem da proverim "novčano stanje" u džepu.
"Dobar dan, čika Aco, poslala me mama po hleb." – iz izvrnutog džepa vadim savijenu papirnu novčanicu, podižem se na prste i, u prodavnici u kojoj nema mesta za više od četiri osobe i u kojoj se, svakodnevno, snabdevamo i mi i ceo komšiluk, stavljam novčanicu na pult, pored kase.
"O, došla si taman na vreme. Upravo sam izvadio iz rerne ovaj pečeniji, bolji je za stomak. Pogledaj, kao duša! Imam za tebe i pitu od jabuka. Juče smo brali jabuke, pa ostalo i za pitu. Da ne trule."
 "Ali, mama mi je dala pare samo za hleb…." razvlačim, naočara uprtih u onu pitu, opijena magičnim mirisom toplog hleba i pečenih jabuka.
"Ništa ti ne brini, pita je da se osladiš posle rucka, ne treba za nju da platiš. Zna čika Aca šta deca najviše vole. Evo ti i kusur, stavi ga u džep i pazi da ti ne ispadne, da te mama ne bi grdila. Hajde sad kući i nemoj da pojedeš pola hleba usput."
Nikad nisam odolela. Ni jedan jedini put nisam kući donela ceo hleb.
"Koliko sam ti puta rekla da ne jedeš hleb dok ne opereš ruke? "
"Ne znam."
"Sedi da ručaš. I pojedi to parče hleba koje sam ti isekla."
"Ne mogu."
"Kako, sad, ne možeš?"  
"Ne razumeš. Nije to isto."
"Čudnog li deteta!"
Dragi čika Aco,
Kupila sam, odonda, razne vrste hleba, ali mi nikad nije palo na pamet da bilo koji od njih pojedem usput. Ispred dugačkih polica ogromnih, bezličnih supermarketa gubila sam vreme pokusavajući da razaznam bar neke od sastojka one hladne, sunđeraste materije četvrtastog oblika, bez mirisa i bez ukusa, vezane u najlon kese različitih boja na kojima pise "hleb". Brzo sam odustala. 
Hleb bez duše i jabuke koje ne trule ne jedem. Zbog stomaka.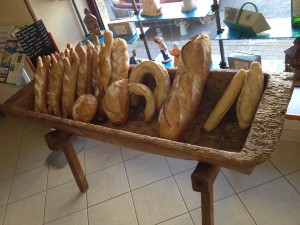 All this in Englsih:
"Buy some bread at uncle Alex's and don't eat half of it on your way back"  – warns mom the five-year-old me, having no idea about the impact that this ordinary phrase will, the decades later, have on me.
A few coins in a pocket, a smell of sauteed onion from the neighbouring houses, the road full of kids doodling on asphalt with coloured chalks, two benches on the grass for the mini football and, behind huge, thick glasses, jumping, kicking little stones, singing, saying "Good morning", stopping here and there to check the "money situation in my pocket", a proud and important me.
"Good morning, uncle Alex, my mom sent me to buy some bread."  – I say simply, peeping from the counter and pooling the coins from the pocket, in a store, not larger than our living room, where we and the whole neighbourhood buy all our daily groceries.
"Oh, you came right on time. This one is just out from the oven. Slightly more baked, better for the stomach. It's like soul – nice, crunchy on the outside, but so soft inside! Here is some apple pie for you, as well. We had a harvest yesterday and some were really ripe, almost rotten, great for the pie."
"But, mom gave me money for bread only…" – with my think glasses in that pie, dizzy from the smell of warm bread, apples and cinnamon, I  can hardly whisper my words.
"Don't you worry, uncle Alex knows what kids like, you don't need to pay for the pie. Here is your change, put it in a pocket and go straight home. Don't eat half of bread on your way, otherwise mom will be angry."
Never was I able to resist. I never brought home the whole loaf of bread.
"How many times did I tell you not to eat bread before you wash your hands?"
"I don't know."
"Eat that dinner with a slice of bread I gave you."
"I can't."
"What do you mean, you can't."
"You don't understand. It's not the same."
"What a weird child!"
Dear uncle Alex,
I've bought all kinds of bread since then, but never, ever has it came into my mind to eat any of them on my way home. I wasted lots of time in front of the long isles of mega-markets trying to recognise at least some from the list of ingredients of the spongy, square mass without smell and without taste, packed in the plastic, differently coloured bags with the common name, "Bread". It's been long time since I've given up on both understanding what's in that mass and on buying it.  Bread with no soul and apples that never rot I can't eat. Because of the stomach, they make me sick.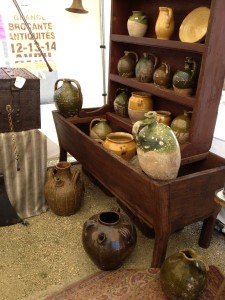 En français:
"Achets-toi (Achète) du pain chez oncle Alex et ne pas manger (n'en mange pas) la moitié sur le chemin de retour, comme d'habitude!"  prévenue maman à cinq ans moi (me prévenait ma maman à cinq ans), ne sachant pas (ne connaissant pas) les dimensions de ce moment ordinaire, la fréquence de paraphraser de cette phrase qui, plusieurs décennies plus tard, marqueront une époque et des vies qui n'existent plus.
Le billet pilé dans ma poche, l'odeur d'oignon frit des maisons des voisins, les caricatures sur l'asphalte dessinés par les craies de couleur, deux bancs pour le petit- football (baby-foot) et, derrière les lunettes avec des verres épais, moi-même, courageuse et importante. Je saute, je pousse les pierres, je chante, je dit "bonjour", j'arrête de vérifier si le billet et encore dans ma poche.
"Bonjour oncle Alex, maman m'envoyée pour du pain" je dis, en entrant dans le magasin pas plus grand que notre salon, mais dans lequel on fait tous des courses quotidiennes. Je me lève sur les orteils et je mets le billet sur le comptoir. "Oh, tu es venu à l'heure! Cet-ici (Celui-ci) est juste retiré du four. C'est un peu plus cuit, bon pour ta santé. Voila! C'est doux comme l'âme! J'ai aussi (de) la tarte aux pommes pour toi. On a fait la cueillette des pommes hier. Il y en avait beaucoup trop mûres, presque pourries, bonnes pour les desserts."  
"Mais, maman m'a donnée de l'argent seulement pour le pain."  je lui dis avec mes lunettes dans la tarte, emportée par l'odeur (le parfum) du pain chaud, des pommes et du cannelle.  
"Tu ne t'inquiets pas, c'est le dessert, tu ne dois rien payer. Oncle Alex sait ce qu'est ce que les enfants aiment. Voila ton changement (ta monnaie), tu fais bien attention, de ne faire maman être en colère (de ne pas mettre en colère ta maman). Vas-tu maintenant, et ne pas manger la moitié (n'en mange pas la moitié) comme d'habitude!"
Je n'ai pu résister jamais (Je n'ai jamais pu résister).
"Combien fois je t'ai dit de ne pas manger du pain avec tes mains sales?"  
"Je ne sais pas."
"Manges ton diner et prends-toi cette tranche du pain."
"Je ne peux pas."
"Pourquoi pas?" 
"Je ne sais pas. Tu ne le comprends pas. Ce n'est pas la même."
"Quel enfant étrange!"
Cher oncle Alex,
J'achetait (J'ai acheté) beaucoup des (de) pains, depuis cet temps (ce temps-là), mais je ne jamais mangeais (n'en ai jamais mangé) aucun sur le chemin de retour et comme d'habitude. Je perdais (J'ai perdu) mon temps en montrant les long étagères du dans les grands marchés impersonnels, essayant de déchiffrer quelque uns du nombreux des ingrédients de la matière spongieuse et carrée, sans parfume et sans goût, dans les sacs plastique, colorés différemment, mais avec un nom commun, "Le pain". J'ai bientôt tout abandonné. Le pain sans l'âme et des pommes qui ne peuvent pas être pourries, je ne (n'en) mange pas. À cause du ventre. Ça me rend malade.