Već smo se svi složili – žene su same krive za svoje mesto u današnjici. Htele su da se izvuku iz senke svojih muževa koji su retko bili kod kuće, htele su da svoja lepa lica, napirlitane frizure i namazane nokte pokažu van okrilja spavaćih soba, a da svoje sposobnosti, intelekt i rad iznesu i van kuće, dalje od dece, kuhinje i bašte. Bile su kompletne ličnosti, htele su da se to, konačno, primeti i prizna. Borile su se i izborile su se za svoje mesto u korporacijama, državnim ustanovama, nauci, umetnosti. Postale su dobitnice i vlasnice raznih diploma i zvanja, dokazale su da mogu isto, da mogu i više i bolje od svojih muževa, da mogu da budu i žene i majke i koleginice i gazdarice, sve u isto vreme.
Zatrčale se žene, natovarile na svoja leđa i dom i decu i lepotu i baštu i školu i kancelariju, zahuktale se i u svoj toj trci probile sve barijere na koje su usput nailazile, protrčale kroz cilj i nastavile da trče istim koracima, istom brzinom. U početku su trčale pogurene, ali što su se vise trčale, teret na njihovim leđima se smanjivao, a one su trčale brze i ne primećujući šta se oko njih dešava. Prvo je pao dom. Popucali su zidovi, bez nade da se ikada ponovo okrpe. Onda su počela da padaju deca. Jedno po jedno, razbežala su se, svako na svoju stranu, kao zalutali jaganjci, bez vodiča, bez branitelja. Bez doma i dece u njemu, bašta je brzo usahnula, a zemlja se sama rasula.
Trče žene i dalje, zaboravivši i zašto i odakle su krenule. Prevaziđoše u toj trci same sebe, muškarce su prevazišle odavno, trče bez cilja, sada već sa nekim drugim teretom koji su, u svojoj ludoj trci počele da osećaju, ali ga jos uvek ne prepoznaju. Njihovu trku, bez veliog uzbuđenja, sa strane posmatraju muškarci i, kao i mnogo godina ranije, svaki za sebe misli: « Ove žene su lude. Ništa ne rade, samo, bez veze, trče okolo. Ni večera još nije spremna, a ja sam tako umoran i gladan.»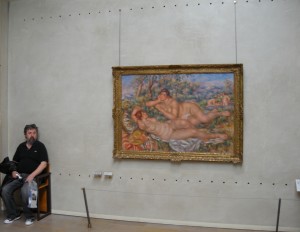 All this in English:
As we already know, it's all women's fault – their place in today's world.
Women wanted to get out of the shadow of their husbands who were never home, women wanted their loving faces, their perfectly styled hair and their freshly polished nails to be seen further from their bedrooms, they wanted their intellect, their capabilities, their work to be taken out of the house, the kids, a garden. They were a "complete package" and they wanted the world to see it and to recognize it. They fought hard and long and they, finally, got their place in corporations, in government, in science, in art. They earned their diplomas and titles, they proved that they can do more and better than their husbands, that they can be wives, mothers, colleagues and bosses, all at the same time.
Loading their backs with a house, children, beauty, garden, school, office, everything, women started running and, in all the hurry to reach their goals, they ran through all the boundaries, passed the finishing line and – kept running. It was hard at the beginning, with all the load and their back hunched – women were slow. However, as they ran, the load was getting smaller and smaller and, soon, they felt light and ran much faster. The first to fall from the women's back was the house. The walls cracked without any hope to be restored again. Then the kids. One by one, children got lost, like little lambs without a shepherd. Without a hand to help it grow, the garden died quickly.
Women are still, unstoppably, running, forgetting where they want to go and why they started it, at the first place. They surpassed themselves already, they had overshadowed their husbands long time ago, but they still run aimlessly, now with a new load. The load that is taking on them a new, yet unrecognized toll. 
Without too much excitement and from the safe corner, men are watching women run and, like many years before, each of them thinks for himself: "These women are crazy. They've been chasing their own tale without having anything done properly. I'm so tired and so hungry and no dinner ready yet!"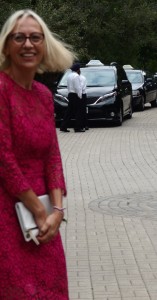 En français:
On était déjà d'accord – les femmes sont à blâmer pour leur place au monde d'aujourd'hui. Elles avaient voulu sortir de l'ombre de leur maris qui travaillaient dure (dur) et qui n'étaient pas suivent (souvent) à la maison. Elles avaient voulu montrer (jolies) leur visages jolies, leur coiffures frais (fraîches), leur ongles polis plus loin de leur chambres (en dehors de chez elles), elles avaient voulu présenter leur capacités, l'intellect et le bon travail plus loin (au delà) de leur cuisines, leur(s) enfants, leur(s) jardins. Elles (c'était) étaient les (des) personnes complètes et elles avaient voulu ça d'être remarqués et reconnues (pour ça). Elles s'étaient battues et, enfin, elles ont gagné la bataille pour sa (leur) place dans les corporations, les entreprises, la science, l'art. Elles (s)ont devenu(es) les propriétaires des (de) diplômes et des (de) titres, elles ont prouvé qu'elles pouvaient (tout) faire tous les choses plus et mieux que leur maris, qu'elles pouvaient être les mères, les femmes, les collègues et les patronnes – tout ça dans le (en) même temps.
En chargeant (à) leur dos avec la maison, les enfants, le jardin, la beauté, le bureau, les femmes ont commencé à courir pour le respect, pour l'identité et la reconnaissance. Elles couraient, elles passaient tous (tout les) frontières, elles couraient à travers le but et continuaient courir sans arrêt. C'était dur au début, avec leur dos courbés, mais, avec le distance, elles ont couru plus vite, sans réaliser ce qui se passait autre d'eux (autour d'elles). Leur charge étaient de moins en moins (lourdes). Tout d'abord la maison a tombé. Les murs ont craqué, sans espère(r) pour la (une) reconstruction. Puis, les enfants. Un par un, les enfants sont perdus, chacun dans son (leur) coté, comme les agneaux sans le berger. Sans la maison and sans les enfants, le jardin a rapidement (été) détruit et séché.
Les femmes encore courent (encore) en oubliant la raison et le but de leur courir (course). Dans ce (cette) course, elles ont déjà transcendé les deux, eux-même(s) et les homes, mais elles continuent, avec un charge nouveau et inconnu.
Sans une grande excitation, les homes les montrent du coté. Comme beaucoup des ans précédentes, ils les montrent et il pensent, chacun pour lui-même (soi-même): » Ces femmes sont folles! Elles cour(ent) sans raison tout le temps, mais elles ne font rien. J'arrive après le (mon) travail tellement fatigué et tellement faim (affamé), mais il n'y a encore rien à manger! »