Taman kada smo pomislili da, sa novonaučenim pojmovima i terminima svakodnevnog engleskog jezika, konačno možemo i na ulicu i  u društvo i na posao, rekoše nam da to nije dovoljno i da nam je za posao potreban još jedan, specijalni kurs poslovnog engleskog.
Naši bankovni račun se sve više tanjio, ali kao i svi dobri đaci, krenuli smo opet u školu. Nas trideset sa, bar četrdeset diploma u rukama, sedelo je i učilo o pristojnom oblačenju zaposlenih Kanađana, o tome kako oni jedni druge pozdravljaju, kako se svakodnevno tuširaju, peru zube, vredno rade po ceo dan, kako ne zarađuju dovoljno, kako zbog mnogo rada, niskih plata i visokih kredita redovno plaćaju psihijatra i kako se, istovremeno, veoma trude da im CV uvek bude spreman za neku novu poslovnu priliku.
Nije nam baš bilo jasno to oko pranja zuba, tuširanja, oblačenja i pozdravljanja, ali tuđa zemlja, druge navike, nismo mnogo pitali. Odgovor je stigao kasnije, kad smo već napamet znali sve "action words", potrebne za jedan ozbiljno dobar CV i uspešan "intervju". Učili smo  "action words", ali  ne i glagole, jer se po kanadskim školama gramatika skoro i ne spominje, pa bi reč « glagol » mogla da zbuni naše predavače.
Bez obzira da li smo bili lekari, inženjeri, profesori, pravnici, svi naši CV-ovi bili su, poput jelke, okićeni pompeznim "action words": naplatiti,  doprineti, rešiti, uštedeti, sarađivati, miminozovati, maksimizovati…, a najvažniji saveti za potencijalni "intervju" podsećali su na skečeve iz trećerazrednih filmskih komedija: "Kažite dobar dan! Stavite kravatu! Obucite sivu suknju, obavezno ispod kolena! Ne ukrštajte noge! Ne naslanjajte se! Budite nasmejani, ali ne previše! Pokažite antuzijazam, ali ne previše! Pitajte pitanja, ali ne previše!"
Dvadeset i nešto godina, nekoliko firmi i dve države kasnije, mislim da takvi programi više i ne postoje. Nije ni čudo. Iscrple su se sve 'action words », lingvisti još nisu smislili nove, a Google je, ionako, pun saveta i CV-a. Prekopirati CV za bilo koje zanimanje, « action words » ostaviti kao u primeru, promeniti samo ime, godine, mesta.
Sve ste to već uradili i još uvek nemate posao?
Nemojte skidati pirsinge! Rupe na vasem licu ružne su isto koliko i sami pirsinzi.
Nemojte skrivati tetovaže! Stavili ste ih da bi se videle.
Ne prefarbavajte ponovo kosu u njenu prirodnu boju! Taman ste postigli ono što ste toliko dugo želeli – da vam glava bude zelena.
Ne gubite vreme za brisanje FB profila! Google ga je sačuvao, a onaj ko vas intervjuise ionako zna sve o vama.
Ako ih slučajno imate, ponesite sa sobom manire kojima su vas, u detinjstvu, učili u kući i u školi! Ako ih nemate, neće vam pomoći ni siva suknja ispod kolena ni kravata. 
Budite jednostavni! Budite iskreni! Budite sigurni u sebe, ali ne budite pretencizoni! Budite normalni!
Proširite svoje znanje! Videćete, nije teško.
Ako ovo uradite, »action words » će se same nizati.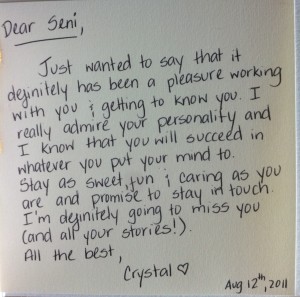 All this in English:
Just when we thought that our English was good enough to get on with our everyday life among the fellow Canadians, we were told that, to find a job, there's one more necessary course to go to. A course of the Business English.
Our bank account was pretty empty, but like all the good students, we went to school again. Tirty of us in a classroom, with little less than forty diplomas in hands, were taught how to brush our teeth, how to dress, how to take a shower, how to greet, how to work long hours, how to find a psychiatrist to help us deal with a stress caused by the small salaries and high mortgages and how to, with not so much money and so much stress, pay him his steep charge, of course. We were, also, taught that our CV must be up-to-date all the time, in case the new opportunity knocks at the door.
We did not really understand the whole thing about brushing teeth, taking a shower, greeting etc., but we were in a foreign country, who were we to ask and judge. The answers came later, when we knew all the « action words », so necessary for one seriously good CV and for an interview that would, finally, get us a job. We learned the « action words », but not the verbs, as the grammar hasn't been very important part of Canadian education system and the verbs could really confuse our teacher. 
Regardless of the fact that among us, students of the Business English, some were doctors, other professors, lawyers, or engineers, all our CV-s were full of the same, pompous « action words »: contribute, save, cooperate, minimize, maximize, lead…, and the most important pieces of advise sounded like they just came from the cheap, second-rate comedies: Say 'Good morning'! Wear a tie! Wear a grey, no-shorter-than-a-knee-length, skirt! Don't cross your legs! Don't lean on the back! Smile, but not too much! Express your enthusiasm, but not too much! Ask questions, but not too many! 
Twentysomething years, a few different companies and two coutnries later, I believe that these programs don't even exist anymore. No wonder! All the « action words » have been used by now, the linguists haven't come up with the new ones yet and, Google has an advice for everything and everyone, enyway. Copy-paste a CV for any occasion! Or any profession. Change names, dates and place, and a new, personalized version is ready, just for you.
You've done all of this and don't have a job yet?
Don't take off your piercing! The holes on your face are even uglier than the piercing itself.
Don't take your tattoos off, either! You put them on to be visible, at the first place.
Don't dye your hair back to its natural colour! You've always dreamed about having your head green.
Don't waste your time on eliminating your FaceBook profile. Google has it saved already and so does your employer.
If, by any chance, you still have the manners your parents have taught you during your childhood, take them with you! If you don't have them, neither a grey, no- shorter- than- the- knee- length skirt, nor a tie will help you.
Be simple! Be honest! Have enough self-esteem, but don't be obnoxious and pretentious! Just be normal!
Broaden your horizons! Don't worry, it doesn't hurt.
If you do all this, the « action words » will come with time. For sure.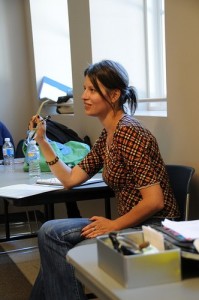 En français:
Juste quand nous avions cru que nos anglais quotidien était assez bon pour la vie avec les autres, on nous a dit que ce n'était pas tout et qu'on devrait aller au (a un) programme spécial, pour l'anglais des affaires.     
Notre conte était presque vide, mais comme des (de) bons élèves, on commençait un cours nouveau. Trente professionnels avec en peu moins de quarante diplômes avaient appris le façon canadienne de s'habiller, de prendre une douche, de se brosser les dents, de se battre avec (le) stress causé par les longues heures et les petits salaires, et pour (de) payer le physiologiste, après tout ça. Dans le (En) même temps, on nous a dit que notre CV devait avoir beaucoup «de mots d'action», il devait être plus fort que des (les) ?? autres et il devait être prêt pour tous les opportunités professionnelles.
On n'avait pas compris ce qu'ils voulaient (nous) dire avec le brossage des dents, le douche, le façon de s'habiller, ou salutation, mais nous étions dans le (un) pays étranger et nous ne demandions pas beaucoup. La réponse est arrivée plus tard, quand nous savions tous « mots d'action » pour un bon CV et un entrevue réussie. On apprenait « les mots d'action » in (au) lieu des verbes, parce que la grammaire n'est pas trop importante dans les écoles canadiennes et les verbes pouvaient faire confuse (confondre) notre maîtresse.
Indépendamment si nous étions docteurs, profs ou avocats, tous nos CV-s avaient les même « mots d'action » pompeux: contribuer, résoudre, sauver, coopérer, minimiser, maximiser, réaliser, implémenter… Les conseils les plus importants pour les entretiens réussi sonnaient comme les lignes des mauvaises comédies: Dites 'Bon jour'! Mettes un costume gris, ou une jupe grise, (au) dessous des genoux! Ne crossez pas vos jambes! Soyez sérieux, mais pas trop! Montrez votre enthousiasme, mais pas trop! Posez les questions, mais pas beaucoup!
Vingt et plusieurs ans (années), deux pays et plusieurs entreprises plus tard, je pense que ces programmes n'existent plus. Ce ne me fait (Cela ne m'a) pas surprise. On utilisait tous « les mots d'action » et Google est pleine de conseils. « Copy-paste « l'un de millions des CV-s sur ligne, seulement changez le nom, l'endroit et l'an et voilà! C'est votre CV personnel et originale.  
Vous l'avez fait déjà et vous n'avez encore pas trouvé l'emploi?
Ne supprimez pas votre piercing! Les trous sur votre vissage sont encore plus laids comme les piercings eux-même(s).
Ne cachez pas vos tatouages! Vous les avez mis pour être visible.
Ne reteignez pas vos cheveux à votre couleur naturel! Vous avez toujours voulu avoir la tête verte.
Ne perdez pas votre temps sur (à) éliminer votre profile de Facebook! C'est déjà, sans doute, sur Google et sur la table de votre entreteneur (interviewer).
Si, par hasard, vous avez des bonnes manières que vous preniez (avez apprises) de votre parents, de votre maison (chez vous) ou de (pendant) ? votre enfance, profitez-en! Si vous ne les (n'en) avez pas, ni la jupe gris (au) dessous vos genoux ni le costume ne vous aideront pas à réussir. 
Soyez honnêtes! Soyez naturel!  Ayez la confiance à (en) vous-même! Ayez le (du) respect à (envers) les autres! Montrez le (du) respect à (envers) l'autorité! Étalez votre savoir-faire!  Ce n'est pas trop difficile, vous verrez.
Apres tout ça, « les mots d'action » arriveront eux-même, avec le temps.