Globalizacija je u naše živote ušla tiho, kroz sporedna vrata. Nismo je primetili dok smo, umorni od učenja, teške istorije i budućnosti koja ne obećava, gledali holivudske filmove koji su se, bez obzira na svu dramu u sebi, uvek i neizostavno, završavali srećno. Holivud i njegov večiti, srećan kraj provlačili su se između naših knjiga, između poslova koje smo neuspešno tražili i nismo nalazili, vesti koje smo slušali, između sve punijih izloga i naših, sve praznijih, džepova.    
Prepoznavali smo se u mnogim od tih drama, poistovećivali se sa njihovim akterima, želeli da i mi budemo deo tog srećnog, filmskog kraja.
Učili smo vredno, dobijali nagrade i diplome, gazili u život krupnim koracima. Imali smo san. Tražili smo poslove kojih je bilo sve manje. Roditeljski stanovi su postajali sve tesnji, firme i fabrike su se zatvarale. S našim odrastanjem rasle su i naše potrebe, kupovalo se na kredit, uz velike dugove i jos veće kamate.
S propadanjem firmi i fabrika, propadala su i naša prijateljstva. I dok su se rušili berlinski zidovi i otvarale se granice Evrope, dok se svet ujedinjavao preko raznih H&M-ova, Zara, IBM-ova, Apple-ova, KPMG-ova, Telecom-va, MSN-ova, FB-a, mi smo postajali sve samlji, siromašniji i usamljeniji. Očajni akteri ličnih i socijalnih drama želeli smo samo da izađemo is tog našeg tužnog filma. Sa diplomom u ruci i sa ono malo sitniša iu džepovima zaputili smo se direktno u Holivud. U srećan kraj.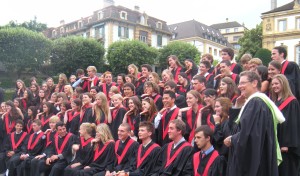 All this in English:
Globalization has entered our world quietly, through a side door, while, tired of studding, of a burdening history, an unpromising future, we were watching Hollywood movies, their great, colourful dramas end ever lasting happy endings that ran through our books, our unemployment and our empty pockets.
By recognizing our own lives in those dramas, we were imagining having a role in them, being a part of a great story, with a happy end.
We were studying, competing, receiving awards, getting our diplomas. We had a dream. We were looking for jobs, but jobs were scarce. Our parents' homes were becoming smaller, more and more companies were closing down for good. We were growing up, but so were our needs. We lived on credits, with large debts and even larger interests.
Along with the deterioration of the economies, our friendships were, also, deteriorating and while the political walls were collapsing and the boarders all over Europe were disappearing, while the world was becoming cosier, united through all the H&M-s, Zara-s, IBM-s, Apple-s, KPMG-s, Telecom-s, MSN-s, FB-s etc., we were becoming poorer, lonelier and more isolated than ever. Desperate actors of the personal and social dramas, all we wanted was to get out of those sad movies. Diplomas in hands and with very little cash in our pockets, we headed straight to Hollywood, to reach the happy ending.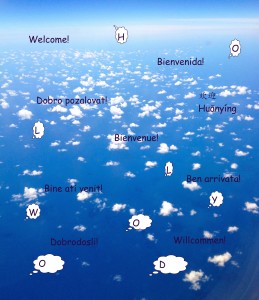 En français:
La mondialisation est arrivée tranquillement, par la porte latérale, dans nos vies. Fatigués d'apprendre, de l'histoire dure et de la (du) future que (qui) nous ne (ne nous) promettre (promet) rien, nous avons regardé les films d'Hollywood et nous ne (n'avons pas) remarqué pas quand elle est venue. Les films hollywoodiens qui passeraient (passaient) à travers nos livres, notre chômage et nos poches vides, bien que plein de la drame, étaient plein de couleurs et ils ont toujours eu (avaient toujours) une fin heureuse.
Nous nous sommes reconnus dans ces drames colorés et nous voulions être leur acteurs, de sorte que (afin que) nos drames ont (aient) la fine heureuse. 
On apprenait beaucoup, on allait aux concours, on gagnait des prix et des diplômes. On avait des rêves. On cherchait des emplois, mais ils ne suffisaient pas. Les appartements de nos parents devenaient trop petits et de nombreuses entreprises et des usines fermaient leur portes. Nos besoins ont grandi avec notre grandir (croissance), on achetait par de (à) crédit, avec des grand(e)s dettes et avec (des intérêts) encore plus grands intérêts.   
Avec la détérioration d'entreprises et d'usines des entreprises et des usines, nos amitiés ont commencé (à se) détériorer aussi. Pendant de démolition des mures politiques et d(l)'ouverture des frontières européennes, alors que le monde commençait (à s') uni(r) par les H&M-s, Zara-s, IBM-s, Apple-s, KPMG-s, Telecom-s, MSN-s, FB-s, nous devenions de plus en plus pauvres et de plus en plus solitaires. Les acteurs désespérés de drames personnels et sociaux, nous avons voulu de partir ce notre film triste. Avec les diplômes dans nos mains et avec an peut de liquide dans nos poches, on allait (est allés) directement à Hollywood, à trouver cette fin heureuse.