– Ogledalce, ogledalce, kaži nam ko je najlepši, najbolji i najpametniji na svetu.
– S nekom falinkom su svi, ali  zna se da najlepši, najbolji i najpametniji smo mi!
Nije što smo naši, ali stvarno smo najlepši, najbolji, najzgodniji. A tek što smo pametni – ma, nema nam ravnih! Jednom reči, neodoljivi.
Ovi su pegavi. Ovi mnogo niski. Ovi Debeli. Ovi bez ikakvog stila. Stipse neviđene. Neobrazovani. Proždrljivi. Podriguju. Vidi šta jedu. Ne znaju ni da kuvaju. Ma, zato i jesu takvi. Što se malo ne pogledaju u ogledalo? A, vidi nas!
Naše ogledalo je ogromno, jasno i čisto, naravno. Svi zajedno stanemo u njega, a onda se, u nedogled, divimo onome što vidimo. Uglavnom iza zatvorenih vrata, kad mislimo da nas drugi ne vide i da nas ne čuju. Divimo se bučno, busamo se u prsa, orden za ordenom kačimo. Zidovi da se tresu, staklo da popuca! Sve do momenta dok ne počnemo da rešavamo unutrašnju ili, još bolje,  svetsku politiku. Tad zaboravimo i na ogledalo i na svo ono ordenje kojim smo se okitili, pa se tako okićeni ogledali, lepši i bolji od svih. U tim raspravama postajemo samo pametni, ali nikada zajedno, već svako za sebe i sa svojim mišljenjem.
Od momenta kada smo zajedno najbolji i kada ginemo jedni za druge, pa do momenta kada, zbog različitog mišljenja, jedni zbog drugih poginemo, naše ogledalo se potpuno iskrivi i postane sasvim mutno. Ali, to je iz neke druge bajke… 
                                           <<<<<<<<>>>>>>>>>
Čuje za taj nadaleko čuveni i svevišnji narod Kraljica i reši da nam pokaže ko je, ustvari, glavni u celoj priči. Ponudi nam jabuku, zauzvrat zatraži ogledalo, a mi joj ga, naravno, ljubazno damo. Ubedjena da će sjajem svoje krune iz ogledala zaseniti i najlepsšeg od nas, pogleda se samouvereno. Kad umesto svog kraljevskog lika opet ugleda nas, preneraženo zaključi:
"Nerado, ali sa dužnim poštovanjem zaključujem da su Srbi neuništiv narod ekstremnog karaktera. Ili su isuviše ljubazni, ili su isuviše cinični i nepristojni. Takođe, zaključujem da su neizmerno velikodušni, čak i kad vas nerviraju. I upravo je ta njihova velikodušnost ono što me čini da ih toliko volim."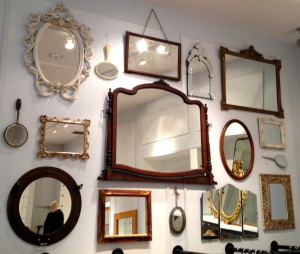 All this in Englsih:
Mirror, mirror, on the wall, who's the fairest of us all?
"We all have faults, big or small, thus you're the fairest of us all."
Not only because of the mirror, but we really are the fairest of all and that we know. We are the most beautiful, the most handsome, and, the smartest, of course. We are, simply, irresistible!
These are too freckled. These are too short. Too big. Have no style. Uneducated. Stingy. Voracious. They burp. Don't know how to cook. No wonder they look like this. But, look at us!
Our mirror is big and clear, we can all fit and admire our image in it. Mostly behind the closed door, though, when there is no one to see us, or to hear us. And that's how we stand together, all beautiful, smart and irresistible until we start talking politics, domestic, or international, it's all the same. All of a sudden our image changes, the mirror becomes crooked and blurry, and we forget all that beauty hat make us much better than others. 
                                       <<<<<<<<<<<<>>>>>>>>>>   
… Came the day when the Queen heard about those people and their mirror. She had to find them and prove to the world who really is the fairest of all and who should, really, stand above all. She knocks at our door, offers us an apple and asks for the mirror. With the door open we take the offer and, in exchange, kindly hand her a mirror. She places it towards her face and when, instead of her beautiful self, she saw the bunch of us in the mirror again, furious she only said:
"In my experience Serbs are heavenly nation and their character is the extreme one. They are either over the top wonderful, or over the top cynical and rude. I find them generous, even if they're assholes. It's this generosity that makes me love the Serbian people a lot."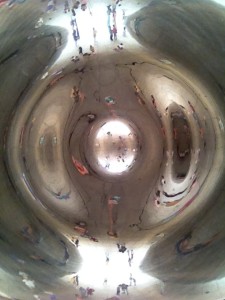 En français:
Miroir, miroir joli, qui sont les plus belles et les meilleurs personnes au pays?
"Tout le monde a (commet) des erreurs, mais sans doute, vous êtes les plus belles et les meilleurs." 
Pas par le miroir seulement, mais nous sommes vraiment les plus belles, les plus attrayants et les meilleurs et nous savons tout ça, bien sure. Nous sommes, simplement, irrésistibles!   
Ces gens (peuples) ont plein de taches de rousseur. Ceux-ci sont trop faibles. Trop gros. Ils n'ont pas du (de) style. Ils sont incultes. Pingres. Voraces. Ils ne savent pas cuisiner (faire cuire?). C'est très (tout à fait) normal qu'ils ont (aient) l'air comme ça. Toutefois, regardez-nous!
Notre miroir est grand et claire. Nous nous mettons en face de lui et nous (y) admirons notre image là-bas. Nous nous montrons ensemble, tellement les plus belles, les meilleurs et irrésistibles, presque toujours derrière la porte fermé, sachant qu'on ne peut pas être vus ou entendus. C'est comme ça jusqu'à ce que nous commençons (a) parler sur la (de) politique intérieure ou internationale, c'est tout la même (les deux sont la même chose). Puis, notre image change, le miroir devient mal (mouvais) et floue et nous oublions sur tout qu'a nous fait beaucoup mieux que d'autres (ce qui nous rendait meilleurs que les autres).
… Un jour, la reine a entendu sur (de) ces peuples et sur (de) leur miroir. Elle a décidée (de) les trouver et (de) leur montrer qui est, vraiment, la plus belle et la meilleure personne sur le monde. Elle a frappé à la porte, elle nous a offert une pomme et elles nous a demandé le miroir. Avec la port ouverte, nous avons pris (accepté) l'offre et, avec beaucoup de plaisir, nous lui avons donné le miroir. La reine lui a pris (l'a pris), elle lui a (l'a) mis debout et elle s'est regardée. In lieu de la plus belle rien (reine), elle a encore vu notre image à le miroir et, dans (sous) un grand choc, elle s'est évanouie. Avant qu'elle est tombée (de tomber), elle avait assez de temps à (pour) dire: 
"Dans mon expérience, les Serbes ont un caractère extreme. Ils sont fréquemment trop formidables, ou trop cyniques et trop impolis. En autre, je trouve que tous les Serbes sont généreux, même quand ils sont les cons (?). C'est leur générosité que me fait (que je) les aime beaucoup."