Hranim se normalno. Bar mi se tako čini. Pazim, gledam, čitam. Pazim i šta čitam. Ali, što više čitam, to manje znam.
Kafu obožavam. Miris, ukus, ceremoniju spremanja, ispijanja, ma sve! U "objektivnim" novinama pročitam članak pun razloga zbog kojih kafu ne treba piti. Smanjim. Ne ide to smanjivanje lako, ali se trudim. Stvarno. Šest meseci kasnije, iste novine, opet članak o kafi, ali ovog puta sa deset novih razloga zbog kojih je kafa odlična za imuni sistem i zdravlje u celini, zbog čega bi je trebalo piti što česće.
O mesu, jabukama, hlebu, pšenici, zelenišima i svim novim biljkama i zrnevlju za koje niko, nikada ranije nije čuo, više ne čitam. Srećom! Pa, trebalo bi mi nedelju dana pročitam, još nedelju da naučim terminologiju, meseci da počnem sve da primenjujem i tri plate da sve to podmire. U međuvremenu, rafovi po prodavnicama sve puniji teglama svih mogućih vitamina i hemijskih formula, a stizu i novi članci na istu temu, sasvim suprotni od prethodnih. Da li se njihovi autori stvarno ne sećaju šta su prošli put napisali, ili smo pomešali hranu i modu? Krompir? Pa to je tako 'passé'! To je toliko 'Srednji Vek'! Danas samo morski kelj. Sa nekoliko čia semenki. I puno vode. Obavezno.
Nema vise vesti. Uglavnom slušamo, gledamo i čitamo mitove. Osim onih nekoliko, najčešće vezanih za bombardovanja, eksplozije, nestale avione. Ili, za kišu, vetar i spoljnu temperaturu. Valjda to još uvek ne može da se prikrije i da se modifikuje. Može, naravno, sve ono što stoji iza tih događaja, ali ono vizuelno, možda još uvek ne može. Može se sakriti "nestali" avion, mogu "nestati" i njegovi putnici, može se izmisliti broj nestalih ljudi ispod ruševina tamo negde, u dalekom svetu, ili bliže, mogu se izmisliti razlozi, priče, događaji, ali ne mogu se sakriti lica ljudi cija su suza i patnja veće od života. E, a to je, onda, vest. Vest ostaje, ta suza i ta patnja, a price, razlozi i događaji se menjaju iz minuta u minut, od mesta do mesta, od jednih medija do drugih. A, broj medija u svetu? E, to se vec ne zna, to je već mit.
All this in English:
I eat normally. Or, so I think. I care about what I eat, I watch, I read about it. I pay attention to which newspapers I read. But, (the) more I read, (the) less I know.
I adore coffee. Everything about it. The smell, the taste, the ceremony around making it, the sipping ritual, everything! The article in a "non-biased" paper lists the number of reasons for which we should not be drinking coffee. I read it and cut back on my consumption. That doesn't go very smoothly, me trying to drink less, but I try hard, really hard. Six months later, the same paper, that "non-biased" one, as I read only those, comes out with a new article on the same topic. Only, this time, there are ten reasons for which coffee is very good for our immune system, thus we should be drinking it without hesitation and, if only, more often. 
The articles about meat, apples, wheat, greens and new plants for (of) which no one ever heard before, I do not read any more. Luckily! It would take me a week to read them all, another week to learn the terminology, months to apply everything read and three monthly salaries to pay for all the ingredients. Meanwhile, the shelves in grocery stores have become packed with all sorts of vitamins and chemical formulas. The new articles on the same topic have also come, only this time advising the opposite from those previously published. Have their authors forgotten what they wrote last time, or have we confused food and fashion? Potatoes? That's so passé! That's so Middle Ages! Today, sea kale, please. With a few chia seeds. And, lots of water.
Nothing is news anymore. We, in most cases, watch, read and listen to the myths. Apart from those few, mostly about bombarding, explosions, missing air-planes… Or, about weather. Apparently, that can be neither hidden, nor modified, not just yet. Sure it can, everything about reasons behind can be concealed, changed, adjusted, revamped. However, what we see, not what we hear, or read, that is still relevant. The real story about a missing plane and its passengers can be concealed, the real number of dead under the ruins can be modified, but the faces of people whose tears and suffering are greater than life, they can not be concealed. And, that is the news. Those tears and suffering, they are the news and they are here to stay. The stories, the reasons, the events, they'll keep changing from minute to minute, from one place to another and from one media, to the next. The number of different media in this world? That's something no one knows for sure. That is a myth.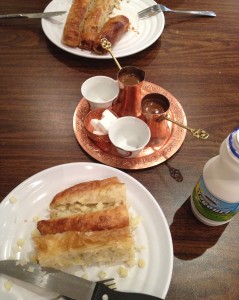 En français:
Je mange (me nourris) normalement. Au moins, c'est (ce) que je pense. Je fais attention à ma nourriture (aux aliments), je regard (suis) et je lis des article de ce sujet. Je fais attention aux journaux que je lis, aussi, mais plus je lis, moins je sais.
J'adore le café. J'adore sa senteur, son arôme, la cérémonie de le faire, de le boire, tout! Dans les journaux "objectifs" je lis les articles plains des (de) raisons pour lesquelles le café n'est pas bon pour notre santé. Et, je le réduis. Ce n'est pas simple, mais j'essaye vraiment (de le faire). Six mois plus tard, dans les mêmes journaux, un nouvel article sur le cafe (apparaise), mais cette fois-(ci), avec tous les raisons pour lesquelles nous devrions boire du café plus souvent.
Je ne lis pas sur le sujet des pommes, du pain, de la viande, des céréales, les plants vertes, ou des nouvelles plants sur lesquelles personne ne sait rien. Heureusement! On me devrait (On devrait me donner) une semaine pour le lire, une semaine pour comprendre la terminologie, un mois pour l'appliquer et trois salaires à payer pour tout cela. Dans l'intervalle, des étagères dans les magasins sont plains avec des (de) bouteilles des (de) vitamines et des (de) formules chimiques. Les nouveaux articles arrivent, mais ils dissent (disent) le contraire des derniers sur le même sujet. Est-ce que possible que leur auteurs ont (aient) oublié ce qu'ils écrivaient la dernier fois, ou nous sommes (sommes – nous) confus à (sur) ce qu'est la nourriture et ce qu'est la mode? Des pommes de terre? Mais non, c'est tellement passé/demodé! C'est tellement Le Moyen Age! Aujourd'hui nous mangeons le (du) chou frisé de la mer avec quelques graines des chia. Et, plain d'eau après cela, c'est mpératif.   
Il n'y a pas plus des (de) nouvelles. Tous sont pour la plupart des mythes. Sauf quelques uns qui parlent sur les bombardement(s), des explosions, des avions disparus, ou de la pluie, le (du) vent et (de) la température extérieure. C'est possible qu'ils ne peut pas se cacher (ces données ne puissent être cachées). Bien sure, c'est possible casher et modifier tout cela comme – des raisons réels (réelles), l'événements réels qui restent derrière ces histoires. Mais, les faits visuels, ils ne peuvent pas être modifiés ou cachés. Il est possible (de) cacher l'avion disparu, il est de même possible casher ses passagers, il est possible (de nous) donner le nombre incorrect de gens morts, tout (cela) est possible. Mais, il n'est pas possible (de) cacher les visages des personnes dont les larmes et la souffrance de certaines personnes sont plus grands que leur vie. Et, c'est déjà la nouvelle. La nouvelle (qui) reste avec nous, ces larmes et cette souffrance, mais les raisons, les événements, ils changent de minute en minute, du lieu (d'endroit), en lieu (en endroit), de média en média. On sait Combien de médias il'y a dans la monde? Hm, on ne sait pas exactement. C'est tout un mythe.