Pitamo se.
Da li smo i mi bili takvi. Uplašeni. Zbunjeni. Nesigurni. Usplahireni. Neiskusni. Lepi.
Da li će im neko posvetiti pažnju. Reći « Dobrodošli! ». Pokazati gde su. Naučiti ih nešto.
Oni koji znaju nemaju vremena. Oni sa iskustvom nemaju živaca. Oni koji imaju vremena nemaju ni znanje ni iskustvo.
Staviće im na sto najdeblju fasciklu sa dokumentima koje niko više ne gleda. Za tri dana dobiće i svoju email adresu. Sledećeg ponedeljka doneće im na potpisivanje ugovor o stažu. Za mesec dana biće ponovo u školi.
Svako jutro napuniće do vrha svoju veliku šolju kafe. Jutarnja kafa za opuštanje. Sledeća za sigurnost. Pa za samouverenost. Poslepodnevna za dosadu.
Lepuškaste mlade glave pune pitanja. Je li ovako svaki dan. Kako izgleda posle godinu dana. Kako posle trideset godina. Glupo im je da pitaju. A ne znaju ni koga.
Krajičkom jednog oka pokušavaju da obuhvate ceo prostor. Onaj čovek stalno negde žuri. Izgleda da sve zna. Svi ga nešto zapitkuju. On im je, sigurno, glavni. Zašto ne podeli svoj posao sa drugima. Kako su tako neorganizovni.
Ruke ne skidaju sa tastature. Oči sa ekrana. Za svaki slučaj.
Srećni su. Našli su praksu. Steći će radno iskustvo. Moći će da nešto da napišu u svoj CV. Nadaju se da će im sledeće godine ponuditi posao. Da će primati platu. Treba im novac. Moraju da otplate školarinu. Da kupe auto. Da kupe stan. Da otplate auto. Da otplate stan. Da stvore porodicu. Da plate deci školu. Da uštede za penziju. Možda i da negde otputuju. U neko jeftino odmaralište. Sanjaju da odu na krstarenje. « All inclusive ».
Jedna starija žena im prilazi. Nudi im keks. Nečija tuđa mama ih celo jutro posmatra. Razmišlja o svojoj deci, u nekoj drugoj, istoj ovakvoj kancelariji.
II
Pitamo se da li je trebalo.
Zaboraviti sve dobre, stare zanate. Odbaciti sve alate. Izgubiti želju da nešto sami stvorimo. Da napravimo. Da popravimo.
Njih trojca vole da stvaraju. Traže praksu. Traže majstore. Stolar je star. Krojač je skoro slep. Obućar je zatvorio radnju. Nema više majstora.
Jedan će otići do vodoinstalatera. Leto će mu proći oko wc šolja, ali ne želi da misli o tome. Drugi ide kod električara. Plaši se struje, ali prebrodiće strah. Onaj treći je odlučio da zida. Pući će mu mlada leđa, ali ne mari.
A šta ako i ti zanati nestanu? 
Možda će se, na kraju, sva trojca ipak postati pekari. Jer hleb koji te hrani nikad se ne odbacuje. Nikada.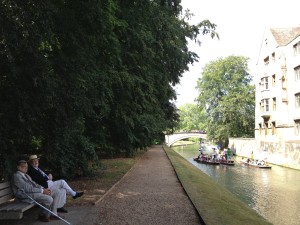 All this in Englsih:
We ask ourselves.
Wether we were the same then as they are now. Scared. Confused. Insecure. Enthusiastic. Beautiful.
Whether someone will pay attention to them. Welcome them. Show them where they are. Teach them something. 
Those who know something, they don't have the time. Those with an experience have no patience. Those who have the time, have neither knowledge, nor experience.
The heaviest binder, one of those that no one cares about anymore, has been just dropped on their desk. In three days they will get their email address. Next Monday, they will sign their internship contract. In a month, they will be back in school.
They take coffee first thing in a morning. The morning coffee, to relax. The second one will come later, for the reassurance. The next one for self-confidence. The afternoon one out of boredom. 
Smart cookies, full of questions. Is it like this every day. What happens in a year from now. In thirty years from now. That'd be stupid to ask. They don't know who to ask, either.
That man over there is always in a hurry. He seems like he knows everything. They keep asking him something all the time. He must be a boss. He could delegate a bit more. They are so disorganized.     
Their hands are glued to the keyboard. Eyes to the screen. Just in case.
They're happy. They have an internship. They'll have a work experience. They'll be able to update their CV. They hope to be offered a job next year. They'll have a salary. They need money so badly. To pay off their schooling. Buy a car. Take a mortgage. Pay the mortgage. Have a family. Pay for the kids' school. Save for retirement. They'd like to go some place far away.  To a resort. They dream of a cruise. "All inclusive".    
The elderly woman approaches their desk. Offers them cookies. Someone else's mom has been watching them all morning, thinking of her own child, in another office, just like this one.
II
We ask ourselves.
Wheter it was necessary to forget all the trades. To get rid of all the tools. To  repress the desire to make something. To repair, restore something.
The three of them are hands-on guys. They love to create things. They look for apprenticeship. They look for craftsmen. The carpenter is too old. The tailor is almost blind. The shoe maker sold his shop. No more craftsmen. No artisans.
One of them will check with a plumber. He'll spend his summer fixing toilets. The other one will check with an electrician. He's afraid of heights, but will climb the electric poles. The third one will learn to be a mason. His back will break, but so what.
But, what if those three trades disappear like all the others?
They decided to become bakers. Because, one never discards what feeds him. Never discards bread. Never.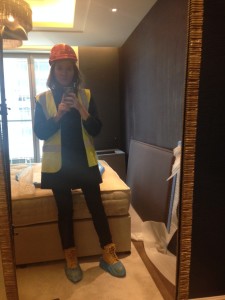 En français:
I
Nous nous demandons:
Si nous serions (étions) comme eux. Effrayés. Incertains. Enthousiastes. Manquant d'expérience.     
Si il y aurait (avait) quelqu'un qui fera (faisait) attention à eux. Pour leur dire "Bienvenu". Leur montrer où ils sont. Pour leur apprendre quelque chose.
Les gens le plus travailleurs n'ont pas le temps. D'autres, avec l'expérience, n'ont pas des nerveux (n'en ont plus la patience). Ces, qui ont le temps, ils n'ont pas ni (le) savoir-faire, ni l'expérience.    
On mettra le plus gros dossier sur  sa table. Après trois jours on installera son ordinateur. Lundi prochain on donnera le contrat de le stage. Dans une mois, ils encore seront (seront encore une fois) à l'école. 
Chaque matin ils prendront le café. La première tasse pour la détente. La deuxième pour la confiance. L'une pour le courage. L'outre pour l'ennui.       
Des jeunes têtes belles, plains des questions. Est-ce comme ça tous les jours. Qu'est ce qu'il (qui se) passera dans un an. Dans trente. C'est stupide de demander. À qui demander.        
Cet homme est toujours à la hâte. Il sait tout. Ils lui demandent quelque chose tout le temps. C'est le homme principale. Pourquoi cet homme ne partage pas son travail avec les autres? Quel désorganisation!   
Ses mains sont toujours sur le clavier. Ses yeux en face du écran. Juste au cas où.  
Ils sont heureux. Ils ont décroché le stage. Ils pourront faire le (l'ajouter au) CV. Ils espèrent qu'ils trouveront le job réel l'an prochain. Ils gagneront un salaire. Ils ont besoin d'argent. Ils doivent payer des bourses. Acheter une voiture. Un appartement. Avoir une famille. Payer l'école à ses (de leur) enfants. Epargner pour la retraite. Ils rêvent d'aller sur (en) les vacances. Ils iront à Cuba. Ou, sur la croisière. "All inclusive" est bon. Très bon.             
Une dame agée les regarde. Elle viens. Elle leur apporte des biscuites. La mère d'un autre étudient, dans un autre bureau.
II
Nous nous demandons. Si c'était nécessaire.
Oublier tous des artisanats anciens. Abandonner tous des outils. Ou un désir pour faire quelque chose. Pour repaire quelque chose.
Les trois jeunes hommes aiment créer. Ils souhaitent être des artisans. Ils trouvent le stage. Ils trouvent des maîtres. Le dernier charpentier (menuisier) est vieux. Un seulement teilleur est aveugle. Le cordonnier a fermé son magasin. Il n'y a pas plus de maîtres.         
Ils pensent. Les gens ont besoin d'eau et d'électricité. En autre, Ils doivent manger.    
L'un ira chez le plombier. Il passera son été entre des toilettes. L'autre ira chez l'électricien. Il a peur de tomber du pôle (poste). Probablement, le troisième jeun homme deviendra le maçon apprenti.
On toujours aura le travail et l'emploi stable.
Encore, ils deviendront les boulangers. À cause, on ne jette jamais le pain. Jamais.