Luksuz je podeliti ceo jedan kontinent između samo dve zemlje. Kažem dve, jer mi se čini da američka država jedan deo Meksika već odavno smatra svojim, a većina Amerikanaca i ne zna za komšije sa svoje južne strane. Po broju Meksikanaca u Kaliforniji, po jeziku na kome pričaju, po natpisima ulica, prodavnica i restorana reklo bi se da granica, zaista ne postoji, bez obzira na ono što je ucrtano na geografskim mapama.
Granica je, međutim, mnogo veća od one sa mapa, uglavnom ona koja ljude deli po njihovim pravima i načinu zivota. Ako živite i razmisljate po americkim standardima i ako su vam, pri tom jos data i građanska prava u Americi, onda imate jednu posebnu privilegiju, a to je da budete Amerikanac. Biti Amerikanac postaje vaš lični, vaš nacionalni, politički i svaki drugi identitet. Ako niste Amerikanac, onda ste, uglavnom, 'Meksikanac', sve ostalo su samo nijanse. Možda vi nikada niste ni bili u Meksiku, možda dolazite iz Čilea, iz Bolivije ili iz Perua, ali za većinu Amerikanaca to je, ionako, sve jedno isto. Meksikanac. I sve dok radite vredno a ne zarađujete mnogo, dok plaćate taksu a ne očekujete penziju, ta neobična, južna geografska granica možda i gubi značaj u prelascima između dve zemlje, ali vi i dalje ostajete Meksikanac. Američki dolar je veliki, veći od svake granice i sa svakim izgovorenim "Ja sam Amerikanac", on raste još višse, a sa njim raste i samopouzdanje onih kojima je dozvoljeno, ili nametnuto, da se tako deklarišu.
Severna granica je, u mnogočemu drugačija od južne. Fizički, ona zaista postoji i odvaja dve zemlje, granični zakoni na njoj se primenjuju i poštuju, iako je mnogo toga između Amerike i Kanade skoro jedinstveno. Razlike počinju sa socijalnom strukturom, sa nacionalnom i kulturološkom opredeljenjem i identifikacijom, pri čemu vas, biti Kanađanin, ne odvaja ni od vašeg porekla, a ni od vaših sugrađana. U Kanadi, uglavnom, niste samo Kanađanin, nego ste Kanađanin tog i tog porekla, a nije retko da budete i samo Irac, Poljak, Somalijac, Indus, Srbin, Rus, Nemac, Ukrajinac, Kenijac… Vaš nacionalni identitet podrazumeva i vaše poreklo i vaš način života koji se, zajedno sta ostalima sreće i ukršta u Kanadi. Vaša nacionalnst ne određuje automatski i vaše mesto u društvu, a obrazovanje i zdravstveni sistem, kao baza jednog savremenog društva, svima su jednako dostupni.
Amerika i Kanada, zemlje/kontinenti. Amerika je starija i u njoj živi 300 miliona stanovnika. Kanada je mlada, sa dest puta manjom populacijom. Kanada je bogata vodom, jug Amerike je potpuno suv. Amerika zavisi od kanadske vode. Kanada je hladna zemlja, teško naseljiva. Njoj je potrebna američka ekonomija. Izolovane od ostalog dela sveta i zbog toga vrlo usmerene jedna na drugu, ove dve zemlje su kao starija i mlađa sestra bez nadzora roditelja. Starija je mudrija, iskusnija i grublja, mlađa zna da mora da je sluša i da ne sme mnogo da joj se suprotstavlja jer još uvek nije naučila da se sama bori za život, ali se svim srcem trudi da nađe svoj put i da sačuva svoj, s ponosom stečeni identitet.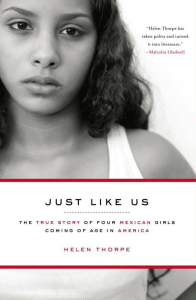 All this in English:
Two countries only, on one vast continent, that is a luxury.  I say two, because, considering the way of crossings between Mexico and USA, the border between these countries seems irrelevant and the big majority of Americans doesn't even know who their neighbours from the South are. Considering the number of Mexican people in California, considering the names of the streets, the architecture, the food, the language spoken on the streets, one can only conclude that, really, there is no border, regardless of what's shown on the geographic maps.
However, the border is huge, especially the one that divides people according to their rights and the their lifestyle. If you think and live according to the American standards, if you are lucky to have the citizen's rights, you are an American. That is your personal, your national and every other identity. If you are not an American, in most instances you are labeled as a "Mexican". Everything else is a melting pot. You can be from Chile, from Bolivia, or from Peru, perhaps you have never even been to Mexico, but to most Americans that's all the same. As long as you are working hard but do not earn much, as long as you are paying the government tax, but you are not entitled for a pension, that odd, southern boarder becomes meaningless, you don't get to be asked much, but you are just a Mexican, withdrawn from many rights of an average American. The American dollar is greater than any borders and each and every time one says "I am American" the dollar grows even more.
The northern border, a straight, almost perfect line that divides two former colonies is different. Physically,  that boarder really exists, deviding two almost identical, yet very different countries by all the applicable regulations. The most obvious differences between Canada and America begin with national and cultural identities. Being Canadian doesn't separate your from either your heritage or from your countrymen. You usually identify yourself as a Canadian of this or that origin, or you may, simply, be Irish, Pol, Somalian, Indian, Serb, Russian, German, Kenyan, Ukrainian… Your national identity refers to your heritage, your culture, your tradition, or your lifestyle and no one gets bothered by it. Your nationality doesn't automatically determines your social status and, as oposed to its neighbour on the south, education and health system, like a faundation of any modern sociaty, in Canada are accessible to all.
United States and Canada, two wast countries, each the size of a continent. America is older, with a population of 300 million. Canada is young, its population is ten times smaller then that one in the States. Canadian water resources are immense. The American South suffers is almost deserted and America relies on Canadian water. Canada is a cold country and many of its parts are hardly habitable, witch makes it dependable on the American economy. Isolated from the rest of the world, and for that reason focused on each other both politically and economically, these two countries are like two sisters without parental supervision. The older one is wiser, more experienced and, thus, rougher at the edges. The younger one is wholeheartedly trying to find its own way in life and to guard her own, proudly acquired identity. In a meantime, she must respect and follow her older sister, as she is still too young to live on her own.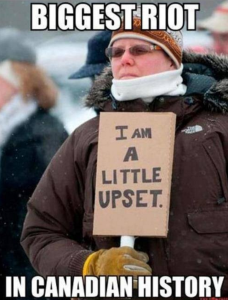 En français:
Deux pays sur un continent, c'est le luxe. Je dis deux pays, parce qu'il semble qu'il y a long temps (longtemps) depuis l'Administration Américaine suppose qu'une partie de (du) Mexique est leur territoire et le majorité d'Americans ne sait pas qu'ils (qui) sont leurs voisines du Sud. Par du (le) nobre de Mexicains qui vivent et qui travaillent en Californie, par la langue qu'ils parlent, par les signes sur les rues, dans les magasins, il se semble que le frontière n'existe pas vraiment. Cependant, la frontière est grande, particulièrement la frontière que divise les gens par leurs droites et par leurs mode de vie. Si vous avez les droits civils (de citoyens), si vous pensez et vivez par les standards américains, vous êtes l'Américain. C'est votre identité personnel, national et politique. Si vous n'êtes pas l'Américain, vous êtes un 'Mexicain' et tout le reste sont des nuances, "the melting pot".  Peut-être vous n'avez été jamais au Mexique, peut-être vous êtes du Chili, de la Bolivie (de Bolivie), du Peru, mais c'est tout le même pour les Américains. Tant que vous travailles dur, vous gagnez en peu d'argent, mais vous payez le(s) taxe(s), tant que vous ne pouvez pas aller au collège et vous n'espérez pas à le (percevoir des) pensions, la frontière sud perd son importance, mais vous êtes un Mexicain. Le dollar américain est plus grand que tous (toutes) les frontières et après chaque fois quand on dit "Je suis Américain" il (cela) grandit, aussi.
La frontière nord est diffèrent(e) que la frontière sud. C'est la ligne droit(e) et long(ue) qui devis deux pays similaires, mais aussi différents. Les autoroutes, les rues, les signes, l'architecture, le souhait pour le succès (le désir pour la réussite), tout de ça se semble similaire. Les différences commencent par le souhait pour le puissance et par l'identité national(e) et culturel (culturelle). Le plus souvent, au Canada vous n'êtes pas un Canadian seulement. Vous êtes le Canadian avec l'origine de la Pologne (polonaise), de la Somalie (somalienne), de l'Inde (indien), de la Serbie (serb), de l'Allemagne (allemand), du Kenya (kényen). Vous pouvez seulement être un Ukrainien, un Russe ou un Chinois… Votre identité nationale arrives avec votre héritage et votre mode de vie, mais vous êtes un Canadian, aussi. Votre nationalité ne fait pas automatiquement votre lieu au (dans la) société et l'éducation et le système (de) santé sont également accessible à tous.
L'Amérique et le Canada ce sont les pays-les continents. L'Amérique est plus âgé(e), avec une population de 300 millions. Le Canada a 30 millions est il est riche avec l'eau (en eau). Le Sud de l'Amérique est sec. L'Amérique a besoin de l'eau canadienne. Le Nord du Canada est glacé et inhabité. Le Canada a besoin d'économie (de l'économie) américaine. Isolés par le (du) reste du monde et pour ce raison ils dépendent l'unes des autres  (ils dépendent, pour cette raison,  les uns des autres), ils (ce) sont comme des soeurs sans leur parents, une aînée et une cadette. La soeur aînée a plus d'expérience, elle est plus sage et plus rude. Le soeur cadette essaie protéger son identité, de tout son coeur, mais elle sait qu'elle doit respecter sa soeur aînée, parce qu'elle n'a pas appris encore comment se seul battre dans la vie.