Bermuda su u naš život došla iznenada i neplanirano. Došla su uz priču o svetu, o odmoru i o položenim ispitima. Došla su kao igra reči, kao novogodišnja šala.
U to vreme, Toronto je već uveliko bio naš dom. Postao je naš dom vrlo brzo nakon što smo u njega stigli, od momenta kad smo mu se dovoljno približili i počeli da mu verujemo.
Prvih mesec dana bio nam je prilično tuđi i stran, drugačiji od svega što smo do tada videli. Preširokim ulicama hodali su predebeli ljudi. U ogromnim supermarketima prodavala se hrana bez mirisa i bez ukusa. U tržnim centrima prodavala se jeftina garderoba bez boje i oblika. Reč arhitektura bila je samo misaona imenica.
Na moje neskriveno i glasno zaprepasćenje onim sto šam videla, na strah od te čudne izobličenosti, lekar mi je, ravnodušno, odgovorio: "Takav je stil života." Čekajući da pođem na kurs engleskog jezika za početnike, moje čudjenje i moj strah su rasli iz dana u dan.
Stajala sam pred velikim metalnim vratima škole za engleski, ne znajući da ih otvorim. U banci su mi tražili vozačku dozvolu, a pošto je nisam imala, kazali su da ne mogu da mi pomognu, jer u Kanadi svi imaju vozačku dozvolu. Od starog Kineza koji je i sam jedva govorio engleski, naučila sam kako se kaže keks. Naš tadašnji stanodavac, poreklom Čeh, dao nam je savet: "Engleski, engleski i samo engleski."
Mesec dana kasnije otišla sam u bioskop i odgledala film "Piano", bez prevoda. Te prve zime moj muž je, na -20C, po centru grada tražio sanke za naše ćerke. Tri sata kasnije vratio se, sledjene glave i bez sanki. Onda nam je baka kod koje smo u to vreme stanovali, na poljskom objasnila da sanke možemo da kupimo odmah iza ćoska, u maloj radnji kućnih potrepština. Počeli smo da radimo i kupili smo kola koja je prethodni vlasnik našao na đubretu. Danas bi taj naš bjuik bio "oldtimer". Devojčice smo upisali u školu na francuskom jeziku. Našli smo omiljenu kafeteriju. Stekli smo prijatelje. Doveli smo i moje roditelje, izbeglice iz Bosne. Uselili smo se u našu kuću, jednu od onih bez arhitekture. Na posao smo odlazili rano, vraćali se kasno. Posle večcere moj muž je učio, ja sam se brinula o ćerkama, roditeljima, kući.
Došla je jos jedna, naša sedma kanadska zima, sneg je padao celu noć, a jutro nas je dočekalo onom bolnom, fluorescentnom belinom. Bezuspešno pokušavajuci da od svojih zaleđenih šaka odvoji lopatu, moj muž se setio novogodišnje šale o Bermudama.
Petnaest godina kasnije, na ovom malom, izolovanom ostrvu usred Atlantika, još uvek se dobro sećam tog snega.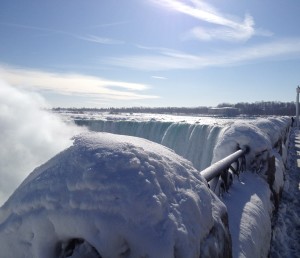 All this In English:
Bermuda has arrived into our life suddenly, unplanned. It arrived during a conversation about the world, vacation and a number of passed exams. 
At that time, Toronto was our home. It became our home very quickly after we got there, as soon as we gave it a chance and started trusting it.
During the first month, though, the city seemed strange and unfamiliar. It was very different from anything we'd known before. Its oversized streets were full of oversized people, huge supermarkets had a very small selection of good-quality food, shiny shopping centres were selling cheap, colourless, shapeless clothes. And, the architecture didn't even exist.
To my great and unhidden astonishment by everything I saw, our new doctor had a simple explanation: "It's a life-style." My "English as a Second Language" course for beginners was just about to start and I understood nothing he was say.
First day of a language school, the baby in hands, I was standing in front of a heavy iron door, trying to figure out how to open it. A bank clerk was very sorry for not being able to help me, as "Everyone in Canada has a driver's licence", and I didn't. The elderly Chinese, in his very limited English, taught me how to say "cookie". Our first landlord, a Czech immigrant, said to me shortly: "English, English and only English. ''
A month later, I went to the cinema and watched "The Piano" without a subtitle. That first winter, at -20C, my husband went downtown to buy a wooden sled for our daughters. Three hours later he got back, completely frozen and empty-handed. An elderly lady, our second landlord, explained in Polish that the hardware store around a corner sells everything, wooden sled included. We found jobs and bought our first car. Today, an old "Buick", found on a dump and refurbished by its previous owner would be the « Old-timer". Our girls got into the "French Immersion" program. We found our favourite coffee shop. Had friends. We brought in my parents, refugies from Bosnia. We moved into our own house, one of those without the architecture. Every day we went to work early and came back late. In the evenings, my husband was studding, I was taking care of the girls, the house and my parents.
Our seventh Canadian winter came. It was snowing all night long and next morning, snow was so high that there was nowhere to plough anymore. With his hands stuck to the frozen shovel, my husband mentioned our conversation about Bermuda.
Fifteen years later, on this tiny island in a middle of the Atlantic Ocean, I still remember that snow.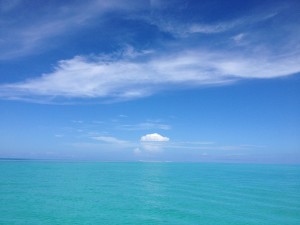 En français:
Les Bermudes sont venus (venues) dans notre vie soudainement et sans planifier, par la discussion du monde, des vacances et les examens réussis. Les Bermudes sont arrivé (arrivées) comme le (un) jeu des mots, comme une blague du Jour de L'An.
Dans ce temps, Toronto était notre maison. Il est devenu notre maison peu après nous y étions venus (notre arrivée), aussitôt que nous l'avons approché et que nous avons commencé à croire en lui.
Au début, la ville avait été étrange et ce s'est apparu (elle est apparue) comme il (si elle) avait appartenu à les autres (d'autres). Il n'avait pas semblé comme (Elle ne ressemblait pas aux) villes que nous connaissions (nous avions connues) jusque-là. Des gens trop gros étions marchés (avaient marché) sur des rues trop larges, des très grands super-marchés n'avaient pas eu (n'avaient pas) la nourriture « normale », des grands centres commerciaux vendaient des vêtements sans couleur et sans forme. L'architecture n'avait pas existé (n'existait pas). 
À ma grande étonnement causés par tout que j'ai vu (tous ce que je voyais) notre nouveau docteur m'a dit (m'avait dit) simplement: "C'est la mode de vie." J'ai attendu pour commencer les leçons d'anglais pour débutants et je n'ai rien compris.
J'ai été (J'étais) en face la grande porte de fer, ne sachant pas l'ouvrir. Dans (À) la banque, on m'a expliqué qu'ils ne pouvaient pas m'aider, parce que, "au Canada, chaque personne a le permis de conduire '', mais je ne l'avais pas. Un vieux Chinois, qui ne savait bien parler anglais, m'ai appris le mot "biscuit". Notre propriétaire, un Tcheque, nous a dit, brièvement: "Anglais, anglais et anglais, seulement". 
Un mois plus tard, j'étais au cinema et je regardai le film "Le piano", en anglais, sans sous-titre. Ce premier hiver, sur -20C (à moins 20), mon mari avait cherché le traîneau pour nos filles dans le centre-ville. Quand il s'est revenu (est revenu), la tête gelée mais sans le traîneau, la vielle dame, qui était notre propriétaire à ce moment là, lui a expliqué en polonais, que le magasin général, au coin de la rue la plus proche, a les traineaux à vendre.   
Nous avions commencé de (à) travailler, nous avions acheté notre première voiture qui était (avait été) trouvée sur le poubelle (la casse) par le propriétaire précédent. Aujourd'hui, notre "Buick" serait un "Oldtimer". Nous avions inscrit nos filles dans L'Immersion française. Nous avions trouvé notre café préféré. Nous avions des amis. Nous avions apporté (emmené) mes parents qui avaient été (étaient) les refuges de Bosnie. Nous avions déménagé (emménagé) dans notre maison, l'une de ces immeubles sans architecture. Nous étions allés (allions) au travail très tôt et revenions trop tard. Le soir, mon mari avait étudié et j'avais fait tout le reste.
Notre septième hiver canadien était arrivé, il neigeait toute la nuit et le matin prochain (lendemain), tenant une pelle dans ses mains gelés, mon mari s'est souvenu de notre histoire du (des) Bermudes.
Quinze ans plus tard, sur cet petit (cette petite) île isolé (isolée), je me souviens bien de cette neige.